JTF is coming after us, protesting Edo, Delta communities allege
•We don't disturb law-abiding protesters ― JTF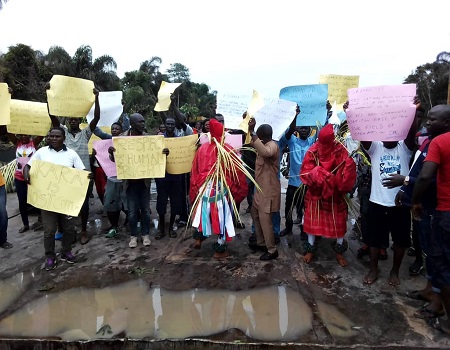 Protesters from border communities comprising, Kolokolo, Ikara and Ajatiton in Delta and Edo states have accused operatives of Operation Delta Safe (OPDS) of planning to disrupt their peaceful protest to compel Sahara Enageed Resource Ltd, an oil servicing firm, to recognize them in the Oziengbe South field operations as well as pay all entitlements due to them.
The protesters, led by masquerades began on Monday with a seven-day ultimatum given to the oil firm to meet their demands or face the wrath of the neglected communities.
Youth President-General of Kolokolo community, Comrade Sunny Etchi, at the ongoing peaceful protest along the Benin river, alleged that operatives of OPDS have concluded plans to invade venue of the protesters.
But in a reaction on phone on Tuesday, an army officer in the area, who declined his identity because he's not authorised to speak, denied the allegation.
The officer, who disclosed that the OPDS was already in a peace meeting with the protesters, state that the military operatives would never stand in the way of a peaceful protest, being a fundamental human right.
He, however, said the OPDS would not tolerate unwarranted attacks on economic assets belonging to the Federal Government and oil companies in the area.
Lamenting the grievances against the oil firm, Etchie, said "Kolokolo community has been one of the host communities to Oziengbe South field in Ikpoba Okha Local Government Area, Edo State which was formerly operated by the Nigerian Petroleum Development Company (NPDC) until lately when the said Oziengbe South field operations was handed over with all its assets and liabilities to Sahara Enageed Resource Ltd around the year 2015.
"It is worthy of note that since then, Sahara Enageed Resource Limited has only apart from the end of year gifts (rice and goats) given to Kolokolo Community wooden bridge crossing Kolokolo 1 to Kolokolo 2 as the only feasible project so far.
"In fact, Kolokolo Community had and is experiencing its worst marginalization under Sahara Enageed's Management.
" Kolokolo Community has almost completely lost its God-given rights and privileges that we were formally enjoying under the NPDC such as scholarships, capital projects and other entitlements which have now gone into oblivion under Sahara Enageed Resources Ltd management.