Jaiz Foundation distributes N3m zakat in Jigawa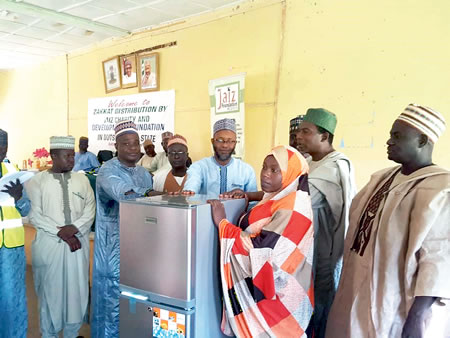 THE Jaiz Charity and Development Foundation has disbursed cash and items worth N3 million to 197 indigent persons in Jigawa State.
The empowerment items, distributed to beneficiaries in Dutse, included 30 agricultural sprayers, 22 sewing machines and five refrigerators.
The chairman of the foundation, Malam Adamu Bello, said the disbursement was the first to be carried out by the foundation in the state
Represented by the Chief Executive Officer of the foundation, Dr Abdullahi Shuaib, Malam Bello said the plight of the poor and needy was of great concern to the foundation.
Reps query N127bn power budget allocation
"We are moved by the helplessness of the current situation that most of the poor and needy people have to contend with. It is in this light that the foundation deemed it necessary to intervene and bring succour to the underprivileged while putting smiles on the faces of those suffering from deprivation," he said.
He urged the beneficiaries to make the most of the zakat funds and items.
"Please, shun the habit of diverting the items by selling them. To do that will amount to a betrayal of the trust which Allah and the zakat payers reposed in you.
"I also implore you to work harder and be focused because there is light at the end of the tunnel for you, by the grace of God," he said.