International Community hopeful on 3rd Trump, Kim summit —Foreign policy analyst
Says 'it's dangerous to let North Korea have nuclear weapons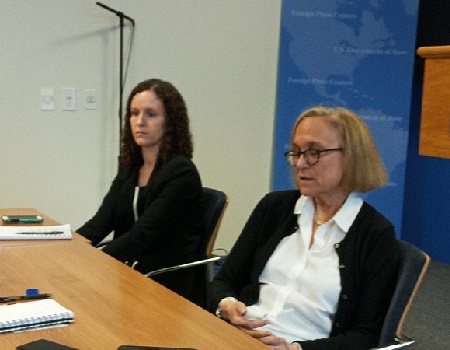 A foreign policy analyst, Dr Carla Anne Robbins, has expressed hopes on the United States and North Korea striking a deal in the upcoming third summit between leaders of both countries, to further their talks on the anticipated denuclearization of the Korean Peninsular.
Robbin, an adjunct Senior Fellow at the Council of Foreign Relations (CFR), New York City, gave this indication when she hosted African journalists on reporting tours in Northeast Asia, to a round table discussion in CFR, New York City., in a programme sponsored by the United States Embassy, Seoul, South Korea.
At the meeting, Robbin held that it would be of global interest beyond US desire if Kim could give off his nuclear faculty and allow for peace in Korean Peninsular, against the present danger people: in the area are subject to with the offensive weapons planted in their domain.
She said, the Trump administration's approach to the denuclearization issue is clear, but to some, the term seems not to be having a clear cut meaning yet, but in a simpler term, she said the policy is simply for the North Korea to give away its nuclear facility.
She flayed the call by the North Korean leader for the removal of over 28,500 US troops from South Korea, saying, it won't be of good interest to the Japanese, as particularly, it will rather make them feel an imbalance and insecure.
ALSO READ:  North Korea lashes out at US, calls talks 'extremely regrettable'
Robbin, also a faculty director of the Master of International Affairs in New York City, said,, "It is dangerous to let North Korea have nuclear weapons," and while she said it is also good to check if they have  the weapons as claimed, which is one of the great things about the US foreign policy," she said the International Community is hopeful of a deal in the coming summit, after the previous meeting yielded little or nothing.
It will be recalled that after June 12, 2018, DPRK, US Singapore Summit, which later dashed a lot of hopes, to further their discussions, Trump and Kim Jong-un met again in Hanoi, in February 2019, but experts have rated results achieved from the Hanoi Summit which ended abruptly low, with no deal, raising several questions on the future of United States-North Korea relations which seems to remain uncertain.
However, with negotiations going on, while it is good to note that the UN has not relaxed sanctions against North Korea, security experts have also suggested steps through sanctions to deescalate nuclear flashpoints at the Korean Peninsular, which became effective from June 2017.
The steps expected to be taken and pursued by all parties involved to reduce the risks of nuclear use in the region as the UN strive for a more comprehensive agreement, include: "To refrain from nuclear threats and adopt nuclear no-first-use statements;" Fully and consistently implement communication links between DPRK and ROK military leaders; and to "Refrain from provocative military actions that could escalate to nuclear conflict."
Others steps include the need to: "Reaffirm the September 19, 2005 Six-Party joint statement on denuclearization;" "Expand and enhance Track II discussions by North Korea, the United States, and other regional states;" "Pursue a permanent peace regime and establish US-DPRK diplomatic relations;" "Implement progressive North Korean sanctions relief and economic assistance in parallel with progress on denuclearization."
But it has been projected that "without substantive negotiations, US-North Korea relations could easily return to the aggressive rhetoric that the world saw in 2017, and it could have a worse ending," the reason security officials who are in the know said, proactive actions are needed from member countries of the UN to enforce denuclearization policies against the "repressive North Korean regime." The next meeting of both presidents of the US and DPRK will further give a direction on progress made so far
However, Robbin, a professor of national security studies at Baruch College's Marve School of Public and International Affairs, cautioned on the need to check on the activities of DPRK authorities, and diffuse its threats on South Korea and Japan, saying, it is dangerous to have a potentially repressive DPRK administration have nuclear weapons.
North Korea has violated the agreements it signed on the Non-proliferation Treaty. With the agreement, apart from the five permanent members of the UN Security Council, who can have nuclear weapons legally, no other country is allowed to be in custody of the dangerous weapons, so, the DPRK's case shouldn't be left unattended to cheating of other nations and ravishing of UN as a body, the reason North Korea must not be left unsanctioned," Robbins said.