Godwin Benson emerges first Nigerian finalist for Africa Prize for Engineering Innovation
A Nigerian innovator, Godwin Benson, who developed Tuteria, a piece of software that can completely change the way Nigerians and Africans access education, has become the first Nigerian to be chosen as a finalist for the Africa Prize for Engineering Innovation.
For his rare ingenuity, Benson has been publicly supported by Facebook founder Mark Zuckerberg, while also being pitched to Prince Andrew in London.
A water engineer, former rocket scientist, and education innovators are among the finalists for the Royal Academy of Engineering Africa Prize for Engineering Innovation.
These four finalists are from Kenya, Nigeria, South Africa and Uganda, and were chosen for their engineering innovations which provide solutions to local problems.
For the first time, education has topped the Africa Prize list, with two innovations in the final chosen for their great potential to improve how Africans access education.
From Nigeria, systems engineer Godwin Benson developed Tuteria, an online platform that links students to qualified tutors. Users can find tutors within their budget and location to teach them to play the piano, sew clothes, learn a new language and more. Tutors also cover a range of academic subjects for a range of ages.
Both students and teachers are thoroughly vetted before being allowed to use the service. The platform also has a ratings system, and students book using an upfront online payment system, with the tutors paid once the lessons have been confirmed.
A Ugandan innovation, the Yaaka Digital Learning Network, also aims to bring education to those who can't physically access learning institutions.
Developed by Africa Prize finalist Hindu Nabulumba and her team, Yaaka is designed like an interactive social network, where teachers and students can share academic knowledge and materials.
Students and teachers ranging from pre-primary school to university level share materials in the form of text, audio, audio-visual or video content. Online classes are held for those with internet-connected devices.
For those without internet access, an offline version has also been developed.
Addressing water challenges, finalist Kelvin Gacheru's innovation is Mobi-Water, a smart solar-powered water monitoring system.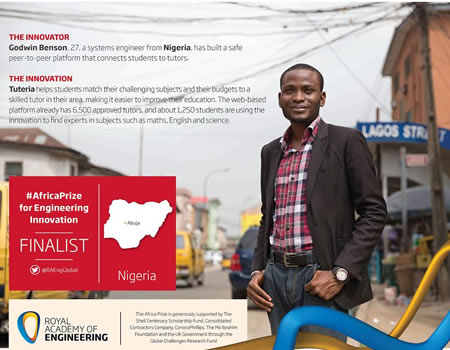 In Kenya, where 40% of urban and 60% of rural residents lack access to a safe and reliable water source, the water resource engineer designed the Mobi-Water system to enable water tank owners to monitor and control the water levels in their tanks from any location using their mobile phones.
Mobi-Water sends a text message alert to up to 10 mobile numbers when water levels drop below a certain point. Users can remotely open and close valves and pumps if they want to refill the tank or redirect the water.
Finally, South African rocket scientist Andre Nel's invention tackles water and energy issues. The GreenTower Microgrid is a hybrid, solar microgrid solution that uses 90% less energy to heat water.
Only one-third of Africans have access to grid-connected electricity and heating water accounts for the majority of electricity costs in homes and offices.
A single unit of the GreenTower Microgrid packaged in insulated recycled shipping containers can service 15 homes, and reduce the electricity demand from a community by 65%, considerably easing the pressure on the national power grid.
"This year we had an even tougher job than ever in selecting the four finalists from 16 outstanding entrepreneurs, and once again the finalists cover a wide spectrum of exciting innovations, offering huge potential benefits to millions of Africans as well as the chance for the business founders to become successful entrepreneurs," said Malcolm Brinded CBE FREng, the Africa Prize chair of judges.
"Two innovations focus on digitally-enabling education and skills development, in quite different ways. The other two are hardware inventions which address African water issues, one through solar heating of water, and the other through providing improved monitoring and access to water storage for consumers.  It will surely be an exciting and close-run Final in Nairobi next Tuesday".
The four finalists were selected from a pool of 16 shortlisted candidates from across sub-Saharan Africa, who all received six months of training and mentorship.
The winner will be announced on 23 May 2017 in Nairobi after pitching live to the judging panel and assembled audience. The winner receives £25,000, and £10,000 is awarded to each of the runners up.
Previous winners of the Africa Prize for Engineering Innovation are Tanzanian Dr Askwar Hilonga, creator of the NanoFilter, and Cardiopad founder Arthur Zang from Cameroon.
The other 12 candidates on the 2016/2017 Africa Prize shortlist are:
Achiri Arnold Nji (Cameroon) with the Traveler mobile software system, designed to monitor the speed, location and number of passengers on a bus and alert the driver and authorities to potential dangers.
Alex Makalliwa (Kenya) developed Electric Tuk-Tuks and off-grid solar-powered charging stations to overcome poor grid connectivity, save Tuk-Tuk drivers on daily motoring costs and reduce CO2 emissions.
Aline Okello's (Mozambique) Rainwater Harvesting App helps users set up rainwater harvesting systems tailored to their area and rainfall patterns.
Brian Turyabagye's (Uganda) Mama-Ope smart jacket helps doctors identify pneumonia faster and more accurately.
Edwin Inganji (Kenya) developed the Usalama mobile phone app to speed up the reaction time of Kenya's emergency services.
Fredrick Ouko's (Kenya) Riziki Source is a web and text message-based platform which connects people with disabilities to jobs and employers.
James van der Walt's (South Africa) SolarTurtle is a mobile power station that provides instant electrification whenever it's needed.
Joel King'ori Kariuku (Kenya) developed the Sisal Decorticator, a mechanised peeler, which makes it more profitable for natural sisal fibre to be processed.
Lawrence Ojok (Tanzania) designed the Green Rock Drill as a solar-powered alternative to modern fossil-fuel rock drills for small-scale artisanal miners. It is better for the environment and has an 18-month lifespan.
Peter Mbiria's (Kenya) E-Con Wheelchair can go off-road, climb up and down stairs and allows the user to stand upright while automatically navigating familiar terrain, and keeps its passenger perfectly level throughout.
Sesinam Dagadu (Ghana) developed CodeRed, a logistics app that reduces emergency response times using a custom-made mapping system for urban areas that don't have formal addresses.
Dr Wilfred Fritz (South Africa) designed the Water&Solar100 lightweight portable solar-cooker that tracks the sun automatically, has temperature and timing controls and even generates electricity to charge batteries.
Judges of the Africa Prize for Engineering Innovation are Mr. Malcolm Brinded CBE FREng, who is Chair of Engineering UK and the Shell Foundation. He is a Non-Executive Director of BHPBilliton, and CH2MHill, Rebecca Enonchong, Founder and CEO, AppsTech, Dr John Lazar CBE FREng, angel investor and technology start-up mentor, Dr Moses Musaazi, Senior Lecturer, Makerere University and Managing Director of Technology for Tomorrow Limited, Uganda and Dr Bola Olabisi, CEO, Global Women Inventors & Innovators Network.
The Africa Prize for Engineering Innovation, founded by the Royal Academy of Engineering, encourages talented sub-Saharan African engineers, from all disciplines, to develop local solutions to challenges in their communities. The Prize selects innovators from across the continent and provides training and mentoring to help turn engineers with incredible ideas into successful entrepreneurs.
Launched in 2014, the Prize aims to stimulate, celebrate and reward innovative engineers from across the continent.
The Africa Prize is currently generously supported by the Shell Centenary Scholarship Fund, Consolidated Contractors Company, ConocoPhillips, the Mo Ibrahim Foundation and the UK Government through the Global Challenges Research Fund.