Gani Adams and Sunday Igboho should work together in Yoruba's interest —Sakibu, Oba Yoruba of Kebbi State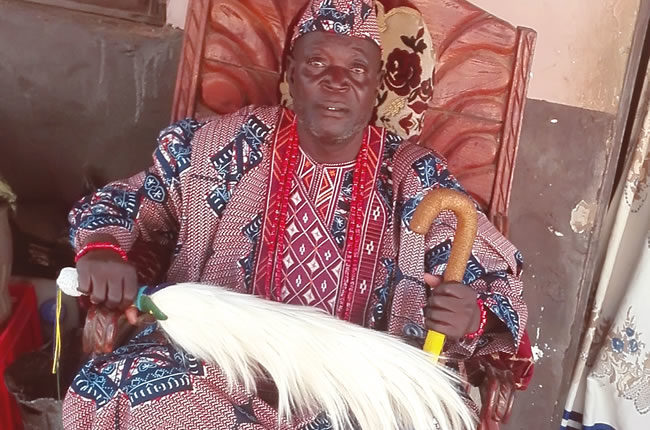 Alhaji Saidu Aderogba Sakibu is the Sarkin Yorubawa (Oba Yoruba) of Gwandu Emirate in Kebbi State. He is the head of all Obas of Yoruba in the various communities in the state. Oba Aderogba is also the vice chairman of the council of Yoruba Obas in the 19 states of the North. In this interview by AYODELE AJOGE, the traditional ruler bares his mind on some contemporary issues on Yoruba people, Kebbi State and Nigeria at large.
Tell us about your background and how you became who and what you are today.
I am a native of Igboho in Oorelope Local Government Area of Oyo State. I am a tailor by profession. I left my hometown for greener pastures in 1975. I first settled in Kainji town, in present-day Niger State, before moving in 1978 to Birinin-Kebbi (when it was still Sokoto State), where I am today. I continued my profession as a tailor working for the people of my tribe and the indigenes who are Hausa/Fulani.
One of the things that led me to where I am today is the fact that I don't like cheating. I detest cheating or any kind of wrongdoing. If anybody tries to cheat my people, whatever it takes, I will square up to such a person. This is who I am. I always fight for the right of my people. This was how it all began.
When the Yoruba community association first started, I was made the general secretary. After some years, I was given the post of the financial secretary. Then I became the vice chairman of the general Yoruba assembly. It was during my second term that the post of the Oba (of Yoruba) became vacant and an Oba emerged that reigned for 10 years. Later, there was vacancy and I contested with three other people and I was elected. It was not my money or anything else that played out in my emergence as the Oba of Yoruba people but my struggle in the defence of my people. When I emerged as the Oba, I instituted the process of uniting the entire Yorubas in Kebbi State. It was seven years ago that we started the meeting of Yoruba Obas in various states of the North and by the grace of God, I became the vice chairman of the council of Yoruba Obas across the 19 Northern states, a position I occupy up to today.
How do you feel about the state of affairs in Nigeria?
I am baffled by the political situation in the country. I want every Nigerian, be it Christian, Muslim or traditionalist, to keep praying because we need prayer more than ever before in this country. All these petty conflicts and crises can degenerate into a big problem but my prayer is that may Almighty God help us resolve the problems currently rocking this country. I want to ask the Federal Government to let there be transparency in governance. I also want to encourage them to ensure that there is balance in appointments into key positions such that the six geopolitical zones would be equitably represented. If this is done, there would be no bickering from any angle and all the federating units of the country would be happy with one and other. United we stand, divided we fall. Our unity should be important to us as a people. The people that are in power today should remember that when their tenure expires, another set of people will come on board.
One thing that gladdens my heart is that in this state (Kebbi), the authorities have not been using the politics of divide and rule against us, the non-indigenes. The government is on top of the affairs of the state. They have been dealing with us in a manner that has been very encouraging and of immense benefit to all of us. During celebrations like religious festivals, the government always ensures that people of other tribes are given exactly what is due to them.
I am also using this medium to appeal to all Nigerians to take lessons from the last elections in Edo and Ondo states so that we can always conduct our elections without rancour or violence. People that emerge winners should be seen as God-chosen. By the time we drag ourselves to court and cases go on, the elected persons will not have time to concentrate on governance as court processes would have consumed a great part of their administration and development suffers delay. Therefore, we should have it at the back of our minds that God chooses leaders for His people and whoever God chooses we should all embrace. I am also encouraging us as Yoruba people to remember our hometowns. For those of us who have parents, we should do our best for them while they are still alive so that our own children will be good to us, too. I pray God to prevent war in Nigeria and continue to keep us together as one nation.
Recently, governors of the six states of the South West constituted a security outfit called Amotekun. What is your reaction to this?
The Amotekun security outfit is a nice concept. These days, we cannot sleep with our two eyes closed. In those days, there was what we called Agbekoya. Although I was young then, I remember the good aspects of it. That time, the Yorubas wowed this nation with their might. The formation of Amotekun was aimed at checkmating all forms of criminality in Yorubaland and the country as a whole. In Oorelope Local Government Area, where I hail from, there have been reports of hoodlums invading communities and robbing and kidnapping people for ransom. It has been local hunters, with the aid of soldiers, entering forests and arresting these criminals and handing them over to the security agencies. This is the role Amotekun has come to play. From all indications, Amotekun is a no-nonsense security outfit that will not condone banditry in all Yoruba territories. I pray that the motive behind the formation of Amotekun will be achieved. Amotekun is not meant to cause chaos in Nigeria, its formation is commendable.
Yoruba Obas have been accused of not supporting a call for the independence of the Yoruba nation. What would you say about this?
There is nothing wrong if Yorubas decide to have some measure of freedom within the Nigerian federation but we must do this with caution and diligence so that it will not lead to chaos or bloodshed. If we carefully look at what is going on in Nigeria presently, we will discover that it is nothing but political robbery. Every tribe in Nigeria wants to have the best for itself. Let us know that when it is God's time, it will happen but this is not what we can do by force. Yoruba elders who are calling for calm and caution know what they are doing. A Yoruba proverb says 'ohun a feromu kole baje, ohun aba fagbara mu kokoko ni'le'. This means that when issues are handled with care, things can never go wrong; only when issues are handled with force that situations become impossible. Struggling for a better tomorrow is okay but we should follow the advice of our elders and leaders because it is the many things the elders have seen that caused their eyes to be sunken. If we asked such elders, they would have something to tell us. Again, if children are cutting a tree in the forest, only the elders know the direction in which it will fall. The Aare Ona Kakanfo of Yorubaland, Chief Gani Adams, came on air the other day and I listened to him and I was very impressed. I also listened to Mr Sunday Igboho and I agreed with him. I want these two personalities to close ranks and let their voices be one because when the chips are down, they will be the rallying point for their people. Division in their camps will not favour the Yorubas. They should allow the spirit of oneness to prevail.
For some time now, there has been agitation by youths from mostly Yoruba states against SARS. What is your take on this?
I will say that since the youths have made their voice heard, they should give peace a chance and wait and see whether the desired change will be achieved. One cannot fault their protest but they should tread with caution. SARS was created for a purpose. Many of the protesting youths have been victims of SARS at one time or another. They have gone through all sorts of maltreatment. The operatives have overstepped their bounds. I am appealing to our youths to let the government take the necessary actions. They should be patient with the government because we have no other country we can call our own.
What is your appraisal of the Nigerian Tribune's engagement with Yoruba people outside Yorubaland, particularly in the North?
We thank God for His grace for the newspaper outfit. I grew up to know the Nigerian Tribune as a source of quality information for the Nigerian people everywhere. I am not 70 years old yet but I am above 60. Chief Obafemi Awolowo left a good legacy and all that he left behind are still standing the test of time. I have known this newspaper for so long, and when the issue of electing an Oba for the Yorubas in Kebbi State started, the Nigerian Tribune was on hand to give us the necessary coverage. Nigeria Tribune is a global newspaper. God will continue to strengthen it further. The workforce shall continue to receive God's blessings. The newspaper knows the importance of the people. It is always interested in the welfare and general affairs of Yorubas here in Kebbi State and the North generally. God will continue to prosper the company, the management and the entire workforce, especially Tribune correspondents across the country. They will continue to excel by the grace of God.
YOU SHOULD NOT MISS THESE HEADLINES FROM NIGERIAN TRIBUNE
FLICKERS: Nigerian Army: Timelines Of Lies And A Million Skulls In Ogun's Shrine
THE Yoruba anticipate the fate of Mrs. Aishat Mohammed. Aftermath the murders, horrendous plunder and arson on the city of Lagos about two weeks ago, Mohammed was one of the captives of the law. Or lawlessness. Gagged like sardines in a can among about 500 persons paraded and labeled culprits of the spillover from that notorious Black Tuesday, Mrs. Mohammed's tale was gripping, grisly but a Nigerian everyday encounter. From her narrative…
#EndSARS: After The 'Powerless Masses' Spoke
What has the country's political leadership learnt from the EndSARS protests that rocked the nation and drew global attention to Nigerians' sufferings and mis-governance of their country? KUNLE ODEREMI reports on the take-away from the EndSARS protest and the attendant fallouts, amid public suspense on government's…
#EndSARS: How Nigeria Lost Trillions Despite Warning
IT has emerged that the #EndSARS protest which snowballed into a major cycle of crises could have been avoided, had Nigerian authorities heeded the prediction of international researchers carried out months back. Both the federal and state governments are still counting the enormous losses in destruction to public and private investments during the protests, which have been projected to be in trillions of…
Restructure Nigeria Now Or Risk Break-Up — Southern Leaders Tell Buhari Again 
AS agitations for the restructuring of the country continue to take the front burner, some southern leaders on Saturday called on President Muhammadu Buhari to consider the 2014 National Conference report to save the country from an impending break-up, saying the country is currently bleeding on all…