Doing God's will is Nigerians' only path to true peace, development —Olagoke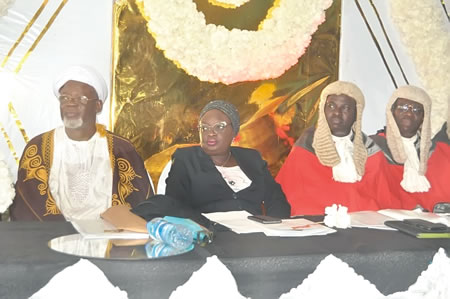 THE founder and spiritual head of Shafaudeen-in-Islam Worldwide, Professor Sabitu Olagoke, has described total submission to the will of God as the only way for Nigerians to achieve tranquility and true development in their private and national lives.
Professor Olagoke made this remark at a special service organised to usher in the 2019/2020 legal year of the Ogun State judiciary, held at the Central Mosque, Kobiti, Abeokuta.
In a lecture on Islam and contemporary issues in Nigeria, Professor Olagoke lamented that fear of God was missing in the hearts of people in the country today as reflected in the involvement of many in crime and other social vices.
He called on religious leaders and members of the judiciary to lead the charge in sensitising the public against sins and social ills, just as he implored political leaders to provide good governance to the citizens and save the country from stagnation.
According to him, dispensation of justice must be based on merit for good governance to thrive.
He emphasised the need to respect the rule of law and the judiciary, just as he called on governments to be fair in their dealings with the different sections of the society.
Speaking at the programme, the state governor, Prince Dapo Abiodun, restated his commitment to the creation of an atmosphere conducive to the thriving of the rule of law and promised to continue to cooperate with the other arms of government in the interest of the state.
The governor, represented by his deputy, Mrs Noimot Salako-Oyedele, said he remained committed to ensuring a viable system of law and justice in order to guarantee individual rights and sanctity among institutions.
"Let me use this opportunity to reaffirm my promise to the entire good people of Ogun State that you will always find in me, conduct expected of Omoluabi. I will serve you diligently and sincerely. I will make your interests the core of governance. I will neither personalise nor abuse the mandate given to me and I will always obey the rule of law," he said.
Governor Abiodun said his administration was committed to providing a just, free and egalitarian society to guarantee the continued development of the state and more abundant life for all residents of the state, irrespective of any considerations.
He promised that his government would ensure the completion of the state's judiciary complex.
At the event, special prayers were offered for the judiciary, the state and Nigeria as a whole.