Muslim community assists indigent parents of triplets in Ondo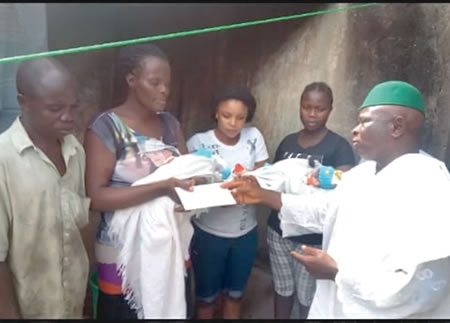 THE Muslim community in Akoko North-West Local Government Area of Ondo has made a cash donation to an indigent couple living at Eshe quarters in Ikare Akoko, Mr and Mrs Sedu Sunday, who were blessed with a set of triplets, recently.
Presenting the donation on behalf of the Muslim community to the family which already had four children before the triplets, the chairman of the Nigeria Inter-Religious Council (NIREC) in the council area, Alhaji Ibrahim Kilani, congratulated the family on the safe delivery of the babies through natural process.
Kilani urged the mother to nurture the triplets through serious breastfeeding and encouraged the father to work harder to provide for the mother and her children.
He appealed to the government to formulate a scheme to support people who experience multiple births at once in order to reduce the financial stress that usually comes with such an event, especially for indigent families.
Mr Sunday, a mechanic, said he was bewildered after the result of a scan indicated that his wife was pregnant with triplets but he said that with the support of well-to-do people in the society, he was confident that the children would survive.
He thanked the Muslim community in Akoko North-West Local Government for the donation and urged other individuals and organisations to come to the aid of his family.