Collapsed bridge: Abuja, North-bound motorists spend hours on diverted road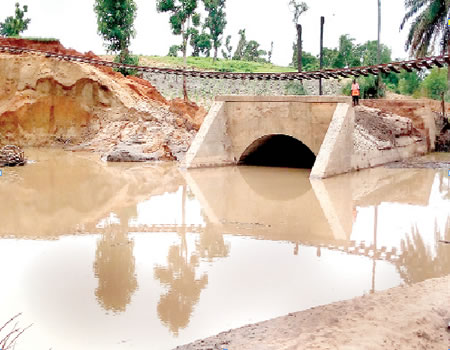 HUNDREDS of motorists heading towards Abuja and other parts of the North were on Sunday stranded at the Osi-Eruku axis of the Ilorin-Omu-Aran-Kabba federal road due to a gridlock.
A correspondent of News Agency of Nigeria (NAN) who monitored the situation reported that the traffic jam, which started as early as 8:00a.m., saw many of the motorists sitting inside their vehicles for hours.
The gridlock was attributed to the recent increase in the volume of traffic, especially heavy duty trucks on the road, many of which had already broken down.
It will be recalled that the bridge that collapsed at Tatabu village in Niger State last Monday had forced diversion on the road for travellers going to the northern parts of the country.
The bridge, which is situated in Mokwa Local Government Area of the state, was said to have collapsed following a downpour.
The affected vehicles, including commercial buses loaded with passengers were seen struggling to manoeuvre their ways out of the congestion, using the bush paths, especially at the Osi end of the road.
Some of the passengers, especially businessmen, women and civil servants returning to their duty posts, were seen lamenting about the behaviours of some drivers.
Mr Emmanule Ashaolu, a federal civil servant, said that he could never imagine being caught in a traffic jam on the same road he had been passing through easily for so many years.
"The road might not be that good but there had never been this kind of problem on this road, my appeal is to the government to come to our aid," he said.
Mr Okon Bassey, a businessman, described the attitude of the heavy truck drivers to other road users as worrisome and unpatriotic.
"They are uncontrollable. They just drive and pack without due regard to other road users, there is need to check their excesses," he said.
The traditional ruler of Osi, Oba Salihu Adasofegbe and Chairman, Ekiti Local Government Area of Kwara State, Chief Samuel Adaramola, in their separate remarks, appealed to the government to save the road from further damages.
They called on the government to expedite action on the reconstruction of the collapsed Niger Bridge in order to reduce tension caused by the heavy volume of traffic on the federal road.
Speaking on the development, Mr Francis Adetunji, the Unit Commander of the Federal Road Safety Corps in Omu-Aran, said the command was on top of the situation.
"The command had envisaged the problems that may arise as a result of the diversion and had swung into action by stepping up our surveillance and patrols of the highway to forestall any ugly incidents."