Cattle invade Fed Secretariat Abuja, people run helter-skelter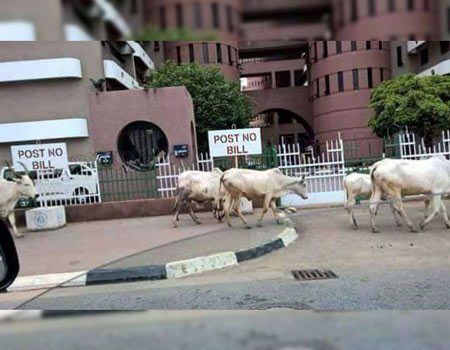 CATTLE, numbering about 50, on Tuesday afternoon, invaded the Federal Secretariat, Abuja forcing people to run helter skelter.
The incident occurred at exactly 12:25 p.m. between the Eagle Square and the Military Parade ground, causing commotion within the area.
Eyewitnesses said the invasion caught both the passers-by and passengers unawares who were waiting patiently for commercial vehicles to convene them to their respective destinations, forcing them to run for their dear lives.
Findings by Tribune Online further revealed that the cattle which invaded the area from Maitama were heading towards the Force Headquarters before they were intercepted by the security operative which comprises the mobile and conventional police officers and Abuja Environmental Agency (AEDA) officials at the front of Court of Appeal, Area 11 Garki, Abuja.
It was gathered that the Fulani herdsman who evaded arrest initially was later apprehended at Ministry of Finance junction.
As at the time of filling this report, no decision has been taken either to be taking to the nearest police station or not, as effort to assemble the cattle was not successful.