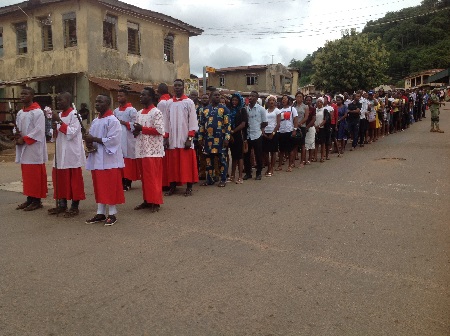 The Osun State House of Assembly, under the leadership of the Speaker, RT. Honourable Najeem Salam has said the killing of Catholic priests and other innocent Nigerians in Benue and other troubled parts of the country is inhuman.
In a statement signed by the Chairman House Committee on Information and Strategy, Olatunbosun Oyintiloye, the House made the position 
on Tuesday,
 while receiving protesters from the Catholic Diocese of Osogbo who stormed the Assembly in their numbers.
The Assembly sympathised with the Christians over the killing of two Catholic Priests, Rev. Fr. Joseph Gor and Fr. Felix Tyolaha as well as seventeen others at St. Ignatius Catholic Church, Ukpor-Mbalom, Benue state last month by suspected herdsmen promising that their requests would be adequately looked into.
In their two-page statement signed by Very Rev. Fr. Thaddeus Ajayi, Vicar General, Catholic Diocese of Osogbo, they registered their displeasure on what they described as an unending killing in the country and requested an end to it.
The statement further reads, "what is happening in Nigeria of our time with regards to the value placed on human life is against the will of God, and the Holy Catholic Church in her teaching condemns such in its entirety and those who have the responsibility to safeguard life but are indifferent or incapable are culpable."
"Security officers who have been found wanting in the performance of their official duties, either by way of compromise or culpable negligence and indifference should be called to account for such a professional misconduct. Those who have demonstrated their incompetence in protecting human lives should be relieved of their duties before more serious havoc is caused by their negligence."
"While we thank the government of Osun State for the pro-active steps already taken to keep the state safe and peaceful, we ask for more efforts in the same direction, especially as several other challenges are manifesting"
The speaker who received the statement in the presence of other lawmakers promised the protesters that the House will urgently look into their requests and communicate it to the state Governor.
While commending the protesters for their peaceful conduct, he acknowledged the peaceful nature of the state urging citizens and residents of the state to embark on their legal activities without fear.