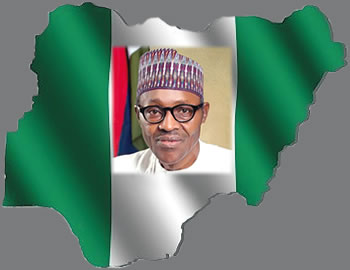 THREE are quite a few reasons to locate President Muhammadu Buhari's recent admonition to disgruntled and frustrated Nigerians who think that they have any other country apart from Nigeria to ship out of the country, within the broad spectrum of his now regular, unrestrained gaffes. A statement by his Special Adviser on Media and Publicity, Mr. Femi Adesina, quoted the president as saying this during a reception of the All Progressives Congress (APC) governorship aspirants and members of the party from the three senatorial zones of Kwara State at the Presidential Villa, Abuja.
It is a bit difficult to fathom the relevance of this admonition ostensibly meant to reinforce patriotism in an audience comprising governorship aspirants from one of the states in the country. It is obvious that governorship aspirants and other members of the political class cannot be planning to flee a country which they desire to govern. Even  as a reinforcement of a sense of patriotism in the people, such an admonition was hollow and cynical. It was unbecoming of a president. The youth population in particular  has quite understandably become despondent, desperate to quit the predatory and hostile environment that Nigeria represents, and such a statement does not in any way ameliorate its situation.
To worsen matters, President Buhari drew examples of patriotism from his second-in-command in 1984 during his military administration, the late Major-General Tunde Idiagbon, betraying a dangerous sense of nostalgia. Could he be mistaking loyalty to him for patriotism? It was clearly a misbegotten example that reeked of narcissism. It probably would have properly resonated with the country's largely despondent youth population if the president drew his examples of patriotism from those undergoing similar experiences of frustration and serial failures, not young men in positions of authority, undeservedly enjoying the perks of office. Who else can be more patriotic than those enjoying leadership positions?
It probably would have served a better purpose if the president had honestly interrogated the reasons for the disillusionment of Nigerians who choose to flee a potentially great country but one which successive administrations have serially abused and mismanaged over the years through incompetence and corruption. As is common knowledge, only those who are politically connected eat directly from the country's table, cornering to themselves the fat of the land. The rest of the people have to scratch the earth's surface for a living. Things have got to a head now and even skilled Nigerians in different fields have been exiting the country in droves in search of the proverbial greener pasture.
If a natural habitat turns hostile, the tendency is for living things, including human beings, to migrate. Nigeria, for the most part of three decades, has gradually drifted to the point of being anti-life. The grim statistics from virtually all international bodies harp on poverty and misery and the youth population are hell bent on taking suicidal trips to Europe in the bid to survive. But instead of kind words of encouragement from their president, all they hear is a stinging condemnation reviling them for not being patriotic enough to stay back and die in despair. Surely, this  should not be the response of a contrite leader, particularly as the leadership of the country is implicated in the sad turn of events which made the country hostile to its citizens.
Buhari's admonition was to the wrong audience and as such was out of context. Even if it was delivered to the desperate footloose Nigerians looking for means of survival outside the shores of this country, it would still have been in extremely poor taste. It is the duty of the leadership of this country to make it commodious enough to support the existence of citizens and their dreams and aspirations. When it has failed in this bounden duty, it should be quite contrite and remorseful. The consequences of leadership failure are glaring and the least that can be expected from the presidency are words of encouragement, not acerbic comments reeking of contempt.
President Buhari should be interested in building a country that will offer opportunities to its citizens regardless of the various demographic delineations. What is his vision in this direction? It will be interesting to know.