Bolanle Ambode seeks stakeholders' collaboration in tackling child labour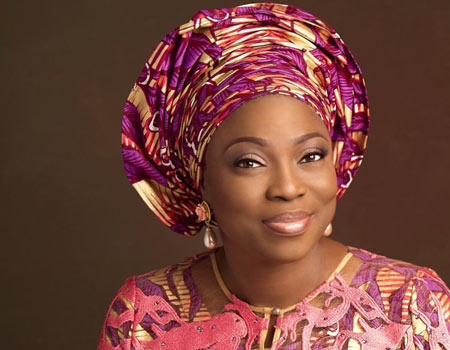 The wife of the Lagos State Governor, Mrs. Bolanle Ambode, has called on stakeholders involved with children to come together to combat the vices of child molestation and abuse.
The First Lady made this call on the twilight of the celebration of Children's Day at Agege Stadium, Lagos on Saturday.
She noted how consistent empowerment of children was at the front burner of achieving not only the Sustainability Development Goals of the United Nations, but also a better future.
Mrs Ambode emphasized the need for all stakeholders to come on board to ensure the realisation of both lofty goals.
She also insisted that molested children must begin to speak out so that necessary help can be offered before the abuse becomes invincible.
Speaking she said, "It is high time children are taught and encouraged to speak out when they are molested and this can only be achieved, if they are given proper leverage to speak out against all forms of abuse, this will build the child's confidence and increase their potentials in life," the Governor's wife reiterated.
She listed some efforts by the State Government to address the issues of child abuse to include the dedication of telephone lines specifically for cases of abuses (09077333425, 09077333426), establishment of 11 Family Magistrate Courts and 2 Family High Courts that are in place for care and protection of the children in government homes, review of the existing Child Right Law of Lagos State 2007 among others.
According to the First Lady, all these efforts are put in place by Lagos State Government so that Lagos State will not be left behind in attaining the Sustainability Development Goals of eradicating all forms of child abuse and molestation.
She said "as I speak, Lagos State Government as a responsible Government has in place several legal and social policy frameworks that will ensure protection of rights of children at every stage in life."
Also speaking at the occasion, the Commissioner for Youth and Social Development, Mrs. Uzamat Akinbile-Yussuf said that the celebration presents opportunity for reflection on how well the rights of children are being protected by parents as the primary caregivers, teachers, government and the society.
Akinbile-Yussuf attributed the increasing societal decadence to faulty home etiquette, adding that children are often reflections of good upbringing or dysfunctional relationships between their parents and children.