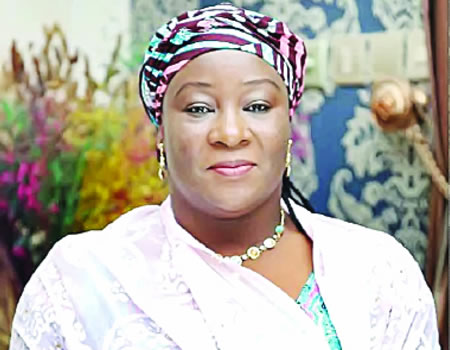 THE member representing Dass constituency in the Bauchi State House of Assembly, Maryam Garba Bagel has raised alarm over alleged threat to her life by yet to be identified persons for what she described as her hard political stance in the state.
Marya Bagel who briefed Journalists about the threat in her house on Tuesday narrated that, "late Monday evening after I came back from my sisters' house for Iftah preparatory to the Eid-el Kabir celebration, I was called by an unknown mobile number intimating me of an envelope dropped for me at home".
She continued that, "when I called my security details for the envelope, what I found therein shocked me as it contained phonographic pictures and some other pictures of me got from my Facebook account but well photoshopped to depict immoral postures and concocted conversations by an unidentified respondent".
The politician who recently contested and lost the Bauchi south senatorial by-election under the opposition Social Democratic Party (SDP) added that at about 11 pm on the same Monday, the number called her again and threatened to deal with her unless she stopped her antagonistic tendency to the Bauchi State government led by the Governor, Mohammed Abdullahi Abubakar.
She further said that, "when I told the person to go ahead and do his worst, he then resorted to sending messages and pictures to me on WhatsApp boasting that they have all it takes to run me down politically and if care is not taken, terminate my life unless I subject myself to the leadership of the state government and the Governor".
ALSO READ: Am no longer in same political platform with Saraki — Associate
"The caller added that I have remained a thorn in their flesh, I have been outspoken and always countering the state government to the extent that I have earned for myself the nickname, 'redneck'. I should be ready to face the consequences of my hard political stance any moment from now unless I tow the line of subjugation", she further said.
The lawmaker who has defected from the ruling APC at the wake of recent Bauchi south senatorial by-election said that similar message was sent to her husband a development she said has unsettled her household even though she declared that she is unperturbed about the threat.
She added that "the caller said that I should take note that as a woman, I am in the wrong place in politics, I should go back to the kitchen where I belong and allow men to play politics. Threatening to send the pictures to the Emir of Dass and others in the state".
While calling on the State Police Command and other security agencies in the state to rise up to protect her from the threat having reported the matter to them, she declared that "I am not afraid of them or their sponsors, I have confidence and believe in Allah that no harm will befall me".