Banditry: Police vow to check free flow of weapons, illicit drugs in Nigeria
• Parade 50 suspects in Abuja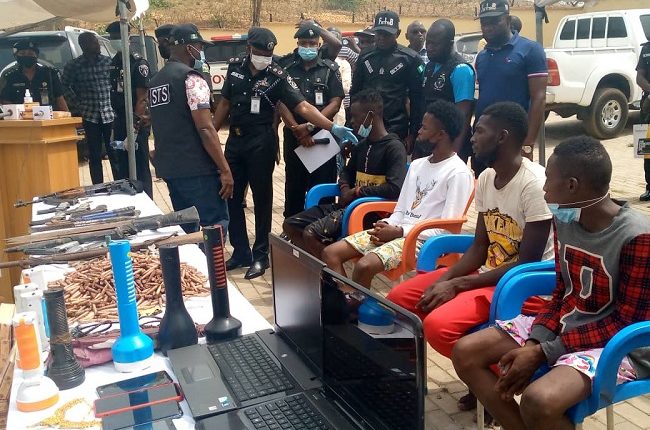 The Police High Command, on Tuesday, vowed to check the free flow of weapons and illicit drugs in the country in the renewed efforts to liquidate unrepentant criminals out of their illicit enterprise.
Force Public Relations Officer (FPRO), Frank Mba, a Commissioner of Police, (CP) gave the assurance in Abuja while parading 50 suspects arrested for various offences ranging from kidnapping, armed banditry, unlawful possession and distribution of hard drugs, to gun-running amongst others.
He said that the Force is now focusing on how to control the supply and distribution of weapons and hard drugs to criminals in the country in collaboration with the International Police, Interpol, the West African Police Chiefs and others in other to weaken the criminals so that the Police would be able to liquidate them out of their illicit enterprise.
Mba stated that the suspects were arrested across the States of the Federation and the Federal Capital Authority (FCT), Abuja by the Operatives of the Force Intelligence Bureau (FIB), Special Tactical Squad (STS) and the Inspector General of Police' Intelligence Response Team, (IGP-IRT), under the Commanders of the duo of CP Abba Kyari and DCP Kolo Yusuf respectively.
According to him, "these are suspects who been thoroughly investigated, profiled and prima facie case established against them of having committed the offences they were being held for by the Police authorities.
ALSO READ: Crisis looms again in Edo primary education as govt deducts teachers' salary
" Exhibits recovered from them include the following one AK-47 rifle, seven locally made pistols, 2,292 rounds of live ammunition, Cartons of tramadol, four bags of weeds suspected to be India hemp and one Golf car used for ferrying ammunition to bandits in Kastina State amongst others."
The first set of the suspects paraded include Danjuma Bachung, Markus Danlaladi and Suleiman Tukur who were trailed and arrested by the Police team for gun-running while the exhibits said to have been recovered from them include 1 AK 47 rifle and one Gulf car use to deliver the ammunition.
According to Mba, the second set of suspects include Daniel Baba and Andrew Gbagi who were apprehended for illicit trade in weapons as investigations had revealed that Gbagi sold four AK- 47 and six locally made pistols.
He further paraded another set of nine gangs of crime suspects who specialized in illicit trade in weapons and supply the weapons to their end-users.
One of the gang members, Azenda confessed that he had sold four locally made pistols at N60,000.00 each to his customers before he was arrested by the Operatives.
CP Mba lamented that one of the suspects Anthony Baye had been arrested, tried and imprisoned and later granted amnesty recently by one of the Northern State Governors.
Other suspects include Lawal Ismaila, Mukhtar Harilu and Zaradeen Unman, who were arrested with five cartons of tramadol while transporting the hard drugs to bandits operating in Kastina State.
The remaining suspects were a six-man robbery gang arrested for allegedly robbing major residential areas in Abuja the nation's capital as well as three other kidnapping suspects who attempted to kidnap a petroleum marketer in Zaria, Kaduna State
Mba said that most of the suspects had confessed their individual and collective involvement in these crimes and they would be charged to court upon the conclusion of their investigations into the crimes.
Police vow to check