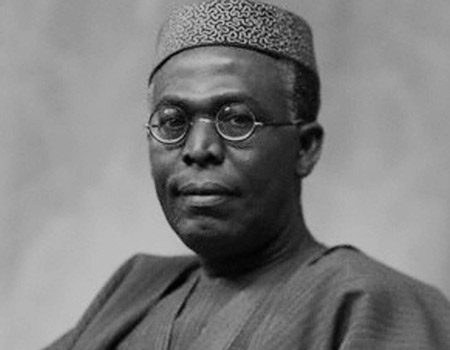 SECOND Republic senator and foremost historian, Professor Banji Akintoye, has described the gradual coming together of Yoruba and Igbo elders culminating in the historic "Handshake Across the Niger" for the joint memorial of Major General Johnson I. T. Ironsi and Lt. Col. Francis Adekunle Fajuyi as a fulfilment of the injunction or prophecy of the sage, Chief Obafemi Awolowo.
Both General Ironsi and Col. Fajuyi, two Nigerian illustrious sons, died in exemplary circumstances on 29th July 1966, in the course of their service to the country, following the military coup that took place that fateful day.
Professor Akintoye disclosed this while speaking at the ceremony in Enugu, recalling that Chief Awolowo, while alive, had far back in 1983 spoken of the need for the Yoruba and Igbo to work together to make Nigeria prosperous and great, predicting that such would happen.
According to Akintoye, the sage had given the prediction at a meeting in Ikenne, where he summoned him to, shortly after being released from Owo prisons by then General Muhammadu Buhari, following the 1983 military putsh.
Akintoye spent four months in prison custody with many others, but was later released as the authorities had nothing to hold against him.
"The morning after my release, Chief Awolowo telephoned me and invited me to come to Ikenne. Four days later, I went to Ikenne. As usual, Chief Awolowo and I spent the whole day talking about Nigeria– about the things that we Nigerians should do to make our country prosperous and great. Then, in the evening, as we were getting up to go to dinner, Chief Awolowo suddenly said, 'Wait. There is something I must not forget. It is about the Yoruba and Igbo nations working together. You must work together. I may no longer be around. You will work together. I am not saying it will be soon or that it will be easy. But you must do it. It will come. It is the only road forward.'
"A few minutes later we were sitting at the dining table. I was speechless. Since that evening, whenever I remember that strange moment, I have never been sure whether Chief Awolowo was giving me an injunction, or whether he was prophesying– or whether he was doing both.
"In the past few months since the Yoruba and Igbo elders have begun to work together in seriousness and maturity, I have wondered about that evening almost continuously. Am I seeing the fulfilment of the injunction or prophecy of that evening?" Akintoye said.
The foremost historian, while lamenting the rivalry and ugly relationship that existed between the Yoruba and Igbo that made him have doubt "throughout my adult life until only a couple of months ago" to ever expect that "I and my generation would ever see a joint ceremony of our Igbo and Yoruba nations in celebration of anything," said rivalry was good, but the animosity had been horrible and had frequently descended to the depths of mutual denigration, among others.
"The rivalry is good, because it is a competition for the good things of the modern world– for progress, for prosperity, and for all the attributes of improvement and modernization. But the animosity has been horrible. It has frequently descended to the depths of mutual denigration, and mutual attribution of very evil intents by one nation towards the other," he said.
"Among observers of African affairs worldwide, these animosities between the Igbo and the Yoruba of Nigeria have increasingly caused surprise and even consternation. These observers can see that the Yoruba and Igbo have a lot to give to the Black Race and to Africa.
"The Igbo and the Yoruba are two of Black Africa's largest nations. They are Black Africa's foremost nations in the quest for progress and modernization. If these two could manage to succeed, progress would have a great boost in Africa.
"But rather than cooperate and collaborate to succeed, they seem to want each other to fail. Even more obviously, their animosities have been assisting the diversion of Nigeria onto paths of decline, paths of disorderly structure, paths of disharmony, paths of violence and terrorism, paths of poverty, paths of hopelessness," he further said.
"From all over the world, anxious voices have been asking, when will these Igbo and Yoruba nations recognize what they are doing to themselves, what they are doing to each other, what they are doing to Nigeria, and what they are doing to Africa? When will they come to the realization that while they have been tearing at each other, each of them, and both of them, have been gradually becoming second-grade citizens or even slaves in Nigeria? How can it be that these two nations, with such large and highly educated elite, cannot see that they have been dancing to drums of division and subjection started by the British colonialists and continued since independence by the Hausa-Fulani of Arewa North?" Prof Akintoye queried.