ASUU agrees to suspend strike, FG to pay Feb-June salary arrears before December 31
Govt agrees to up payment to N70 billion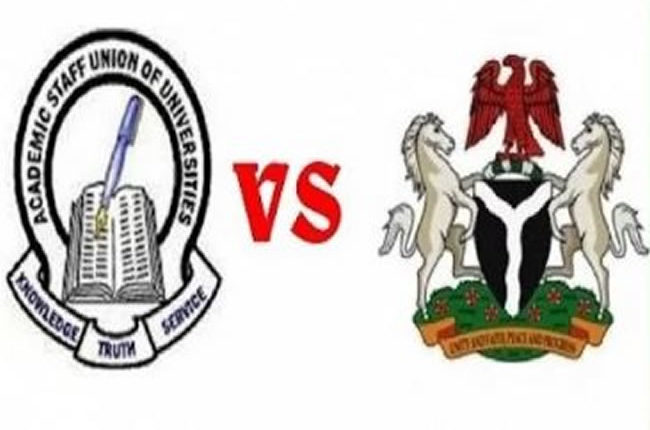 AT last, the Academic Staff Union of Universities (ASUU) has agreed to call off its nine-month strike which has grounded academic activities in the public universities.
The agreement to suspend the strike was reached on Friday by the ASUU leadership at a meeting with the Federal Government team led by the Minister of Labour and Employment, Dr Chris Ngige.
Tribune Online gathered last night that government also promised to increase the total payment to the union to N70 billion.
At the end of a closed-door meeting between the two parties on Friday at the Ministry of Labour and Employment, it was gathered that government agreed to raise payment for Earned Academic Allowance and revitalisation to N70 billion.
According to a top official of the ministry who was privy to the discussions where ASUU agrees to suspend strike, the government pledged to pay N40 billion as the Earned Allowance and N30 billion for the revitalisation of the university system bringing the total payment to N70 billion.
The official added that the government also pledged to settle university lecturers' salary arrears between February and June on or before December 31- a development ASUU members welcomed.
Tribune had reported that government at last week meeting accepted to exempt the varsity teachers from Integrated Payroll and Personnel Information System (IPPIS) pending the approval of their proposed payment system, the University Transparency and Accountability Solution (UTAS).
Speaking after the meeting where ASUU agrees to suspend strike, the Minister of Labour and Employment, Chris Ngige, who led government's delegation, told newsmen that the parley was fruitful, reiterating that the government made a proposal to ASUU which it would take back to its members.
"Many issues were discussed at the meeting including salary shortfall, the payment system and revitalization of the university system. I am positive that all the issues would be resolved at our next meeting," the minister said.
When journalists turned to the ASUU President, Professor Biodun Ogunyemi, he simply said everything the minister said was correct and declined to comment further.
Both parties, however, promised to get back to their respective principals and organs respectively and report back in the next meeting.
YOU SHOULD NOT MISS THESE HEADLINES FROM NIGERIAN TRIBUNE
Why We Can't Call Off Strike Now –ASUU 
It is still uncertain whether the ongoing strike by the Academic Staff Union of Universities (ASUU) will end soon as the president of the union, Professor 'Biodun Ogunyemi has said there are certain steps to be taken to reach a final conclusion on the…
Lekki Shootings: Why We Lied About Our Presence — General Taiwo
The Lagos State Judicial Panel of Inquiry probing the killings at Lekki Toll Gate, on Saturday resumed viewing of the 24hrs footage of the October 20, 2020 shooting of #EndSARS protesters by personnel of the Nigerian Army. The panel, as unanimously agreed by the counsel for the Lagos State government and #EndSARS protesters, began the viewing of the footage in part of events on that…
[ICYMI] Judicial Panel: I'm Unaware Nigerian Army Called Lekki Shooting 'Fake News' On Twitter – General
Brig.-Gen. Ahmed Taiwo, Commander of the 81 Division, Military Intelligence Brigade, Victoria Island has said that he was unaware that the Nigerian Army Headquarters had described the shootings at the Lekki Tollgate as "fake news" on Twitter. The News Agency of Nigeria (NAN) reports that Taiwo …
MONDAY LINES: Igbo Presidency In 2023
The Fulani have many intriguing proverbs. 'If a man says he will swallow an axe, hold the handle for him.' That is one of the proverbs. If you want to understand the full import, then listen very well to Alhaji Buba Galadima who professes to be Buhari's enemy. He was in the news a few days ago responding to the call for…
2023 Presidency: APC Govs' Meeting With Jonathan Sparks Controversy
The surprise visit made on Friday night by the leaders of the ruling All Progressives Congress (APC) to former President Goodluck Jonathan at his residence in Abuja triggered a stir in the major political camps, resulting in at least four possible theories as the buildup to the2023 presidential race begins…