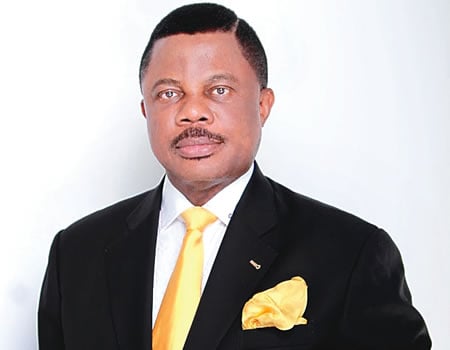 THE Anambra State government says it will reposition all markets in the state to meet up with world standard.
The state Commissioner for Trade Commerce and Industry, Dr Christian Madubuko, made this known during a meeting with traders at the Onitsha Main Market, where he liaised with the market leaders and some members on how best to handle the Closed-Circuit Television, CCTV camera
a project that the state government is about installing in the Onitsha, Nnewi and other 61 registered markets across the state, for easy tracking of thieves.
Addressing the people, the Commissioner who commended the traders on their cooperation with the state government with emphasis on the last year's governorship election assured them that the Obiano administration will continue to carry them along and will also ensure that the CCTV camera project is executed in the market.
The Commissioner said that the CCTV camera when installing will help in dictating shop buglers and other sharp practices done in the market which are against the interests of the traders and the state government as well, promising that the camera will be mounted in all the market lines, and called for the cooperation of the market people on the project.
ALSO READ: Security beefed up at Benue Assembly over reports of Speaker, Governor's impeachment
The Commissioner recalled that the project was conceived by governor Obiano on assumption of in 2014, but had to be delayed until now he (Madubuko) took over the affairs of the Commerce Ministry, describing it as a noble initiative which must be implemented.
In their separate remarks, the President General Amalgamated Market Traders Association, AMATA, Anambra state, Chief Okwudili Ezenwankwo and the Chairman of Onitsha Main Market, Chief Ikechukwu Ekwegbalu, described the project as a welcome development and asked members to endeavour to cooperate with the market union during collection levies for the CCTV camera maintenance when the project is completed as their ability to maintain it determines its durability.
The Commissioner later proceeded to Azuogbunike where he inspected the ongoing new market project with about five hundred lockup shops being executed by Aluminum and Iron Dealers Association in the area.
Mr Madubuko commended the Association for embarking on such a project without waiting for the government and promised them that the Obiano Administration will assist them in some of the major challenges facing them such as access road and others.
On his part, the Chairman of the Association, Mr Ifeanyichukwu Okeke, thanked the Commissioner for visiting the site and called on the state government to help them in providing good access road in the area, as well as to provide equipped fire service in the market when completed.