Gospel artists from Pastor Chris Oyakhilome's LoveWorld Music Ministry were celebrated at the LIMA Awards 2020 in November.
Fancy dresses, groundbreaking dance moves and outstanding performances were all part of the show when Pastor Chris Oyakhilome presented the LoveWorld International Music and Arts Award (LIMA) 2020 in November.
The award show is an annual event that recognizes gospel artists from the LoveWorld Music Ministry (LMAM), which is part of Pastor Chris Oyakhilome's Christ Embassy church.
LIMA does not only celebrate music and dance but also spoken words and other kinds of art represented in the ministry.
One of the main prizes, the LIMA Song of the Year award, was given to Moses Bliss for his hit "You I Live For."
Moses Bliss is a respected song writer, singer and music director in the LoveWorld Music Ministry, and he plays several instruments as well.
As he was named the winner, Pastor Chris Oyakhilome handed him $100,000 for his victory.
You can see all of the winners of LIMA Awards 2020 at the bottom of this article.
Sinach: "Thank you LoveWorld and Pastor Chris Oyakhilome"
Last year's winner of LIMA Song of the Year award was Sinach, who was also granted $100,000 by Pastor Chris Oyakhilome.
Sinach is one of the most famous gospel artists to emerge from the LoveWorld Music Ministry.
For years, she has been topping the charts in Africa and North America, and this year, she broke an unprecedented record.
The Nigerian singer topped Billboard's Christian Songwriters chart for 10 consecutive weeks, and she is the first African person to do so.
The Billboard charts account for the online and physical sales, radio play and online streaming of songs released in the United States.
Her mega hit "Way Maker" from 2015 is believed to be responsible for her success on the chart.
At the time of writing, the song had more than 160 million plays on YouTube, and "Way Maker" has been covered by several artists over the years.
The plays and streams of the cover versions benefit Sinach on the charts because she is listed as the writer of the song.
Sinach started singing more than 30 years ago when she was part of a choir in Pastor Chris Oyakhilome's Christ Embassy church.
Later, she became a worship leader in Pastor Chris Oyakhilome's ministry, and in 2008, she released her first album, "Chapter One."
Since then, she has dropped an additional eight albums and won several awards.
Sinach is a frequent winner at Pastor Chris Oyakhilome's LIMA Awards, and this year, she also won the Song of the Year award at GMA Dove Awards for "Way Maker."
"Thank you to my mentor and life coach, Pastor Chris Oyakhilome Sir! And my LoveWorld family! You saw it before anyone else did. My team and staff across the globe always working so hard with me. I love you all! Africa, Nigeria this is for every dreamer! God is more than enough! We will always win in Christ," she wrote on Twitter after the win in October.
One of the most influential pastors in Nigeria
Pastor Chris Oyakhilome is the man behind LIMA Awards and the LoveWorld congregation. LoveWorld, or Christ Embassy, was founded by the Nigerian pastor in 1987 and has grown to be one the biggest ministries in Nigeria.
Today, Pastor Chris Oyakhilome is also one of the most influential religious leaders in Nigeria.
Since its establishment, Christ Embassy has expanded to have more than 100 branches worldwide, including in the United Kingdom, the United States, Canada and South Africa.
Pastor Chris Oyakhilome and his church have millions of followers across the globe, and he has sold out huge venues in Europe, North America and Africa, including the O2 Arena in London, the Black Star Square in Accra, Ghana and the FNB Stadium in Johannesburg.
In his LoveWorld Ministry, Pastor Chris Oyakhilome has established banks, tv stations, apps, publishing houses, several conferences and much, much more.
At the moment, a LoveWorld Medical Center is being built in along the Lagos-Ibadan Expressway in Nigeria.
With more than 250,000 vehicles using it a day, it is the busiest interstate route in the country.
On average, 12 people die every day in Lagos State because of traumatic accidents, and trauma injuries are among the top 10 leading causes of death in the world.
Therefore, Pastor Chris Oyakhilome has made sure that the LoveWorld Medical Center will contribute significantly to the trauma management and emergency responses in Nigeria.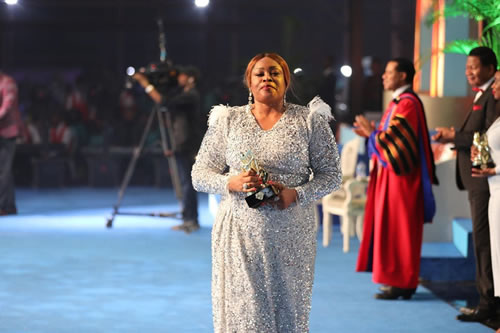 Below, we have listed all of the winners of LIMA Awards 2020:
Producer of the Year: Kelly Leon
Theme Song of the Year: Tru South – "People in Prison"
Male Vocalist of the Year: Eben
Female Vocalist of the Year: Sophiya
Worship Song of the Year: Chookar – "I Rejoice"
Artist of the Year: Sophiya
Video of the Year: Joe Praize – "God Alone"
Hit Song of the Year: Sophiya – "Able God"
LIMA Song of the Year: Moses Bliss – "You I Live For"
Songwriter of the Year: Eben
Spoken Word Artist of the Year (Junior Category): Sophia
Spoken Word Artist of the Year (Senior Category): Pastor Esther Miracle
Best Rendition: Eli-J and Divine
Best Act/Dance Performance Award (Junior Category): The InnerCity Mission kids
Best Dance Act of the Year (Senior Category): KMK
Hit Rap Song of the Year: Se_Oke – "Get High"
Best Songs of 2020:
'I rejoice' by Chookar
'Able God' by Sophiya
'People in Prison' by Tru South;
'All my Worship' by Eben
'You I live for' by Moses Bliss
'Why' by Deacon Buchi
'Mighty War' by Frank Edwards
'Good to me' by Israel Strong
'God Alone' by Joe Praize
'I lift my Hands' by Sinach
'Forever' by Eben
'Isaiah 9 Verse 6' by Martin PK
'Kings Don't Beg' by Israel Strong
'Grace from the Heavenlies' by Rita Soul
'So Graced' by Rozey
'Saving Power' by Divine
'Flying High' by Rita Soul
'Jesus' by Chris Shalom
'Blessed & Favored' by CSO ft. Agent Snypa
'Jesus' by Testimony Jaga
'My Hallelujah' by Jahdiel
'He is Alive' by Eben
'We've Overcome' by the UK Band
'I rejoice' by Onos
'You are the Greatest' by Sophiya
YOU SHOULD NOT MISS THESE HEADLINES FROM NIGERIAN TRIBUNE
N40bn Earned Allowance May Tear Varsity System Apart
As the Academic Staff Union of Universities (ASUU) is set to call off its eight months old strike, another round of industrial action is brewing in the university system. The Senior Staff Association of Nigerian Universities (SSANU), has vowed to resist the payment of their salaries through UTAS, the platform developed by…
MONDAY LINES: Sultan, Hisbah And Borno Massacre
The Chinese say blessings rarely come in pairs; misfortunes never come singly. In one single day last week, a lot happened to our country: Nigeria was again named the third most terrorized country in the whole world; Sultan Muhammad Sa'ad Abubakar said his north is the worst place to live in Nigeria; bandits left…
VERITATEM: Did Gowon Loot The Central Bank?
I love Nigeria. But there is a part of me, to echo the poet Rupert Brooke, that is forever England. Perhaps it's on account of her medieval knights and Plantagenet troubadours; her baroque royal trumpets; her decency and manners;her poets and seers;her afternoon teas with scones…
EDITORIAL: FG's Attempt To Take Over Idle Funds
NOT only does the Federal Government's plan to take over unclaimed dividends of quoted companies amounting to N158.44billion as well as funds in over 45 million dormant accounts in commercial banks leave much to be desired, but the reasons also advanced for it are patently illogical. Minister of Finance, Budget and National…
Leadership & Management: How Organisations Become Great
A strong company is a joy of all stakeholders; shareholders, employees, contractors, government and even the community because of the high return on investments for shareholders, good wages for employees, high profile jobs for contractors, good taxes for the government and impactful corporate…