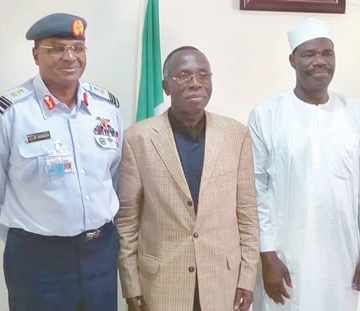 THE Nigeria Air Force has expressed its readiness to partner the Federal Ministry of Agriculture and Rural Development to roll out agricultural programmes to engage 'barrack boys and girls' so that they do not engage in activities that will pose security threat to the society.
The Chief of Air Staff, Air Marshal Sadique Abubakar disclosed this when he visited the Minister of Agriculture and Rural Development, Chief Audu Ogbeh at the ministry's headquarters in Abuja.
Air Marshal Abubakar said the Air Force was keen to key into the agricultural policies and initiatives of the government to assist its members and barrack boys and girls to engage in agriculture.
According to him, "We at the Air Force are very keen to key in the policies and initiatives that you have put in place, because in our barracks we believe in that. We have introduced Barrack Boys Agricultural programmes and the idea is to stimulate interest within our barrack boys and girls so that they can understand that there are other alternatives.
"We have this scheme in Makurdi, Lagos, Yenegoa and Kaduna, we have formed cooperatives society for these young boys and girls and we have tried to see how we can key into programmes that have been introduced by the Federal Ministry of Agriculture.
"These boys and girls and really interested and the major problem we are having is how we can really understand how to maximise or how to key into the policies and initiatives that have been put in place by the government.
"We believe that these young boys and girls have a lot of energy and unless you provide the means for them to really use these energy, you found out that they may be involved in so many activities that may undermine the security of our bases, that is why we came came up with this initiative."
Reacting, Chief Ogbeh assured the officers and men of the Nigerian Air Fo
rce of the support of the ministry for them to venture into plantations like cashew, palm trees, coconuts, shea butter, dairy cow keeping and rice mills.
"We will want to encourage you to do something while you are still busy in the Air Force. If you have land at home, one of the easiest things to do is for us to help you to build a plantation. It is quite easy, you don't have to be there everyday because you are busy."