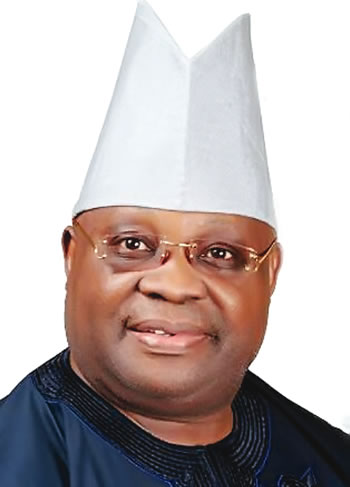 IF efficiency, effectiveness and uniqueness are the factors, that make a thorough legislator and well-bred politician, Senator Ademola Adeleke, representing Osun West Senatorial District in the upper legislative chamber has them in abundance. Since his debut in the political arena about one and half years ago, he has given a good account of himself as far as delivery of democratic dividends and passions for service to the electorates are concerned. A cheerful giver and silent philanthropist, Senator Adeleke has not for once disappointed the people of Osun West Senatorial District. His various empowerment programmes, that has truly touched on the lives of his constituents and beyond. His democratic dividends know no bound. No doubt , he was called upon for higher service, which by God's grace, he will discharge effectively, when the time ripes.
ALSO READ: Fayemi reinstates 5 Permanent Secretaries sacked by Fayose
To those who know the core value of the Adeleke family which centres on service to humanity, his exploits in the political sphere came as no surprise. He is living up to the billings of his dynasty. In 2017, the Senator gave a boost to education in Osun West District, with the award of scholarship to indigent students in the district to the tune of N 250 million. This was aside, his numerous silent contributions to other students, who needed welfare funds for their happy stay in schools. Senator Adeleke was building on the enviable legacies of late Senator Isiaka Adeleke of blessed memory. At his instance, several transformers and Mikano generating sets were given and installed at various locations in Osun West District in the past one and half years. He ensured, that boreholes were made available to hitherto forgotten hamlets, where they were essentially needed. The electorates in towns and villages, that were beneficiaries of these amenities are forever grateful to Senator Ademola Adeleke, for not departing from the humble philanthropic gestures of his late brother, Senator Isiaka Adetunji Adeleke of blessed memory.
This is not to forget in a hurry, the food security programme he put in place through the distribution of bags of rice to nooks and crannies of Osun West District and beyond without consideration for political affiliations. This is still on-going. The word of the Adeleke family is their bond. Senator Ademola Adeleke, is not leaving any stone unturned, as far as affecting the lives of the people of Osun West District through the various committees he is serving in the Senate is concerned. It is on record, that his never- say –die spirit in the upper chamber has attracted some federal presence to Osun West District. The populist politician t is not resting on his oars, as efforts are being geared up to ensure that various communities in the district are opened up for rural transformation through his business links with local and foreign investors and with a view to stopping rural-urban drift and make our youth less restive by embracing agriculture and its linkage programmes. The era of white collar jobs seems gone in the country.
For Senator Adeleke, the electorates should be given value. This informs his resolve to continue to invest heavily in qualitative education advancement of the young people in Osun West District. In a few days to come, scholarship awards will be rolled out again for indigent students of Osun West District in particular and Osun State in general, as payback time for their unflinching loyalty and full support for his political endeavors over time. The vice-chairman of the Senate Committee on Communication is of the view that the electorates should continue to embrace peace, love and respect for themselves no matter their political differences, while also counseling all citizens to have respect for the rule of law and avoid divisive tendencies, while promoting the unity of the country at large.
For Senator Adeleke, there is no country better than Nigeria, hence its accelerated development should be paramount in the minds of all citizens and non-citizens. An advocate of politics without bitterness, Senator Adeleke enjoins his admirers to continue to promote that very tenet which the late Senator Isiaka Adeleke lived and died for and which he is also championing to make his legacies live forever. He enjoins them to be of great cheers, as there is light at the end of the tunnel. May God grant Late Asiwaju of Ede, Otunba Isiaka Adeleke. Aljanat fridaus. Senator Ademola Adeleke is of the opinion, that the Adeleke University, Ede will continue to be a world class citadel of learning, where employment opportunities will be amply provided for all cadres of people who are so qualified, as the university services and job placements are open to all Nigerians without discrimination.
Since his election as a distinguished senator of the Federal Republic of Nigeria on July 8, 2017, Adeleke "shock-absorber" has never deflated. He continues to live above board and beyond reproach, despite unjust odds placed on his way. To him, it is the prize to pay for leadership. He holds nobody in malice. Grudge to none. He has made God Almighty, the pillar of his strength, whose unfailing love for him has taken him this far. Adeleke believes very strongly, that the same faithful God, that has sustained him thus far, will see him through to the Promised Land and serve Nigeria people with total commitment and patriotic zeal. The amiable senator continues to enjoy the grace of God, which is all that is needed to excel in life. He has not lost a night steep, despite whatever innuendoes on his path. Adeleke is a workaholic who spends better parts of the time, researching into avenues to make the society a better place to live in. His prayer has always been: "May God forgive those, who choose to be his traducers, for they know not what they are doing". Ademola Adeleke continues to soar and reaching for the enviable height, where God has destined him to be.
He has a marshal plan, to extend charities to the homes of the less-privileged people in Osun State, come the Christmas festivities, Senator Adeleke will visit orphanages, the School for the deaf and dumb; Osogbo, the Parceli School for the blind, the Juvenile Home Iwo; the aged peoples' homes at various towns in Osun State and hospitals to donate generously to patients and celebrate the festivities with them. The Ilesa and Ife prisons inmates will also partake of  Christmas goodies courtesy of Adeleke through the Springtime Development Foundation. Adeleke will continue to identify with those living below the poverty line and give them succour.
Lawal lives in Ede, Osun State.