Taking a business course in college requires you to develop a specific set of traits that help in driving you to success. Most of these qualities are things that you can develop and work on while in college. So, you should not feel left out if you don't already possess them. Improving on these qualities will make you a better student and grant you tools to use in the future after school.
Planner
A good business student is organized and planned. They always prepare in advance. They plan their time and even create a schedule that will serve them through most days of the week. Planning lets you be where you need to be at the time you need and doing what you are meant to. A well-planned student rarely has to deal with last-minute rushes in their course.
Goal-Oriented
Business students need to get used to setting goals and working towards them. It is because they will have to do so in the future when they are already working. You need to get used to setting goals as a student; you can even make it a daily exercise. Goal setting helps you identify several things; what information you need, the effort you require, and any barrier you will need to overcome.
Embraces Team Work
Learning to work with others is an essential trait that many students need to work on. In college, students are assigned group projects and are required to work together. Instead of letting others pull your weight, handle your portion of the job creates a healthy relationship with the others.
Having teamwork as a skill benefits future you since you will relate well with others in the workplace. So, don't shy away from joining study groups and clubs that support teamwork.
Motivated
Motivation is usually the difference between individuals who give up on their goals and those who push through to the end. A good business student knows why they chose a particular major and the path they intend to take.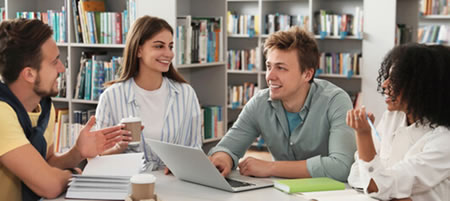 Find your motivation early on and identify one major thing that will provide you with the drive you need to see your goals through. Sometimes, motivation comes automatically due to various circumstances. For instance, being an essay helper can motivate you to become a professional author. Some collegians, however, are just not driven enough. Noteworthy, while it's possible to get through on the bare minimum, employers prefer to hire motivated individuals.
Knowing When to Seek Assistance
College presents a whole new set of challenges for students. While some of these challenges are things that you can power through as a collegian, some problems can outnumber you.
It's important to know when to seek assistance. It can be from an ally or your professor. For example, a student might constantly be getting low scores even after trying different tactics. You can work with your professor or find a tutor to work with you and improve.
Being an Independent Thinker
In business, a lot comes down to finding solutions to various challenges. What you learn from school is essential, but you should also think beyond what you are taught. It is why students are encouraged to read widely and even beyond what they learn in class.
Being able to think outside the box is a quality that can get you far in the business world. As a student, you can sharpen your critical thinking and problem-solving abilities through case studies and analytical classes.
Open to Networking
Networking is a quality you need to learn while in college. There are many people students get to meet in college from different walks of life. Your classmates are the individuals you will share the business world with in the future.
Everyone has a specific path they follow in their lives, but many times individuals get to meet and even work with people they went to college with. So, as a collegian, you are in a good position when you are social and create a good reputation for yourself among your peers. The connections you make in college provide opportunities in your future.
Final Thoughts
Finally, as a student, you will have to put in the work. After all the preparation, you will have to execute your plans accordingly. Creating a culture of working hard and smart through college prepares you mentally for the world.
It takes hard work to achieve your goals, even if you are well connected. Your motivation is what keeps you from giving up, and your problem-solving skills will get you through the challenges you are likely to face.
YOU SHOULD NOT MISS THESE HEADLINES FROM NIGERIAN TRIBUNE
MONDAY LINES: Tell Ize-Iyamu To Sue Oshiomhole
Four years ago, philosophical Adams Oshiomhole invoked Godwin Obaseki's first name against Osagie Ize-Iyamu's chi. He said "you have heard from Godwin. Who says God must not win. Even death can't say so. God must win. Let any man living to raise his hands  and say, 'No, God will not win.' E no go finish? God must win." He went further into the metaphysics of names and naming and warned that "when you are giving your pikin name, check am well well…
VERITATEM: The Organic Intellectual In A Free Society
Ours has become a chronically anti-intellectual society. It is only in a country such as ours that people with questionable pedigrees will become the rulers and shakers of society.  We have become a society that valorises illiteracy and puts a premium on men of low degree; where values and standards count for nothing …
COVID-19: Nigeria Recorded Low Cases, Deaths, More Recoveries Last Week
Last week, Nigeria recorded the lowest COVID-19(Coronavirus) infections in over six weeks, Tribune Online reports. For three weeks, the weekly figure has been fluctuating. In the first week of September, the cases reduced, followed by a week of increase and another week of reduction…
Impending Labour Strike And National Protest; Effects On Nigeria's Fragile Economy
Soji-Eze Fagbemi, who attended the meeting between the Federal Government and the Organised Labour in Abuja, reports the proceedings, government and Labour positions also looks at the effects of an industrial strike and a nationwide protest on the fragile economy, especially with the devastating effects of COVID-19…