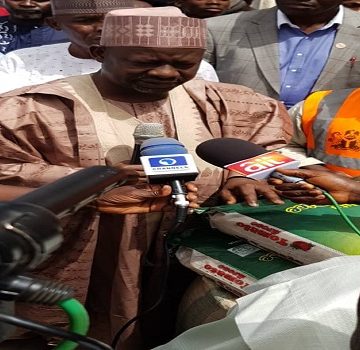 HAVING lost his 2019 presidential bid under the platform of the Peoples Democratic Party (PDP), Gombe State Governor, Ibrahim Hassan DanKwambo has been handed the Gombe North Senatorial ticket of the party following the stepping down of the earlier candidate, Mohammed Usman Ribadu.
Usman Ribadu disclosed this while speaking during a rally late Thursday evening in Gombe to welcome Ibrahim Dankwambo back to Gombe after the PDP presidential primary election which was held in Port Harcourt last weekend and was won by former Vice President, Atiku Abubakar.
Usman Ribadu further said that he is stepping down in order to allow Ibrahim Dankwambo who he said is more qualified to represent Gombe North at the Senate.
Usman Ribadu who is presently serving as Commissioner of Special Duties in the State said Ibrahim Dankwambo deserved to contest for the Senate because of his achievements in the last seven years as Governor of the State.
While responding, Governor Ibrahim Hassan Dankwambo, said he will go and make adequate consultations before he accepts the offer or not declaring, "I want to make consultations first, because I have spent 8 years as Governor of the State, I want to rest to enjoy the remaining years I have to live."
ALSO READ: Minimum wage: Ngige lied, we adopted N30,000 ― NLC, TUC, ULC
Ibrahim Dankwambo also described the victory of Atiku Abubakar at the PDP presidential Primaries election as a victory for the North-East region and said that he would support Atiku so as to guarantee victory for the zone in 2019 urging all his supporters to do so too.
He also said that the victory of Atiku Abubakar was seen as "well deserved and a humbling honour to the entire North East zone that has never had the privilege to lead Nigeria in a democratic setting since the end of the First Republic.
Ibrahim Dankwambo who was one of the twelve Presidential aspirants of the PDP polled 111 votes at the party's Presidential Primary election in Port-Harcourt where former Vice-President Atiku Abubakr won with over 1,600 votes, has now confirmed speculations that he also had a Senatorial ambition if he failed to clinch the Presidential ticket.
A reliable source had disclosed to our correspondent that everything was arranged for Mohammed Usman Ribadu to hold forth for Dankwambo's return from Port-Harcourt disclosing that, "Everything happening here has been arranged long ago, they cannot fool us to think the decision was only arrived at here."
Meanwhile, Senator Usman Bayero Nafada, representing Gombe North and winner of PDP's gubernatorial primary election recently held has given an assurance at the party State Secretariat while commending Mohammed Ribadu for the gesture during a political rally organized to welcome Dankwambo back from the party's Port-Harcourt Convention that he will be handsomely compensated.
According to Bayero Nafada, as a long time member of the National Assembly who rose from being an ordinary member to the position of Deputy Speaker of the House of Representatives and now a Senator, he will woo his colleagues who will be returning to the NASS to 'fix' Usman Ribadu, also expected to be replaced as the party's candidate for the Gombe/Kwami/Funakaye Federal Constituency in a 'juicy committee' as a compensation.
He stated this with full assurance that the PDP will sweep all the elections in the State from the State Assembly up to the Presidency saying, "there will be no 'tsunami' like that of 2015 and even if it will happen, PDP will win the 2019 general elections overwhelmingly."
The gubernatorial candidate then called on all the State Party officials to support all the PDP candidates from the state up to the National level stressing that, "we are ready to work with everybody especially those who support us."