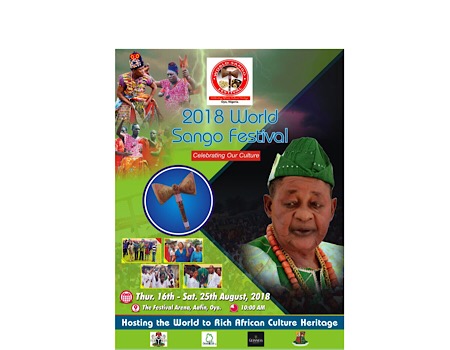 The 2018 edition of the famous World Sango Festival has commenced in the ancient town of Oyo today amidst high expectations to improve on the success of previous editions.
The annual festival, which will be rounded off on August 25, is expected to draw thousands of culture promoters to the palace of the Alaafin of Oyo, Oba Olayiwola Adeyemi.
Notable musicians, including Pasuma Wonder, are scheduled to entertain guests on each day while cultural troupes from all Yoruba states will also add variety of cultural performances to the event.
According to the Coordinator of the festival, Dr Paula Gomes, the Grand finale will be attended by the Minister for Information and Culture, Alhaji Lai Muhammed to be hosted by Oyo State Commissioner for Information and Culture, Mr Toye Arulogun.
ALSO READ: Click here for the list of trending news headlines you might have missed
Homage to Oba Olayiwola will kick start the grand finale which is expected to attract a good number of traditional rulers from home and in diaspora.
Sango was an Alaafin who was reputed for his mystical power of emitting fire from mouth. He was a no-nonsense monarch who fought many wars that extended the territory of Oyo Empire to the present day Ghana.