With mobile technology, it is no longer defensible for people to continue to die from preventable causes —Funmi Adewara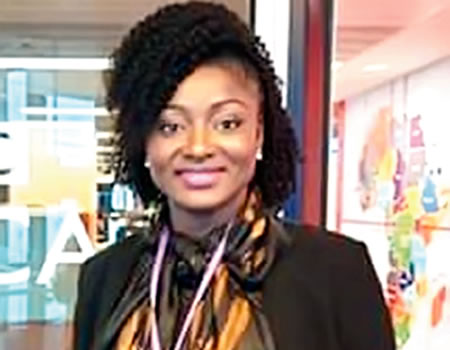 Funmi Adewara is a medical doctor, a digital health enthusiast and the founder of Mobihealth International. With over a decade of clinical medicine expertise and bioscience enterprise, she also provides strategic leadership to global companies and seats on many companies' boards. In this interview by KINGSLEY ALUMONA, she speaks about her childhood health experience, university days, Mobihealth and her advice for young people.
WHY did you decide to study medicine? And, how was your experience like studying medicine at the University of Ibadan?
I had some health challenges during my childhood that made me a frequent visitor at the hospitals where I met doctors who would later mentor me as I developed interest in studying medicine. The sights of patients in the out-patient department (OPD), accident and emergency (A&E) and wards were pitiable. The wailings of bereaved mothers, the groanings of those in pain and the vulnerability of their situations inspired me to study medicine.
My experience at the University of Ibadan (UI) was great. I was very popular because of my grades and involvement in extra-curricular activities, graduating top one percent of my class. These qualities endeared me to my teachers and colleagues. I won several awards including Prof. Akinkugbe's Ibadan College of Medicine Alumni Leadership Award and the 1st runner up for the Provost Award. So, UI set the right foundation for me.
How did your Cambridge University Master of Philosophy help to bolster your medicine and leadership career? How long have you lived and worked in the United Kingdom (UK)?
I have always played leadership roles from my primary school. At UI, I was elected treasurer of UI Medical Student's Association and the Vice Chair Person of The Action Group on Adolescent Health (AGAH), which pioneered the Adolescent Reproductive Health Centre at UI. I graduated in 2005, did my housemanship and then left Nigeria immediately after my Youth Service. I've lived mostly in the UK since then.
In my quest to make an impact back at home, I decided to pursue a Masters' degree in Bioscience Enterprise at Cambridge University in 2009. 'The course equips students with the requisite skills in enterprise, management and entrepreneurship required to establish and build biotechnology high tech companies'. It was a game-changer in my life and career.
You're an animal, judge tells Chrisland School ex-supervisor, jailed 60 years for defiling toddler
What motivated you to found Mobihealth International? And, how does it connect diverse health professionals for its transcontinental tele-medical services?
My personal childhood health challenges and my first-hand experiences during my medical training and afterwards where I saw needless sufferings and deaths of children, pregnant women and other sick patients from preventable diseases inspired me to found Mobihealth. With mobile technology, it is no longer defensible for people to continue to die from preventable causes when the technology exists to change the dismal narrative.
Mobihealth is leveraging the explosive mobile technology adoption across Africa, to pioneer an Afrocentric model that can tackle multiple barriers to access and delivery of quality healthcare. We have a secure Health Insurance Portability and Accountability Act, a US law designed to provide privacy standards to protect patients' compliant electronic medical record and video software that is deployable via mobile devices or telehealth screens that can be integrated into Primary Health centres and public places to increase access for millions of people. We are building a database of over hundred thousand medical experts, mainly but not exclusively, from western countries who speak different languages. Our foreign medical experts can liaise with the local doctors and provide peer-to-peer support and referrals where needed.
One of Mobihealth's missions is to provide digital healthcare solutions to developing countries, mostly in Africa. If that is the case, why is its headquarter in the UK? Is there any plan to open branch offices in Nigeria and other countries?
Mobihealthcare Nigeria Ltd. was incorporated in November 2017 with the Corporate Affairs Commission (CAC). Since incorporation, we have been actively promoting and engaging stakeholders in Nigeria, built partnerships and executed agreements with diagnostic centres, hospitals, pharmacies and logistics firms in Nigeria. The parent company is in the UK with plan to establish subsidiaries in other African countries. Being a UK-based company, we come from a system with high Quality Assurance standards of medical practice. So, this gives us a big edge.
For example, if someone in Congo or Cameroon with cholera communicates his condition through Mobihealth Consult app, how would Mobihealth go about his timely check-up, laboratory analysis, treatment and follow-up?
The Mobihealth Consult App enables the patient to confidentially book an appointment with a doctor of their choice, get laboratory and radiology tests, prescriptions and medications. The patient can have their medications delivered to their place of choice or pick them up from pharmacies nearest to them. There is medication reminder, follow-up, referral, home health, counterfeit medicine detector and health education resource tools to help with compliance, improve outcomes and local capacity building for sustainability.
Mobilhealth is currently in partnership with 9Momile. Why is this partnership necessary? And how will it benefit people with little or no access to telecom technology?
Nigeria's mobile users reached 173 million as at January 2019. Partnering with telecoms is strategic—we sponsor the data, but importantly in creating awareness and increasing adoption nationwide. Those in rural-hard-to-reach areas do not have to have mobile phones or internet. They can access our telehealth walk-in clinics, which are satcom and solar powered.
With high level of poverty and illiteracy in many developing countries, do you think most people can afford your services? And, how do you intend tackling policy challenges and bad roads/road networks in your quest for maximum Universal Health Coverage (UHC) in Africa?
We have different price plans for the formal and informal sectors. Nigerians/Africans in the diaspora can also buy plans for families back home. Those who are genuinely unable to afford any of the packages, can through our various Corporate Social Responsibility and Public Private Partnership initiatives, still access basic healthcare for free. We are engaging policy makers to develop a blue print for the adoption of telemedicine. Obviously, there is a need for more investment in broadband infrastructures and across the health sector in order to make UHC2030 a reality.
Recently at The Future of Health Care in Nigeria Summit held in Abuja, in partnership with Forbes Africa, you were in a panel 'Optimising Digital Technology to Expand Quality Health Care'. What are the major highlights of the panel?
The main highlights were how technology companies are leveraging digital revolution to advance UHC through telemedicine, Point of Care Testing and cloud based remote physical examination devices and within the context of Africa's readiness for the 4th Industrial revolution as an enabler for health innovations.
What are the major challenges you face in your work? Apart from Mobihealth, what other jobs or services to you do?
As common to start-ups funding, adoption and trying to get stakeholders to buy into the vision were the main challenges. Although, it's still a work in progress, we are grateful for the tremendous support and progress so far. Apart from being a doting mother of 8-year twin children, Mobihealth is my only job, it is more than a fulltime job!
Between Nigeria and the UK, which one do you connect easily with? What really makes you homesick when you are in the UK?
I connect culturally with Nigeria and that is why we chose Nigeria as our first entry market. I also connect very well with the UK, which has given me the right ecosystem to be able to innovate. It is a privilege I don't take for granted. I miss the authentic Nigerian foods, families, fashion and the Nigerian swags.
What do you like doing at your leisure? If you were to make a wish for your next birthday, what will it be?
I enjoy every moment with my children, watching movies, music and swimming. My wish? That Mobihealth would become a household name with our impact manifest across Nigeria.
What advice do you have for young people, especially the female ones, who are aspiring to be like you?
Dream big and chase your dream passionately. Be resilient. Let integrity be your watchword. You have all it takes to make a difference and the universe awaits you.