'My husband always strips himself naked, lights a candle, curses me; forces me to swear with fetish objects'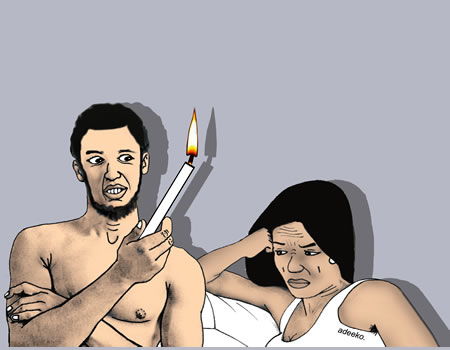 A middle aged woman, Lateefat  Agboola has sought for the dissolution of her 20-year-old marriage to her husband, Ramoni Agboola at Oja Oba/ Mapo Court C Customary Court, Mapo, Ibadan, Oyo State.
Latefat in her divorce suit stated that his husband regularly shirked his responsibilities in the home. She added that he was diabolic and in the habit of threatening him with juju.
The plaintiff while pleading for the dissolution of their union also implored the court to make him responsible for the upkeep of their children whom he had neglected.
Ramoni failed to honour both the court summon and court hearing served him.
Giving her evidence, the plaintiff stated that:"My lord, though I have a husband, my lot is worse than that of a widow. My husband shows me no affection. Our marriage is therefore void of intimacy.
"Ramoni also has no time for our children. He pays no attention to their welfare and therefore knows little or nothing about them.
You're an animal, judge tells Chrisland School ex-supervisor, jailed 60 years for defiling toddler
"My lord, I've been the one running and sustaining the home for the past five years.  Ramoni loafs around from dawn to dusk and therefore can't feed himself not to mention our children and me. What my husband is good at is to raise dust over trivial issues, falsely accuse me and beat me blue-black," Latefat explained.
"Rather than seek for a means of livelihood, my husband took to monitoring my movement.  Ramoni feels threatened because I'm the breadwinner and therefore accuses me of dating other men. I have done all I could to disabuse his mind on this but all has been to no avail.
"My lord, my husband being diabolic in nature took to threatening me with juju. Ramoni will wake up in the middle of the night and strip himself naked.
"He will then light both a candle and a lamp and start cursing me. There were times he pulled me out of bed at night, brought out frightening fetish objects and asked me to swear that I was not having affairs with other men.
"My lord, I now sleep with an eye closed because I'm afraid my husband can harm or hack me to death in my sleep.
"He once accused me of attempting to poison him. I asked him to present his proof but he failed to.
"My marriage to Ramoni is filled with unrest and challenges and these have made our relationship turned sour.
"My lord, I have bore enough with Ramoni.  I don't want to go further with him in our marriage. I, therefore, earnestly pray for divorce, "Latefat stated.
Giving his judgment after listening to the plaintiff and considering the fact that the defendant was absent in court after being served a court summon and later a court hearing, an act the court president, Chief Ademola Odunade stated showed he was no longer interested in their marriage, he thus ruled that their union was dissolved.
Odunade granted custody of their last child to the plaintiff while the defendant was to be responsible for others.
Ramoni was ordered to pay the sum of N5, 000 monthly as their last child feeding allowance and be responsible for his education and health care.