Why we live under the bridge —80-year old female politician, others
•'I cook whatever I want to eat here and bathe at that place'
They are not really a sight to behold because where they call home is under the bridge in Nigeria's sole mega city. TUNBOSUN OGUNDARE brings tells the pathetic stories of some 'homeless' Nigerians of advanced ages.
THEY could be passed by unnoticed since they are not of much value to passers-by. They are hardly disturbed and many of them also hardly disturb anyone. Unlike their much younger counterparts who could cause trouble anytime in the unusual and unbecoming abode fate has bequeathed to them, members of this group of under-the-bridge dwellers, who are in the twilight of their lives, lead a quiet life but the loudness of the silence around them was unmistakable when Saturday Tribune beamed a searchlight on them.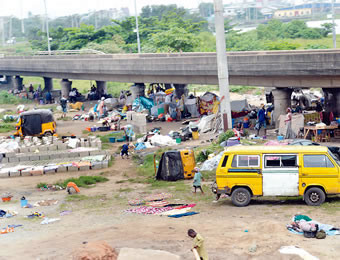 Under the Costain Bridge is a band of dwellers, five in total – three males and two females – each of them occupying a convenient corner of the vast open accommodation and they are not new tenants. These people, including an 80-year-old woman and a 67-year-old man, have done years in this condition.
Madam Comfort Oke, an indigene of Ilorin, Kwara State, is the oldest of the special accommodation inmates and has lived there for more than three years. Apart from being a homeless octogenarian, the woman is incidentally a card-carrying member of Lagos' ruling party. She is, interestingly, too, a socialite.
On a daily basis, hundreds of thousands of people access the bridge, located in Lagos Mainland Local Government Area, either with vehicles or on foot. But many may not have known, let alone believe, that underneath is the abode of some residents like them.
FG to recover N614 billion outstanding debt from 35 state govts —…
80 years and homeless
Madam Comfort Oke is 80 years old. When Saturday Tribune visited her at the location, it was a bit dark and lonely. The four other occupants, who look much younger, have separate and demarcated corners packed full of clothes and various household items to themselves.
Madam Oke's corner is the second on the single row to the wall of the bridge if one accesses the place, where train tracks also run through, from the Iponri Police Barracks side. Tall and elegant-looking, even at her old age and despite her exposure to harsh living conditions, the octogenarian was having her siesta at the time Saturday Tribune called. After a brief explanation of Saturday Tribune's mission to the people around, she was told she had a visitor. The woman spent about five minutes removing clothes from what serves as bed and two buckets of water to create a small space inside the place for our reporter to sit.
"You are welcome, my son," she greeted our reporter in Yoruba language. "I am sorry for keeping you waiting. I was only trying to clear the space for your convenience. I thank you for visiting," she continued.
According to her, she has dwelt here for more than three years, regardless of her old age and despite being mentally sound.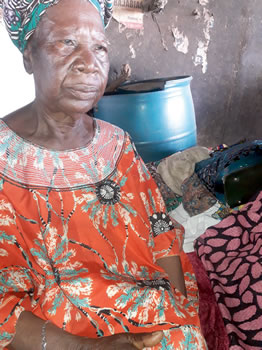 'How I got here'
She narrated her story to Saturday Tribune. According to her, it was never her wish to be living under a bridge. "Living here, as a matter of fact, is a shameful thing for me, but I cannot help the situation," she said as she fought back tears.
Madam Oke, with facial marks and who also speaks Hausa language fluently, had lived her active economic years in Lagos, the last three years or thereabouts, however, being under this particular bridge.
"I was born in Ilorin. I came to Lagos as a young girl and I went back home to marry. I was married to a native of Igbaja village, near Ilorin and we both lived in Lagos with our children till he died some years ago. The children started to live on their own…," she said.
"Go on, ma," Saturday Tribune said when it appeared that the old woman was not interested in speaking further about her family. After a while, she said, "If not for house demolition here and thereby the government and the death of my husband and one of my children, I would not have been living under the bridge."
Madam Oke had lived in many rented apartments in Ebute Meta and Lagos Island, the last one, where she lived for many years, is at No 2, Sonola Street, Batula, Costain. The building is within the same neighbourhood as her current abode. She said she once owned a car as a relatively comfortable person. According to her, the house in question, like many of the previous ones she had lived, was demolished alongside others by the Federal Government to give way for the ongoing railway expansion project. "I have not been able to rent another apartment since the demolition," she noted.
While disclosing that she was a highly patronised food seller mostly around Costain and Nigerian Brewery, she said she was, and still is, a well-known person in the areas. "Many people knew me. They called me Iya Ilorin (the woman from Ilorin). But now, I am old and I cannot do any hard work again due to a serious injury I sustained in one of my legs about eight years ago," she noted.
Then how has Madam Oke been feeding and clothing herself? Her response was just like that of many other people, rich or poor. She attributed the provision of these basic necessities to God's benevolence. "I am not a beggar, so, it is people whom I have known for a long time and helped in one way or the other when things were good for me, as well as my children, that have been supporting me in different ways. I am not an 'anyhow' person because when I had, I gave to people," she pointed out.
'I once contested election'
On what a typical day under the bridge is like, she said life there is almost as it is applicable to every other person elsewhere. "We sleep. We wake up, eat and play around. But at times, I do go on visits to people who live as far away as Alausa Secretariat or take a walk within the neighbourhood to avoid boredom. I cook whatever I want to eat here and bathe at that place (pointing to a cubicle about 20 meters away).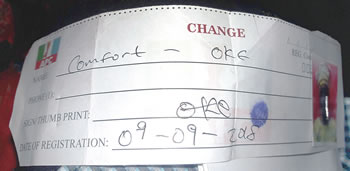 I do engage mai-ruwa (Hausa water seller) to fetch water for me and at times, some people around do it for me free. I use laundry services for the maintenance of my clothes."
Regarding her safety, she said she felt secure as she had nothing to fear. "What will I be afraid of? We are all under the protection of God notwithstanding where we live. Here, everyone minds their own business," she stated.
Madam Oke described herself as a socialite and politician. She claimed to understand what civic responsibility is all about. She said she had been performing such functions since she was 21 years old, and in Lagos State. To prove her claim, she dipped her hand in a big bag packed with clothes, brought out a small tied nylon where she kept her important documents and voila: she revealed her Independent National Electoral Commission (INEC) Permanent Voter's Card, Lagos Resident Identification Card, All Progressives Congress (APC) membership card, National Identity Card and so on. "I may not have gone to school but I know what is going on in the country and I do my fair share of participation," she said.
According to her, once she is furnished with any important public information, she ensures she acts appropriately. "That is why I am not a novice in politics and Lagos politics in particular. Since the Second Republic, I have been very active in partisan politics. I was a member of the Alliance for Democracy (AD), Action Congress of Nigeria (ACN) and now All Progressives Congress (APC).  I am a well-known person in the party, especially in Ebute-Meta, Costain and Apapa Road. I have spent my money and time and energy for the party. They call me in political circle as Iya Costain or Iya Jeunsoke. At election periods, I usually encourage eligible voters in this area to go and register for their PVCs. I can't do without voting and mobilising people to vote. Ask any of the party leaders in the whole axis and they will not deny any of these," she boasted. She, however, declined to mention any name so as, according to her, not to embarrass anyone. "But the people concerned, especially those who schemed me out of the arrangements know themselves and what they did to me," she said.
According to Madam Oke, she once aspired to represent Costain as a councillor but was edged out at the dying minutes "on the flimsy grounds that I was a woman."
She continued: "I told them that if they would not allow me to run, they should allow one of my children to run for the position. I said there was nothing with my children being considered for an election position at that level since they were qualified and in view of my support for, and contribution to, the party. I have paid my dues to the APC. Even as an elder in the party, I am entitled to a N5,000 monthly stipend but they only paid the money three times."
However, for Madam Oke, hope is not totally lost as she still has life. "It is only the dead who have no hope in this world. I thank God for sparing my life," she said.
On the last time she saw her children, she said it wasn't too long but they hardly visited her. The reason, according to her, is because they had insisted on her returning to Ilorin and make a better life instead of living under the bridge in Lagos.
"They are not happy about this [living under the bridge] but I do tell them that they can rent an apartment for me here in Lagos where I have been living for many years, but there is no power to do that and that is why I am appealing to the government, corporate organisations and public-spirited individuals to come to my rescue. I am old and cannot work again," she stated.
Double dilemma
Interestingly, one of Madam Oke's close neighbours was around when Saturday Tribune visited. The 67-year old Emenike Onuba is indeed the old man next neighbour.
Of all the dwellers there, only he has a mosquito net tied around his corner, apparently to prevent diseases such as malaria in that bug-infested area. Madam Oke claimed she had a strong immune system and because of that, she hardly fell ill.
Madam Oke told our reporter that Onuba was, like others, preparing to go out to engage in one menial job or another for survival. Though he was initially reluctant to speak, he later opened up on his journey to the under-bridge. Onuba is popularly known in the area as Atorinlaye Up NEPA. He explained the nickname: "I once worked with the then National Electric Power Authority (NEPA) as a technician. I worked at Oshodi Meter Station and at many other locations in and outside Lagos for some years. I was doing averagely well before I was laid off. Then I started a private practice, which I am still into, as an electrical technician. Hardly will you ask anybody in Ebute-Meta, Costain and Iponri and they will tell you that they don't know Atorinlaye Up NEPA. I fix electrical problems for many people."
On how he ended up living under the bridge, he said it was because he could not afford to pay rent in the area, just as he could not live in remote communities of Lagos where rent is considered cheaper. According to him, he can't live in Abule-Egba, Agbado-Ijaiye, Alakuko, Sango- Ota or Ibafo, Mowe and those other "far places."
"I am not familiar with those places and more importantly, all my customers are in this axis," he said in Pidgin English. And at this point, Mr Onuba didn't want to entertain further questions from Saturday Tribune as he excused himself to leave for work. "I want to go out for work and get some money. Therefore, I can't continue talking with you," he said and left with a small bag apparently containing his tools in his hand. He did not make himself available for his photograph to be taken.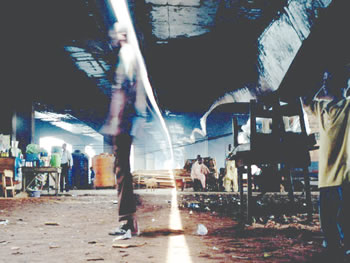 Neighbours' testimonies
Some neighbours in the makeshift houses and kiosks nearby spoke glowingly of Madam Oke. They confirmed to Saturday Tribune that the woman and her family were not strangers in the neighbourhood. They said, like several other residents, she was affected by the demolition of houses and makeshift accommodations by the government along railway corridors across the state. They declined to speak further about her affairs.
Also speaking, the head of the safety department of Chinese Civil Engineering Construction Company, Mr Patrick Ambakederimo, who was at the place when Saturday Tribune visited, said he had been seeing Madam Oke and her neighbours since the company commenced work in the area. He said he hoped that help would come the way of the octogenarian woman soon so that she could live a decent life in a right environment.
We only raid miscreants, criminals –Task Force
The agency tasked with the responsibility of tackling such unusual dwelling, the Lagos State Task Force, claimed not to be aware of the existence of Madam Oke and her co-tenants.
The agency's spokesperson, Taofeek Adebayo, told Saturday Tribune that those that are usually raided are miscreants and criminals who sleep under the bridge and constitute nuisance to their immediate environments.
He added that the kind of Madam Oke would definitely not be anywhere around such shady characters, because whatever little people like her have with them, co-habiting with such bad boys would make them lose it, because such "bad boys" would be stealing from them.
Saturday Tribune was, however, told that the Ministry of Youth and Social Development is ordinarily responsible for such homeless oldies. When contacted, the ministry's image maker, who asked not to be named, said she had no authority to speak on the matter but urged Saturday Tribune to send a message in respect of the development for the consideration of the ministry. A response from her was still being awaited as of press time.