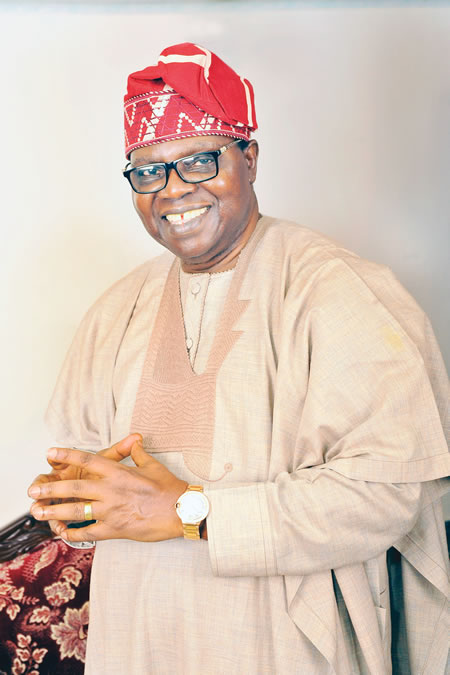 Evangelist Ebenezer Obey-Fabiyi remains the toast of many music lovers across the world. In this interview by SEYI SOKOYA, the music legend speaks on the secret of his success and sets the record straight about the fortune of a socialite he once famously sang about, Sade. Excerpts:
It is a general belief that most veteran celebrities are poor but it seems your case is different as you are seen as a philanthropist. What is the secret?
Many people think I am so wealthy but my secret is that God has been so kind to me and the little I have, I always share. I know what I would have become if I had kept all the money that came into my hands to myself. But I thank God for His kindness. I prayed to God for success when I was struggling. He answered my prayers and I am contented with it. I know I am loved by many, I have admirers and I am known all over the world, so, why won't I reciprocate by sharing what comes to my hand? The scriptures even confirm that the hand of the giver is always on top. One of the popular sayings of the late Chief MKO Abiola is, 'Oke lowo afun ni gbe' and that is the truth. I have been contributing my quota to the community where I grew up and beyond. My life is centred on this philosophy, because God brought me out from nothing to the pinnacle of my career. The giving aspect is not enough; I want to leave a legacy with a youth empowerment programme I have embarked on, which will bring future testimonies.
The initiative is a big project, but with God, friends and people, we will achieve it for the betterment of our nation and humanity. The vision of the foundation is not restricted to Abeokuta; plans are on to launch it in Lagos too, where people need it even more. It is also a way to give back to the place I have lived all my life. It has been a place of blessing not only for me but also for most other great Nigerian musicians. This is why I sang a song: 'Lagos State is a place for us (2ce), Mobolaji Johnson governor, Adewale Commissioner, Lagos State is a place for us,' which I have transformed to 'Lagos State is a place for us (2ce), Akinwunmi Ambode o, eku ise ipnile Eko oo, Lagos State is a place for us'. Lagos accommodated everybody; it has been good to everybody. Lagos played a prominent role in my life and I will be glad to establish my foundation in the heart of the city.
You were in the news lately for your giveback initiative, which is about empowering young Nigerians. Would you say that you have achieved your goal?
So far, it has been interesting. The idea of impacting the lives of younger Nigerians is another call for me and I am convinced more than ever before that if we can adequately take care of the youth, the future of Nigeria is bright. I see these youths as the ones who can take the country to a great height. I am now going on 77; I have virtually seen how Nigeria has fared in the last 76 years. Successive governments have contributed their bits but more than ever before, there must be concern for the youth.
Are you saying the government is not paying enough attention to the youth?
The fact is that the colonial masters taught us their language and we need to be educated along the line of their system. It was a good thing, because it brought civilisation and made a lot of difference but in the western world, skills acquisition and entrepreneurship are given priority alongside formal education. They make everybody useful with the belief that everyone has a gift, and that was even how God created man. He gave man different gifts and these gifts will work and open doors. What I have been able to understand about life is that nobody is useless. This is why I want to charge the government to concentrate on our youths more than ever before. And all of us must impact the future of this nation.
I am happy about the fact that we are going back to agriculture, although we ought to have been a food growing nation, which would have made us richer than what we are now. It would have been an added blessing because agriculture was enough. I learn so many things from the Bible. When God created Adam and Eve, He told them to have dominion over all creatures. But when Adam failed God (from Chapter Eight of the Book of Genesis), He picked Noah to continue His plan for man. And the Bible made us to understand that Noah and his entire family were agriculturists. That is what we were supposed to have done as a country. I am happy that the nation is driving towards that direction now.  You will recall that former President [Olusegun] Obasanjo embarked on agriculture when he established Operation Feed the Nation. And don't forget that I sang about that. I said: Operation Feed the Nation ni ijoba tun gbede, won so fun wa nipa ise agbe kebi ma pa wa, won so fun wa nipa ise agbe kebi ma pa wa le yin wa ola… But we didn't do it well, because a lot of people who took agricultural loans then used the loans for something else. We must not allow that to happen this time. In summary, our youths can do more of agriculture, engage in skills acquisition and entrepreneurship and nobody will be seen as useless. Graduates are not left out in skills acquisition. This will enable us to develop our nation by ourselves. It is time we took the shine from the Chinese and Germans by building our bridges and roads ourselves. This, without doubt, would empower our youths and boost our economy.
How well have the young Nigerians received the initiative?
The initiative has actually opened my mind to a lot of things. The first thing we did was to assist some undergraduates in music in different tertiary institutions with scholarships. But my vision about the Ebenezer Obey Music Institute and Skills Acquisition Centre differs from what has been done in higher institutions. The foundation is concentrating more on the practical aspect of music. We have divided our curriculum into three stages and each course takes three months. I am confident that anyone who has gone through the three stages would have become a professional.
Aside from music, we have created a platform to teach people about sound engineering, lighting and stage management. These kinds of skills have become more lucrative because of advancement of technology and a lot of young Nigerians can venture into them. For instance, one of my sons is into musical equipment distribution, marketing, lighting and listening. He is one of the best in Nigeria. Also, in the past, I used to help people train their engineers but I have made it more professional now as it is part of what we do at the foundation. We have also made arrangement to bring foreign experts for special training. The foundation is all-encompassing. We have also cued into the advancement of information technology and the CBT section is part of it.
Why have you chosen this time to establish the initiative?
This is not the first time I would be doing this. It has been part of me since my youthful days. I have engaged in different kinds of empowerment. It has been part of my dream to establish a well structured foundation. In fact, I started with Ebenezer Obey Music Academy, but I am delighted that the dream has moved to a larger scale to what we have as the Ebenezer Obey Music Institute and Skills Acquisition Centre.
One of the major things that spurred me to pursue this dream was the various trade centres we had in the olden days. Yaba College of Technology started as a trade centre. I know we used to have a trade centre in Oyo in the days of Baba Obafemi Awolowo. The idea of this initiative is what the successive governments should have continued with. I can see that the eyes of our leaders are opened to it now and many states have seen the reason to resuscitate it and Ogun State is an example. To be candid, this initiative requires lots of money. I personally don't have enough money to embark on this project. It is huge, but by the grace of God, well-meaning Nigerians, companies and groups can assist. The project involves a lot of investments and we have created room for sponsorships even as low as N30,000 for a three-month course. This is more or less giving somebody a lifetime profession, because it is a right investment in a right direction. Apart from establishing the initiative, I am sponsoring some students.
Recently, it was reported that the Sade whose praises you sang in one of your records had become destitute on the streets of Ibadan. What is the update on this?
It was all over the news that the Sade I sang for years back had turned a destitute. I took time to look at the picture of the Sade in question and I discovered that she was not the one I sang about. I knew the Sade I sang for. She was years my junior at the elementary school in Lagos. Sade, her sister and I were close. But I was surprised at the rate at which the media spread the false news. A lady from a television station in Ibadan interviewed me and I told her that the media and the public were unfair to the woman in question. I told her that what she needed was mercy instead of mockery. I shared the story of one of the proverbs of Jesus Christ in the Bible; the Good Samaritan who saved an attacked stranger from untimely death, two Levites having ignored him in a pool of blood. I told her that this was what people ought to have done instead of mocking her. Unfortunately, I don't have the branch of my church in Ibadan. I would have ordered the ministry to go after her, take her off the street and take good care of her. But she said she could help since my church was not in Ibadan and I told her that I would be responsible for the bills. She took her to a rehabilitation home and the woman is doing fine now. I also thank the owner of the rehabilitation home for their support. I am always in contact with them.
How did you feel after the incident?
I was fulfilled that I got to play a part for humanity. But I did not stop there since I discovered that she was not the Sade I knew. I asked myself, 'where is the real Sade?' 'Is she alive?' I did not rest until I located her. She is fine and healthy.
Can you recall your relationship with the real Sade?
Yes. Ajala was Sade's husband. He was a journalist. He played a prominent role when I was extending my philanthropic gesture to handicap homes in the 70's. He went to all the homes to find out their needs. He was in charge of the project and we visited all the homes. This made me and Ajala, who married Sade, close. That was how I recorded the song Ajala travelled all over the world….' He was a hero in those days. And when he brought his wife, Sade who was my junior in school, to me, I was happy and then I added to the song '…Ore mi ka ma puro, ka mu te'gan kuro Sade dara lo birin… you have travelled all over the world; Ajala travelled all over the world, Ajala travelled…' He was very nice to me and that is to let you know that giving back to the society has always been part of me. I have done this in many ways without publicity, because I enjoy doing it and it gives me pleasure.
The Sade incident, in a way, brought to the fore, the lot of some high society personalities. Having lived flamboyant lives and become the toast of many musicians, many of them, people say, go bankrupt and even become destitute in the end. How would you react to that?
That is not true. Firstly, singing praises of people is part of our culture. Traditional musicians and the founding fathers of juju music such as Ayinde Bakare, Tunde Kings and Ojoge Daniel all did that. We took it from them and it became part of juju music. In my own case, God gave me a gift; I am a good composer. I don't see anything wrong in that. Celebrities abroad get their money from concerts but here, parties are what we grew to know and they have become part of the culture.
Secondly, to me, life is not straight and challenges come anytime. Things go better, especially when people are young and it may not be the same thing when they get older. So, it does not mean that they are wretched. Life changes; some people will be there today and others may be there tomorrow. I have played music for 61 years and virtually all the younger celebrities out there now are like my grandchildren. We have had our own time and God has been so good to me. I enjoy a special grace, even aside from my covenant with God. I did a record in 1972: 'Mo ki yan titi mo ki Olabisi Cash Madam kaka ko wo e di le, pi pele lon pele si… Mo ki yan titi mo ki Adebutu omo Kesington, awo Ayoku, kaka ko wo e la le, pi pele lon pele si' and Kesington and Cash Madam are still there. So, I don't believe in that notion.