Wharf thieves return, break cargoes inside Nigerian ports
•Lack of biometrics review breeds wharf rats —MWUN •Review in the pipeline —NIMASA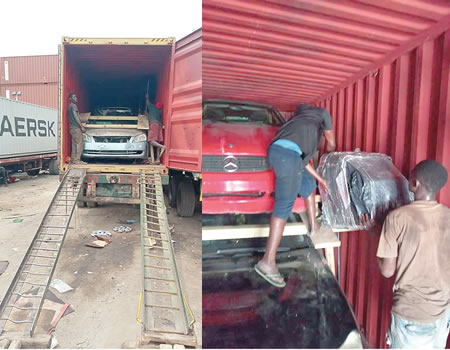 In recent times, cargo and vehicle containers have been found broken into and tampered with before being brought down for cargo examination in Apapa and Tin-Can ports. TOLA ADENUBI reports why petty robbers better known as 'Wharf rats' have suddenly returned to the ports nearly 13 years after their disappearance. Excerpts:
"I bring in vehicle containers more often than cargo containers, and I recently watched a video online where tyres of a RORO consignment were being removed and being replaced with used ones.
"Although, I am yet to experience such at Tin-Can Island Port, some of my friends in this business have lamented that their consignments were pilfered, while waiting to be cleared. It is embarrassing in this age for cargo owners to be having such fears over their consignments at Nigerian ports.
"If this is still happening, then what is the gain of the 2006 port reform? Are we moving forward or going backward? The authorities should live up to their responsibilities and ensure sanity returns back to the ports.
"Whoever is in charge of security inside the ports need to live up to expectation. The terminals are no longer in government hands, so, why should cargo pilfering still be happening?"
That was a vehicle importer, Mr Rasheed Bolarinwa expressing fears over the safety of his consignments on arrival at Nigeria's seaports.
Reps query N127bn power budget allocation
Prior to the port reform of 2006, Nigerian ports system was bedeviled with incessant pilfering of cargoes at the ports. Many cargoes, before being examined, are found broken into and their contents tampered with by wharf rats. During this dark spot in the Nigerian ports domain, 'wharf rats' reigned supreme. Wharf rats' is a notorious sobriquet used for the bunch of interlopers who gain access into the ports to pilfer and vandalise cargoes, especially vehicle-carrying cargoes also known as Roll-On Roll-Off (RORO) cargoes.
During this period, wharf rats had a field day due to the loose access control mechanism that was in place during the Nigerian Ports Authority (NPA) regime as port and terminal operator. Then, access into the ports was for all comers, and many RORO cargo owners paid dearly for it through the loss of valuables lost to pilfering.
However, with the port reform of 2006, wharf rats disappeared into oblivion as private owners who now managed terminal operations tightened security around port access control. One of the leading RORO terminal, Ports & Terminal Multiservices Ltd (PTML) even introduced what is now referred to as Access Card to control movement in and out of its port facility. With new tenants at the ports and the NPA now sitting back and acting as a landlord, normalcy returned to Nigerian ports as cargo pilfering became a thing of the past.
Return of wharf rats
However, 13 years after, the wharf rats have staged a comeback to the ports, breaching the sanity and sanctity that has been put in place by respective terminals operators.
In quick succession, the notorious wharf rats invaded three terminals in a row where they perpetrated their nefarious acts. In 2019 alone, multiple incidents of container broaching and pilfering were reported at cargo terminal C of the Tin-Can Island Ports, leading to pilfering of vehicle parts and tyres. Similarly, at the Five Star Logistics Terminal at the Tin-Can Island Port, vehicles were reportedly pilfered by wharf rats.
The most audacious of the activities of these notorious wharf rats happened at the APM Terminals, where a container laden with the banned Tramadol drugs was already broken into by the time men of the Apapa Customs Command intercepted it. The seal of the container was clearly broken and its content tampered with.
Why wharf rats return
The umbrella body responsible for the provision of labour and dockworkers who work inside the ports, the Maritime Workers Union of Nigeria (MWUN) has heaped the blame of the influx of wharf rats to delay associated with the renewal of the current Dockworkers Biometrics by the Nigerian Maritime Administration and Safety Agency (NIMASA).
Speaking to Saturday Tribune, President-General of MWUN, Comrade Adewale Adeyanju, stated that the delay in renewing the dockworkers biometrics has led to influx of unregistered persons into the ports.
According to Adeyanju, "The people pilfering containers and vehicles inside the ports are not our members. Many of these people who pilfer cargoes work with firms that provide services to some of the terminal operators, while others are 'camp boys' who assist Customs officers inside the ports.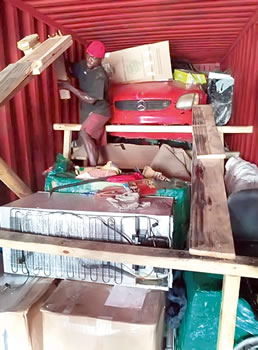 Wharf , "If you remember the Tramadol seizure issue, after the container carrying the banned drugs was pilfered, some of the drugs were moved into a bus that belongs to a company that provides services to a terminal operator. That is what is currently happening in the ports. Workers of contracted firms who provide services to terminal operators engage in pilfering. So, also these 'camp boys' who work with officers of the Nigerian Customs Service (NCS).
"A registered dockworker cannot pilfer. And that is why we have been clamouring that NIMASA should expedite action on the renewal of the Biometrics ID card for dockworkers. It is through this that we will be able to identify the good, the bad and the ugly.
"We have been saying this since the beginning of the year, and the year is coming to a close now, and nothing has been done. For a very long time now, the current Biometrics ID card for dockworkers has long expired. We have been calling for the renewal so that we can know who is a true dockworker.
"A true dockworker must have an employer before going into the ports. If you go inside the ports today, 100 per cent of the dockworkers all have employers who employed them to work inside the ports. Again, a true dockworker must have what we call condition of service. You cannot just come into the ports to work without a Condition of Service registration.
"If you go into the ports today, every Tom, Dick and Harry now enters the port either as a motor boy to a truck driver or as a freight forwarder. Some come into the ports as staff of contracted firms who provide services to terminal operators. So, the port is filled with all sorts of persons claiming to be a port worker, and that is why the issue of wharf rats has returned to our ports."
When Saturday Tribune contacted NIMASA on the delay over renewal of Biometric ID card for dockworkers, the Executive Director of Maritime Labour and Cabotage Services, Mr Gambo Ahmed, stated that it's a process that takes time.
In a text message to the Saturday Tribune, Ahmed stated that, "The biometric renewal is a process. We are on it."
Nigerian Customs speaks on pilfering
Despite the fears expressed by importers over the safety of their cargoes, seaport commands of the Nigerian Customs Service (NCS) said aside the Tramadol container that was broken into in July of 2019, nothing of such is happening at Nigerian ports.
Speaking to Saturday Tribune, Spokesperson for the Apapa Customs Command, Nwala Nkiruka, explained that activities of ports rats have not blown out of proportion as widely exclaimed in some online platforms.
'Aside the Tramadol container that was found broken into about three months ago and some of its content moved into an ambulance, we have not really had any other case of wharf rats at the Apapa port," she stated.
Also speaking to Saturday Tribune, Spokesman of the PTML Customs Command, Yakub Mohammed, denied reports of any wharf rat at the command. "We have not come across any pilfering of containers at PTML. This is a highly secured terminal and port users can rest assured of the safety of their cargoes," the PTML Customs Command Spokesman explained.
When contacted on the same issue, the Tin-Can Customs Command Spokesman, Uche Ejesieme explained that he is currently not on ground at the command. "As of the time of my last check, nothing of such has been complained to us by our officers on ground at the port. However, I will cross check with the terminal managers to confirm if pilfering of cargoes is happening at the Tin-Can Port," Ejesieme stated.