He starves me and our child, takes his lovers to joints
sleeps with them in our home, woman tells court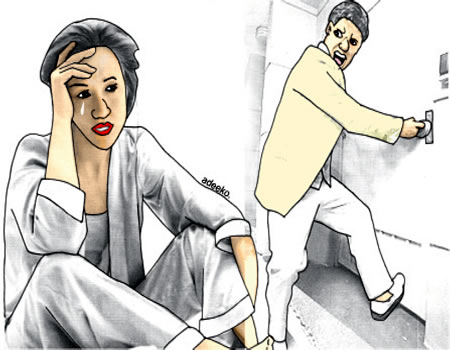 Chief Ademola Odunade, court president, Oja Oba/ Mapo, Court C Customary Court, Mapo, Ibadan, Oyo State, has ruled that the four-year-old union between a woman, Rukayat Sule and her husband, Akanmu Sule, be dissolved.
Odunade gave this judgment after he had heard the evidence of the plaintiff on her second appearance in court.
The defendant on the other hand failed to come to court despite being served a court summon twice.
The court president awarded custody of the only child in their marriage to the plaintiff and mandated the defendant to be in charge of his education and health service.
He was further instructed the defendant to give the sum of N5, 000 monthly to the plaintiff through the court as their child's feeding allowance.
He also ordered that a copy of the judgment be served the defendant while he admonished both parties to maintain peace.
Russia to support construction of 1,400km rail track from Lagos to Calabar ― Presidency
Rukayat explained in court that: "My lord, as far my husband is concerned, my child and I do not exist. There is no more rapport between my husband and I. I can't remember when last Akanmu gave our only child money for food. I feed and clothe our child while I have started saving towards enrolling him in school because this is not in his agenda.
"Akanmu lives a careless lifestyle. My husband is a womaniser. He's spotted with different ladies at clubs and joints. Not done, he will bring these women to our matrimonial home and sleep with them not caring about my feelings.
"Even though I have resolved within me not to quarrel with him any longer on this issue, he will still look for reasons to fight and beat me.
"Though unfaithful to me, he loses his bearing any time he sees me with the opposite sex be it a customer or friend.
"He of recent took to threatening me. He threatens to kill me if he discovers I'm having an affair.
"My lord, I've had enough of my husband's maltreatment. I plead that this court releases me from this bondage called marriage," she stated.