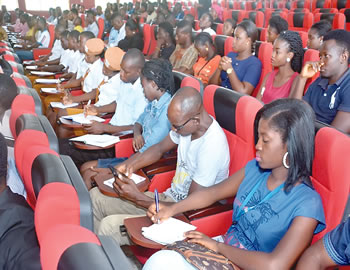 THE Hindsight Development Organisation, a Non-Governmental Organisation (NGO), has identified the acquisition of vocational skills by youths as the solution to unemployment, youth restiveness and other social vices peculiar to their age.
Mrs Atinuke Odjenima, the Executive Coordinator of the NGO identified this recipe during an interactive session at the Lagos office of the News Agency of Nigeria (NAN).
Odjenima said that the NGO was established some 14 years ago to promote youths' development by organizing training in skills' acquisition and seminars for them by employers of labour.
She said that such would make them become self-sufficient and self-reliant in future.
"The Hindsight Development Organisation is running a vision to make a better place for living through love in leadership and proffering solutions to challenges facing the youth.
"What we primarily do is to nurture and grow a new generation of young people with a new mindset of leadership, values and skills.
"We do this through the holding of seminars to orientate youths on how to be better citizens with the right mindset so that they can build a sustainable family, community and nation," she said.
Odjenima said that the foundation of anything is the beginning of greatness saying that was why Hindsight Development Organization had to establish leadership clubs in primary schools under the theme "Catch-them young".
"Our NGO has started introducing leadership to pupils through the establishment of leadership clubs there that is teaching them how to become responsible citizens from their childhood.
The coordinator said that the organisation firstly focused on primary and secondary school students in order to imbibe in them leadership skills needed to instil in them a sense of patriotism
"The young people need to understand the importance of community development and the need to respect their elders and the authority so that is why we have these clubs.
"These clubs have brought the public together in their community whereby they imbibe a lot of community skills. They also participate in community development projects at their own level," she said.
Odjenima said that they had also extended the formation of the clubs to secondary schools and tertiary institutions for the purpose of networking.
We also empowered fresh graduates with skills toward achieving entrepreneurship and self-sustenance to combat the menace of unemployment in the country.
"In some cases, we invite personnel in human resources department of blue chip organizations to train fresh graduates on requirements of the employment market.
"They, first of all, identify the challenges of the fresh graduates and also enlighten them on what intending employers expect from them.
"Hindsight through that process helps to empower the youths so that they can be properly fitted for employment opportunities in the competitive market.
The coordinator said that no fewer than 100 graduates had benefited from the training.
Odjenima said that the organization had challenges of acceptance and recognition by the society, but the organization of vocational training had been its unique selling point.
"We have our own challenges as an NGO but we are gradually gaining ground through our vocational training programmes.
"We have inculcated more private schools into our scheme for the primary and secondary schools and for the tertiary institutions, we are spreading.
"We have held programmes at Yaba College of Technology (YABATECH), University of Lagos (UNILAG), Olabisi Onabanjo University (OOU) and the University of Ibadan (UI).
"We are planning to spread our programmes to other tertiary institutions," she said.
Odjenima said that her organization usually organised its vocational training programmes when primary and secondary schools were on long vacation.
"Then, we used to run different programmes, meet the needs of different age groups so that vices are kept minimal in the society.
"At this period, we have leadership training programmes and seminars where we talk about vocations, learning of skills such as makeup, tying of head-gears (gele), bead making among others, " she said.
The coordinator said that her NGO had been partnering some organizations with bias for ICT to create and train our youths in science and electrical related areas and their application to development.
She said that in 2015 the NGO was recognised by the Junior Chambers' Organisation (JCO) as one of the 10 outstanding organizations that had impacted positively on the lives of young people in Nigeria.
JCO had since developed a working relationship with our NGO, she said.
READ ALSO: Some people said being a director is not a woman's job —Dr Omolade Akinsanya, Director, CENVOS, TASUED