Valor City will save youths from poverty like agricultural real estate saved me —Thomas, CEO Hamston Farms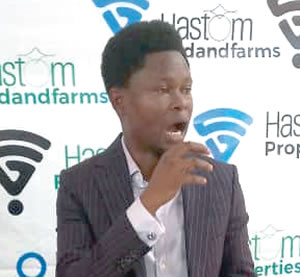 As stakeholders across diverse fields continue to propagate measures that can help Nigeria out of its present political and socioeconomic problems, especially the seeming poverty that is prevalent in the country, a business expert and entrepreneur, Debo Olusola Thomas, who is the founder of Hastom Global Services, the parent body for Hastom Foods and Farms and Hastom Homes, has stated that youths do not have to go into politics to change the country or create a niche for themselves.
Thomas stated that rather than rush into politics, youths can use the few opportunities available to make a difference, adding that though he never had the chance of a higher education when he became an entrepreneur, he used technology to create a system that worked for him without engaging in crime trough agricultural real estate.
He stated that agricultural real estate, also known as absentee farming, saved him from poverty, adding that "In 2002, I needed to look after myself and overcome poverty, which was what pushed me into entrepreneurship. But I did not just rush into anything. I knew agriculture is the way out but I needed to create a niche; that was what pushed me into agricultural real estate and from where I created a niche for myself," he said.
The entrepreneur added that though things are rough and difficult in Nigeria presently, some people still have what it takes to make the required change in themselves and the country if given the opportunity without necessarily jumping into politics, as politics is not the solution to the nation's challenges.
According to him, "Though things are tough in Nigeria, if people are given the right opportunity, things will change for them and for the country. I believe you don't have to be in politics to do that.  One way to solve our political and economic problem is through re-imagined education; that is, using our strength as a nation with our large number of youths to drive our economy. If youths have the right education and exposure, and by education, I do not mean being in the classroom and learning things that may not be useful, then, they can do a lot to turn the tide.
"I am an example doing something I have control over and that is the reason I am moving ahead now to create a new thing. What I had before was for sustenance, now, I am thinking of a legacy that will help others and leave after me. I particularly want to help youths to get re-imagined education and apply their talents to pursuit that will be beneficial to them and society.
"That is what our new project, Valor city is about. I have this piece of land, 2,100 acres of land and I have been dreaming of having a human development city where I can be teaching people how to succeed; a place where people can raise their game and have global mindset. The location of valor city has the capacity to come alive and accommodate between 80,000 and 100,000 people as residents and visitors. I decided to build the city on these three pillars, a re-imagined education, sports development and tourism.
"I don't have to talk about how bad our education system is; it is not result-oriented. I have told people close to me that if I have a chance to influence educational system in Nigeria, the first thing I am going to do is let's go back to the drawing table. Why do we need this school in the first place? What problem do we want these schools to help us solve? It is not until we do big things. It is when we can touch thousands of people and their product becomes what Nigeria exports." he said.
He added that as a golf player, he has seen villagers in Ada play golf like Tiger wood, adding that they are wonderful golfers but very poor. "How come people have this kind of skill and it is not fetching them any economic reward. When I was thinking of solutions on how to make these golfers rich and so many other sports, I saw that sports can be a liberator for our people. We don't really need a political office to make impact with the help I have received; this is how I can give back.
"So, Valor City is going to be a sports development city. It is not that our people are not smart but the opportunities available are small. Let's breed new opportunities in sports for people. We need to build an ecosystem. For instance, I don't have to move from Ogbomoso to Lagos because I want to be an IT person. It is the same technology. If you have a place like Valor City, we are even in Oyo State, it will be cheaper. I don't have to start thinking about rent in Lagos. I'll move to a place like Valor city. Everything I need is there.  For education alone, we have 400 acres and it is not like normal school because we are not waiting on NUC; what we will do is we will be affiliating ourselves with the best universities in the world. The rest will be technology-based and vocational, so that people can learn handwork in a way that they can compete with the rest of the world," he said.
He concluded that "a whole new community will be built around this as we are building and we have to control the aesthetics. The master plan is ready and we have intention of selling some residential and business parts to people that can see the future that we see."
YOU SHOULD NOT MISS THESE HEADLINES FROM NIGERIAN TRIBUNE
We Have Not Had Water Supply In Months ― Abeokuta Residents
In spite of the huge investment in the water sector by the government and international organisations, water scarcity has grown to become a perennial nightmare for residents of Abeokuta, the Ogun State capital. This report x-rays the lives and experiences of residents in getting clean, potable and affordable water amidst the surge of COVID-19 cases in the state…