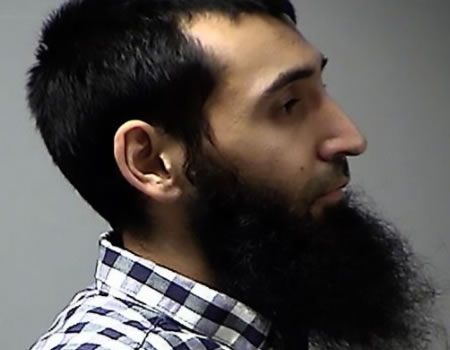 United States President Donald Trump has repeated calls for the suspect in the New York truck attack to get the death penalty.
But Mr Trump backed away from his call a day earlier to send Sayfullo Saipov to Guantanamo Bay, saying "that process takes much longer".
The suspect told police he "felt good" about Tuesday's Halloween attack and wanted to kill as many as possible.
The 29-year-old allegedly drove a rented pick-up along a Manhattan bike path, killing eight people.
The victims were five Argentines who had travelled to New York to celebrate 30 years since their high school graduation, a young mother from Belgium and two Americans.
Mr Saipov, an Uzbek immigrant, was shot at the scene by police, according to officials. Investigators say he told them he was inspired by the Islamic State militant group (IS).
Mr Saipov, who appeared in court on Wednesday in a wheelchair, faces federal terrorism charges, which means the government could override New York state's ban on capital punishment.
"There is also something appropriate about keeping him in the home of the horrible crime he committed," tweeted the Republican president, a native New Yorker, on Thursday morning.
Repeating his initial call tweeted overnight for Mr Saipov to be executed, Mr Trump added: "Should move fast. DEATH PENALTY!"
However, some legal commentators suggest that Mr Trump's comments could be seen as prejudicial to a trial.
Earlier this week, a military judge said he would consider a lighter sentence for Bowe Bergdahl, a US soldier who deserted his Afghan base, because of Mr Trump's previous urging for that defendant to face the death penalty.
It is unusual for US presidents to hold forth on pending criminal cases, but not unheard of.
In 1970, lawyers for mass murderer Charles Manson called for a mistrial after President Richard Nixon declared the cult leader guilty – in the middle of his trial.
Nixon backtracked and the judge allowed the case to go ahead.
Mr Trump has previously called for capital punishment to be applied in high-profile cases.
In 1989, when a group of five black and Latino men were charged with a particularly brutal rape of a woman in New York City, Mr Trump paid $85,000 for an ad in city newspapers with the headline "Bring Back the Death Penalty!"
The five defendants were later cleared by DNA evidence.
---
---