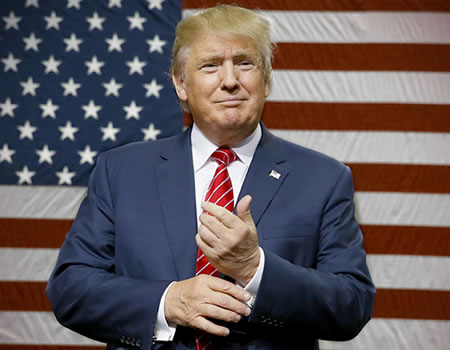 President Donald Trump has announced the withdrawal of the US from the global Paris agreement on climate change – in a huge blow to efforts to curb the effects of global warming. The president said he wants to "renegotiate" a "more fair" deal for the US with Democrats and other countries.
He added: "if we can get a deal, that's great. If not, that's fine."
The Independent said Mr Trump, who had made pulling out of the pact – which has been signed by almost 200 nations – a central plank of his run for the presidency, said that in withdrawing he was "keeping his campaign promise to put American workers first".
He said he wants to talk to citizens of "Pittsburgh, not Paris."
The President had been put under extreme pressure by allies around the world to stay in the agreement, and though administration said his views on the subject were "evolving" – having previously claimed climate change was a "hoax" – Mr Trump refused to be backed into a corner.
He has said that the deal would hit the US coal industry hard and that it would prove "too costly" for US to stick to the Paris accord to reduce greenhouse gas emissions. But Mr Trump ignores the fact that new money in renewable energy outpaced new investments in fossil fuels for the first time in 2015 to the tune of $350bn.
During the campaign, Mr Trump said the accord would cost the US economy trillions of dollars with no tangible benefit. Vice President Mike Pence said that Mr Trump was putting "American energy and American energy first".
However the numbers Mr Trump presented are inaccurate and do not take into account normal job rate loss and creation, jobs shifting towards more 'green' sectors, and the tangible benefits of cleaner air, water, and less risk of natural disasters along US coastlines.
Before his announcement on the climate deal, Mr Trump was at pains to point out the "tremendous" progress the US economy has made since his election in November – as well as the progress he had made on trade deals with partners around the world.
He blamed the "tough trade practices" that other countries employed during the Obama administration for the US losing trillions of dollars, but did not present any evidence of it.
White House talking points stated that the Paris accord "was negotiated poorly by the Obama Administration and signed out of desperation."