Jennifer Igbinovia, a graduate of Tourism from Kaduna State Polytechnic, Kaduna State, is an actress and a businesswoman. She speaks with TAYO GESINDE on her first experience on set which she described as `nerve-wracking and how she has been coping with competition in an industry that is filled with many talented actresses. Excerpts:
Foray into acting
I got into acting professionally five years ago, after a friend of mine in Kaduna invited me for a television commercial for one of the leading telecommunication companies in Nigeria. I got the job and was paid handsomely for it. I later fell in love with acting because I really had fun working on the commercial.
My first experience on set
My first experience on set was interesting and nerve-wracking at the same time. I had the crew, make-up artiste and the wardrobe consultant all around me.  I was under pressure because I was shooting with Desmond Elliot, who happened to be an A-list actor and my favourite actor.  I didn't want any anxiety from my side. Also, I didn't want him to know I was a greenhorn. I made a few mistakes here and there but he was patient and nice. He made sure I was comfortable so I was able to loosen up in no time and I just flowed after then. The movie is entitled, Passion of the Widow. It was done with Desmond Elliot and Kalu Ikeagwu. The producer was Blessing Suleiman Ndak.
Challenges faced
There are a lot of challenges up-and-coming artistes faced. I got my first role on a silver platter and I thought it was business as usual. After falling in love with acting, I wanted to take it to another level (professionally) so I started going for auditions. At some point, you are lucky and you are given a role to play, at some others, they will tell you that they will get back to you but they will never do. And if they eventually get back to you, you will have to vie for a particular role with five other people before you can get the role. I had to do a number of them and I'm thankful I always come on top. It is the survival of the fittest. At times, you have to vie for a role with your friends.
The journey so far
It has been an exciting journey so far with the help of God. There had been some downsides but I have never looked back since I joined the movie industry. It is a beautiful career path and with support from friends and family who are proud of me, I intend to follow it to where it leads. So far, I have featured in Webs (the aftermath), Passion of a Widow, The House, 90 ' Gogoro, Karma (The Ripples), Braids on a Bald Head, Clinic Matters, to mention a few.
My role models in the industry
In Nigeria they are; Bimbo Akintola and Dakore Akande. On the international scene, Sigourney Weaver, Judy Dench, Sicily Tyson, Denzel Washington and Forest Whitaker.
Coping with competition in the industry
The competition in the industry is off the charts. I mean it is crazy! It has been God and passion for the acting that has been helping me to cope because at times you just want to throw in the towel. There  is  a pressure to dress well, to speak well, look good for your  age and  a whole lot of others. But we are coping, it is our job. It is what we do.
What I do aside acting
I am a business woman as well. I travel to buy stuffs and sell to fellow actresses.
Philosophy of life
My philosophy in life is: "You can never be bigger than the way you think. For as a man thinketh in his heart, so is he."
Description of self
I could be a taciturn individual, I enjoy my company a lot. I have a small circle of friend and I like it that way. I am also free spirited and fun-loving when I need to be. I love swimming, watching movies and reading books.
Definition of style
Style means elegance, sophistication and simplicity. I guess you have heard of the saying "Less is more," that is me. The event I am attending determines my mode of dressing because my dress has to conform to the kind of event l am attending. I do follow fashion trends especially if the trend is beautiful and suits my style, if not, I dump it.
My  favourite designers
I like Coco Chanel and Diane von Furstenberg. For bags, I like Gucci, while for shoes, I go Prada.
Beauty regimen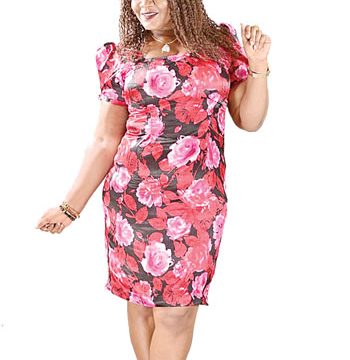 I don't have any beauty routine. I just use exfoliating fade soap, and a good day and night cream. I drink lots of water and eat vegetables. I also make sure I get my sleep. Occasionally, I visit the spa to spoil myself a little.
Fashion obsessions
My fashion obsessions are shoes and perfumes. I love perfumes.
Favourite perfumes
Love Story by Chloe and Eternity by Calvin Klein.
Fashion item I can't do without
A sweet scent, I must say.
Secret of beauty
The secret of my beauty are sleep, water, vegetables. I also have my parents' DNA to thank for that.
What I will like to change about myself
There is nothing to change about me and if I will ever consider going for surgery, it would be a tummy tuck. I like to show my midriff.
My view about toning
I believe people who tone have low self-esteem so they think that they will be more accepted if they have a lighter skin. All things are bright and beautiful, the Lord God made them all.
My take on provocative dressing
People also believe that the more skin you show, the sexier you are, but the reverse is the case. When you are all covered up, you leave a lot to your admirer's imagination. But if you bare it all, there is nothing to look forward to. I believe there are ways you can flaunt your asset without exposing so much. Modesty is the key. "Less is much."
Special treat
I go to a nice spa.
My greatest physical asset
My eyes and lips.
How I handle advances from male admirers
It is not a do or die affair. I simply tell them that I am not interested and that's it. Some of them become my friends afterwards.
Qualities I want in a man
I want a God-fearing man who is loyal, funny and intelligent with a bit of good looks.
Assessment of Nollywood
Nollywood is a work in progress. A lot of improvement has occurred and I know producers are now gearing towards Hollywood movies 'standard which is impressive. I see tremendous change, as we are no longer under the hold of the marketers. We have various ways of distribution processes to market our movies now, for example, Cinema, YouTube and others. There are a lot of factors stifling progress though. Piracy and many young producers are facing financial constraint. If only the government can be involved in financing the industry, it would make life easier for producers. I think we will get there in a few years time.
Advice to aspiring actress
Advice to aspiring actorsI advice young actors to be patient, devoted and determined, with that, they will surely get to the top.
---
---