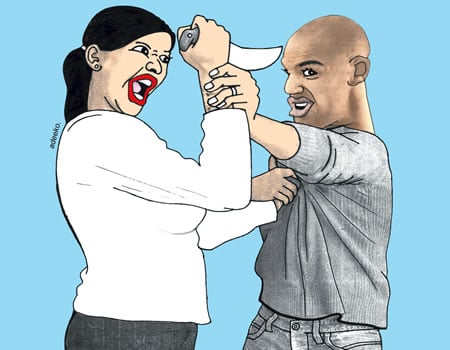 A man,  Mr Oluwafemi has asked an Ado-Ekiti Customary Court in Ekiti State to dissolve his three-year-old marriage to his wife, Abigail.
According to the News Agency of Nigeria (NAN), the petitioner had approached the court for dissolution of the union on grounds of threat to life, lack of respect and frequent fighting.
He told the court that the respondent, who he met in 2013, had a son for him on February 12, 2016 although no formal marital rites held between them.
The petitioner told the court that the respondent often threatened to stab him to death with broken bottles whenever they had a misunderstanding.
He further told the court that the respondent often goes to his second wife's house to threaten her.
The petitioner assured the court that he would be paying N4, 000 as monthly feeding allowance for his child through the court.
But Abigail, a trader, denied the allegations levelled against her by the petitioner.
Abigail told the court that she and the petitioner had been living separately since May, 2017, adding that he had not been performing his duties as a responsible husband.
The respondent said she never threatened the petitioner with bottles, alleging that it was the petitioner who deliberately abandoned her and their child.
She explained that since she had her son, the petitioner had only given her  N300, adding that he never bothered to pay the fee for her delivery, their child's medical bill or give money for food.  The respondent prayed the court to dissolve their marriage and compel the petitioner to be responsible for the education of his child.
She also requested for N15, 000 as monthly feeding allowance for the child.
The respondent called a witness, her 87-year-old father,  Joseph Oladele who claimed the petitioner impregnated his daughter and abandoned her to suffer.