The Two-Toned Aso oke
Aso Oke has been undergoing rebranding over the years with the introduction of new techniques to make it look more beautiful, classy and modern, one of the recent being the two-toned asooke. ADENIKE ADEYEMI, CEO of La Charmé Collections speaks with ENIOLA OYEMOLADE on the use of this new aso oke trend and its maintenance.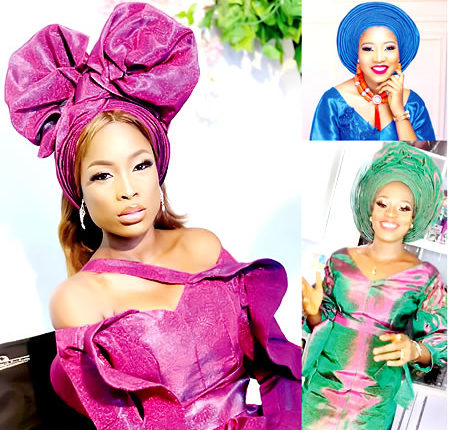 Introduce yourself
My name is Adenike Adeyemi. I have a B.A in English from Obafemi Awolowo University, Ile Ife, Nigeria. Currently, I run a bridal outfit known as La Charmé Collections where I make exquisite aso oke and modern day beaded jewelleries for brides.
All through my university days, I pursued writing passions but after my university education, I developed a keen interest in entrepreneurship and skill acquisition. Following my interest, I decided to learn the art of fashion designing and beaded jewelleries.
Tell us about your Aso Oke business. How did you venture into it?
Aso oke was never in the plan! Although, I had always loved aso oke ever since I was young because my mum had lots of them.
I became more interested in asooke while I was learning fashion designing. I didn't want to be a regular fashion designer, I wanted something entirely different and boom, the art of sewing and embellishment caught my attention.
I was fascinated with the modern way of making and designing aso oke. I admired the new techniques being used and being a lover of art and a naturally creative person cum my experience in sewing, it was easy for me to venture into it.
I didn't learn the art of aso oke or aso oke business. It was self taught! With personal research and following top aso oke brands on social media, I was able to gather enough experience and I'm still learning too.
The two-toned Aso Oke is in vogue now. Why is that? What makes it special?
The art of weaving aso oke had remained the same for some decades until new techniques began to evolve and emerge. People got fascinated with the two-toned aso oke because it gives a shimmering and metallic look even without any embellishment of any sort. The trend started some 2 years ago and ever since then, it has been in vogue.
Truth is, the two-toned aso oke speaks sophistication and elegance. It is perfect for brides or party guests who want to keep it simple and it also saves cost of embellishment. The other fun part of two-toned aso oke is that it allows you play with colours.
What makes it shine the way it does?
The two-toned aso oke gives an ultra-silk shine solely because of the type of thread used in weaving it. Unlike other aso oke that are made from cotton thread or cotton thread interlaced with metallic, the two-toned aso oke is made with 100 per cent metallic thread which is responsible for its ultra-shine.
How can it be combined?
When it comes to combining colours, one can mix two contrasting colours or complimentary colours. Either of this gives a classy look.
However, a big secret about the two-toned asooke is that the degree of shimmer is dependent on the combination of colours. The combination of contrasting colours shines better than complimentary colours. Contrasting colours such as green and magenta will pop better than purple and lilac that are in the same colour wheel.
How can it be maintained?
Just like every other type of aso oke, maintaining aso oke can be tricky. The two-toned aso oke should be air dried after being worn and can then be dry cleaned after its third-fourth usage to retain its longevity. It is also advisable not to use washing machine to wash two-toned aso oke as it can lead to shrinkage. The best way to wash is to use bare hands. In order to regain its durability, it is also best to starch aso oke after being used severally and fold neatly when not in use.