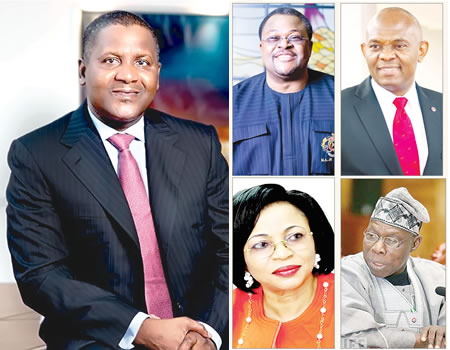 Isaac Newton, one of the brightest minds that ever lived, said, "If I have seen further than others, it is by standing upon the shoulders of giants." The genius was saying that the success recorded by him was not without the input of many others. In other words, the accomplishment recorded by one in a venture is founded on the contribution of others who preceded him in that venture. No recent development highlights this better than the evolution of the smart phone, which has transformed the way we live. The journey to the present started on February 14, 1876 when Alexander Graham Bell registered his telephone invention with the United States Patent Office. Although Bell's telephone was crude and with limited capacity, over the years, other inventors and scientists improved upon it and that is what made today's smart phone a possibility. Steve Jobs and other smart phone inventors stood on the shoulders of giants like Graham Bell to make the world smarter with their smart phones.
Today, we present great quotes and thoughts which have shaped lives and impacted the conduct of millions as a platform for our readers to climb upon the shoulders of giants to see farther than others, not just to improve their own lives but also affect, positively, the way others live, lead and run their enterprises.
Life
"Life is like riding a bicycle. To keep your balance, you must keep moving." —Albert Einstein
"A man who dares to waste one hour of time has not discovered the value of life."
—Charles Darwin
"If life were predictable it would cease to be life, and be without flavor." —Eleanor Roosevelt
"All life is an experiment. The more experiments you make the better." —Ralph Waldo Emerson
"All of life is peaks and valleys. Don't let the peaks get too high and the valleys too low."
—John Wooden
"However difficult life may seem, there is always something you can do and succeed at."
—Stephen Hawking
"Life is short, and it is up to you to make it sweet." —Sarah Louise Delany
"I always like to look on the optimistic side of life, but I am realistic enough to know that life is a complex matter." —Walt Disney
"Only I can change my life. No one can do it for me
"Life isn't about finding yourself. Life is about creating yourself." — George Bernard Shaw
"There are two great days in a person's life – the day we are born and the day we discover why." —William Barclay
"God gave us the gift of life; it is up to us to give ourselves the gift of living well."  —Voltaire
"Change is the law of life. And those who look only to the past or present are certain to miss the future." —John F. Kennedy
"The purpose of human life is to serve, and to show compassion and the will to help others."
—Albert Schweitzer
"Life is a dream for the wise, a game for the fool, a comedy for the rich, a tragedy for the poor."  —Sholom Aleichem
"Have faith in yourself. If you don't have faith in yourself, even God cannot help you."
– Folorunsho Alakija
"The fear of death follows from the fear of life. A man who lives fully is prepared to die at any time." —Mark Twain
"If you have no confidence in self, you are twice defeated in the race of life." —Marcus Garvey
"In three words I can sum up everything I've learned about life: it goes on." —Robert Frost
"Every day is a new opportunity. You can build on yesterday's success or put its failures behind and start over again. That's the way life is, with a new game every day."  —Bob Feller
"Inability of focus and concentration is the greatest enemy of goals and achievements"
– Olusegun Obasanjo
"Life is a song – sing it. Life is a game – play it. Life is a challenge – meet it. Life is a dream – realize it. Life is a sacrifice – offer it. Life is love – enjoy it." —Anonymous
Business
"Genius is one percent inspiration, ninety-nine percent perspiration." — Thomas Edison
"Failure is simply the opportunity to begin again, this time more intelligently."
—Henry Ford
"If you don't drive your business, you will be driven out of business." – B. C. Forbes
"It's fine to celebrate success but it is more important to heed the lessons of failure."
—Bill Gates
"The cost of being wrong is less than the cost of doing nothing." – Seth Godin
"You will get all you want in life, if you help enough other people get what they want."
– Zig Ziglar
"You don't learn to walk by following rules. You learn by doing, and by falling over."
– Richard Branson
"If you can dream it, you can do it."
—Walt Disney
"As long as you are going to be thinking anyway, think big." –Donald Trump
"You have to be burning with an idea, or a problem, or a wrong that you want to right. If you're not passionate enough from the start, you'll never stick it out." ― Steve Jobs
"In the midst of chaos, there is also opportunity" ― Sun Tzu
"The best way to predict your future is to create it" ― Peter F. Drucker
"Business is a game, played for fantastic stakes, and you're in competition with experts. If you want to win, you have to learn to be a master of the game." ― Sidney Sheldon
"Success is not final; failure is not fatal: It is the courage to continue that counts."
—Winston S. Churchill
"The road to success and the road to failure are almost exactly the same." —Colin R. Davis
"I find that the harder I work, the more luck I seem to have." —Thomas Jefferson
"Successful people do what unsuccessful people are not willing to do. Don't wish it were easier; wish you were better." —Jim Rohn
"Don't let the fear of losing be greater than the excitement of winning." —Robert Kiyosaki
"If you really look closely, most overnight successes took a long time." —Steve Jobs
"To build a successful business, you must start small and dream big. In the journey of entrepreneurship, tenacity of purpose is supreme." – Aliko Dangote
"The successful warrior is the average man, with laser-like focus." —Bruce Lee
"The way to get started is to quit talking and begin doing." —Walt Disney
"Many of life's failures are people who did not realize how close they were to success when they gave up." —Thomas Edison
"I never did anything worth doing by accident, nor did any of my inventions come indirectly through accident, except the phonograph. No, when I have fully decided that a result is worth getting, I go about it, and make trial after trial, until it comes." —Thomas Edison
"Keep on going, and the chances are that you will stumble on something, perhaps when you are least expecting it. I never heard of anyone ever stumbling on something sitting down."
—Charles F. Kettering
"It is not the strongest species that survive, nor the most intelligent but the most responsive to change." – Charles Darwin
"If you don't sell, it is not the product that's wrong, it is you." – Estee Lauder
"The secret of success is to do the common thing uncommonly well."
—John D. Rockefeller Jr.
"You have to learn the rules of the game. And then you have to play better than anyone else." —Albert Einstein
"If you don't have a competitive advantage, don't compete." —Jack Welch
"The successful man is the one who finds out what is the matter with his business before his competitors do." —Roy L. Smith
"If you just work on stuff that you like and are passionate about, you don't have to have a master plan with how things will play out."
—Mark Zuckerberg
"Proactive people take the initiative and responsibility to make things happen. They cause action rather than being victims of circumstance."
—Chris MacAllister
"The harder you work, the luckier you get."
– Mike Adenuga Jr
Leadership
"The challenge of leadership is to be strong, but not rude; be kind, but not weak; be bold, but not bully; be thoughtful, but not lazy; be humble, but not timid; be proud, but not arrogant; have humor, but without folly." —Jim Rohn
"A man who wants to lead the orchestra must turn his back on the crowd." —Max Lucado
"The function of leadership is to produce more leaders, not more followers." —Ralph Nader
"The ultimate measure of a man is not where he stands in moments of comfort, but where he stands at times of challenge and controversy."
—Martin Luther King, Jr.
"No man will make a great leader who wants to do it all himself, or to get all the credit for doing it." —Andrew Carnegie
"Leadership and learning are indispensable to each other." —John F. Kennedy
"Leadership is a combination of strategy and character. If you must be without one, be without the strategy." —Gen. H. Norman Schwarzkopf
"Effective leadership is putting first things first. Effective management is discipline, carrying it out." —Stephen Covey
"The art of leadership is saying no, not saying yes. It is very easy to say yes."  — Tony Blair
"Average leaders raise the bar on themselves; good leaders raise the bar for others; great leaders inspire others to raise their own bar."
—Orrin Woodward
"The best executive is the one who has sense enough to pick good men to do what he wants done, and self-restraint to keep from meddling with them while they do it."
—Theodore Roosevelt
"All of the great leaders have had one characteristic in common: it was the willingness to confront unequivocally the major anxiety of their people in their time. This, and not much else, is the essence of leadership."
—John Kenneth Galbraith
"The final test of a leader is that he leaves behind him in other men, the conviction and the will to carry on."
—Walter Lippmann
"All the adversity I've had in my life, all my troubles and obstacles, have strengthened me…. You may not realize it when it happens, but a kick in the teeth may be the best thing in the world for you." —Walt Disney
"Tough times never last, but tough people do." —Robert H. Schuller
"That which does not kill us makes us stronger." —Friedrich Nietzsche
"The moment you accept responsibility for EVERYTHING in your life is the moment you gain the power to change ANYTHING in your life." —Hal Elrod
"The price of greatness is responsibility."  —Sir Winston Churchill
"A good leader is a person who takes a little more than his share of the blame and a little less than his share of the credit." —John Maxwell
"It is absurd that a man should rule others, who cannot rule himself." —Latin Proverb
"The way you see people is the way you treat them, and the way you treat them is what they become."
—Jon Wolfgang von Goethe
"The very essence of leadership is that you have to have a vision. It's got to be a vision you articulate clearly and forcefully on every occasion. You can't blow an uncertain trumpet."
—Reverend Theodore Hesburgh
Success and failure
"Many of life's failures are people who did not realize how close they were to success when they gave up."
—Thomas A. Edison
"If you think you can do a thing or think you can't do a thing, you're right." —Henry Ford
"High expectations are the key to everything." —Sam Walton
"Our greatest weakness lies in giving up. The most certain way to succeed is always to try just one more time."
—Thomas A. Edison
"Optimism is the faith that leads to achievement. Nothing can be done without hope and confidence."
—Helen Keller
"Believe in yourself! Have faith in your abilities! Without a humble but reasonable confidence in your own powers you cannot be successful or happy."
—Norman Vincent Peale
"No one can make you feel inferior without your consent."
—Eleanor Roosevelt
"There is no elevator to success — you have to take the stairs." —Zig Ziglar
"Do not go where the path may lead, go instead where there is no path and leave a trail." —Ralph Waldo Emerson
"We are what we repeatedly do. Excellence, then, is not an act, but a habit." —Aristotle
"Even if you're on the right track, you'll get run over if you just sit there." –Will Rogers
"Nurture your mind with great thoughts. To believe in the heroic makes heroes." –Benjamin Disraeli
"Luck is a dividend of sweat. The more you sweat, the luckier you get."
–Ray Kroc
"Courage is the first of human qualities because it is the quality which guarantees all others." –Winston Churchill
"Some men see things as they are and say why –I dream things that never were and say why not."
–George Bernard Shaw
"Do not let what you cannot do interfere with what you can do." –John Wooden
"Defeat is not bitter unless you swallow it."  –Joe Clark
"I am not a product of my circumstances. I am a product of my decisions." –Stephen Covey
"Whatever the mind of man can conceive and believe, it can achieve."
–Napoleon Hill
"I attribute my success to this: I never gave or took any excuse."
–Florence Nightingale
"I've missed more than 9000 shots in my career. I've lost almost 300 games. 26 times I've been trusted to take the game winning shot and missed. I've failed over and over and over again in my life. And that is why I succeed." –Michael Jordan
"The most difficult thing is the decision to act, the rest is merely tenacity." –Amelia Earhart
"An unexamined life is not worth living." –Socrates
"You can never cross the ocean until you have the courage to lose sight of the shore." –Christopher Columbus
"There are no traffic jams along the extra mile." –Roger Staubach
"When everything seems to be going against you, remember that the airplane takes off against the wind, not with it." –Henry Ford
"A business that makes nothing but money is a poor business." — Henry Ford
"Always bear in mind that your own resolution to succeed is more important than any other one thing."
— Abraham Lincoln,
"You don't learn to walk by following rules. You learn by doing and falling over." — Sir Richard Branson,
"If you are not willing to risk the usual you will have to settle for the ordinary." —Jim Rohn
"The more you loose yourself in something bigger than yourself, the more energy you will have."
—Norman Vincent Peale
"If your ship doesn't come in, swim out to meet it!" —Jonathan Winters
"Opportunity is missed by most people because it is dressed in overalls and looks like work." —Thomas Edison
"Failure defeats losers, failure inspires winners." —Robert T. Kiyosaki
"A goal is a dream with a deadline."
—Napoleon Hill
"Logic will get you from A to B. Imagination will take you everywhere."
—Albert Einstein
"Only entrepreneurship can create opportunity where none seemingly exists." — Tony Elumelu
"Success is walking from failure to failure with no loss of enthusiasm."
—Winston Churchill
"Keep your face always toward the sunshine—and shadows will fall behind you." —Walt Whitman
"Victory is sweetest when you've known defeat." – Malcolm S. Forbes
"Action is the foundational key to all success." – Pablo Picasso
"The best years of your life are the ones in which you decide your problems are your own. You do not blame them on your mother, the ecology, or the president. You realize that you control your own destiny."  – Albert Ellis
"Spend 80 percent of your time focusing on the opportunities of tomorrow rather than the problems of yesterday." – Brian Tracy
"The secret of success in life is for a man to be ready for his opportunity when it comes." – Benjamin Disraeli
"Doing the best at this moment puts you in the best place for the next moment." – Oprah Winfrey
"People who succeed have momentum. The more they succeed, the more they want to succeed, and the more they find a way to succeed. Similarly, when someone is failing, the tendency is to get on a downward spiral that can even become a self-fulfilling prophecy." – Tony Robbins
"Success seems to be connected with action. Successful people keep moving. They make mistakes, but they don't quit." – Conrad Hilton
"The difference between a successful person and others is not a lack of strength, not a lack of knowledge, but rather a lack of will." – Vince Lombardi
"Your attitude, not your aptitude, will determine your altitude." – Zig Ziglar
"Before anything else, preparation is the key to success."
– Alexander Graham Bell
"The road to success is always under construction." – Lily Tomlin
"If you don't design your own life plan, chances are you'll fall into someone else's plan. And guess what they have planned for you? Not much."
– Jim Rohn
"Procrastination is the fear of success. People procrastinate because they are afraid of the success that they know will result if they move ahead now. Because success is heavy, carries a responsibility with it, it is much easier to procrastinate and live on the 'someday I'll' philosophy." – Denis Waitley
"Patience, persistence and perspiration make an unbeatable combination for success." – Napoleon Hill
"Try not to become a person of success, but rather try to become a person of value." —Albert Einstein
"All progress takes place outside the comfort zone." —Michael John Bobak
"The No. 1 reason people fail in life is because they listen to their friends, family, and neighbors." —Napoleon Hill