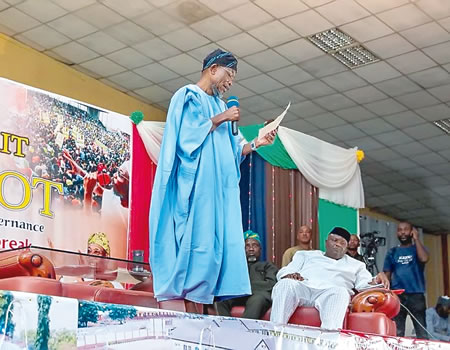 The latest edition of the Ogbeni Till Day Break session aimed at promoting good governance, exhibit the policies of government to people and carry the people of Osun state along in governance policies was a success as the people and their governor had interactive session devoid of barriers or bureaucratic procedures. YEJIDE GBENGA-OGUNDARE reports.
Last Friday, the administration of the Governor of Osun State, Mr. Rauf Aregbesola marked a timeline; it was 200 days to the expiration of his second term in office at the helm of affairs in the state. It was also another edition of his stewardship account and community participation programme, Ogbeni Till Day Break, an audience participation programme where the governor answers questions from journalists, unions, party loyalists, community leaders and members of the community that were on ground live and through phone in session as well as questions from the social media.
The six-hour encounter which was held at the WOCDIF center, Ring Road in Osogbo, the state capital was a clear reflection of the peoples love for their governor as they converged in large numbers at the venue hours before the commencement of the programme at 11.00pm. In spite of the irregular hours, people were not daunted as they started trooping into the venue as early as 7.00pm.
The programme which was peculiar due to its timing, stretching from six straight hours between 11.00pm and 5.00am, the wee hours of Saturday morning has been described as an effective feedback which gives the people a chance to participate in governance, seek answers to issues they don't understand about government policies and governance as a whole and also give suggestions to government to move the state forward.
The Friday event was further deemed peculiar as it came on the heels of Aregbesola's tour of the nine federal constituencies within the state. And as the programme commenced, the peoples' love for their governor did not stop them from asking probing questions aimed at drawing out the governor to explain what they do not understand about some policies.
The governor was also at home as he did not mince word in answering questions and didn't allow any ambiguity in his replies. The first question on why he toured the federal constituencies and what he noticed gave Aregbesola the opportunity to thank the people for the unalloyed support and unrivalled love shown him during his 15 days tour of the constituencies.
Aside giving him the chance to sensitise party members on the need to put conscious efforts in mobilizing the populace towards the forthcoming elections in the state scheduled for November 22, it also allowed him test his popularity and that of his party among the people. And of course, he was impressed with what he saw as he graded the tour as successful. "I am one of the few governors in Nigeria today that is still very popular among my people. How many can move around their communities and be received in love and with warmth and ecstatic joy by the people," he asked.
He added that the opposition has proved that they are not qualified to govern Osun, adding that there is a class of difference between Osun of Aregbesola and Osun of previous years.
According to him, the move by some leaders in the party to decamp will in no way affect the ruling All Progressive Congress (APC) in Osun state as the party existed before they joined and will still exist after they leave.
When asked whether he was happy with what seems like an overflow of negative media reports, Aregbesola stated that he is not bothered as he is loved by his people and cannot be bothered by orchestrated media attacks. According to him, his name will remain caved in gold irrespective of what some plant in the media and negative media reports will not in any way distract him or his team from good governance.
On what next after the expiration of his term, he stated that he is only sure that he will spend more time with his wife who had not enjoyed his full attention for years. According to him, since 1998 when he joined politics, he had not been able to give his wife quality time and his first assignment after leaving office will be to stay with his wife and enjoy her companionship and the beauty of their union.
He however added that he will also need to ask from his leaders in the political circle what assignment they have for him as he did not come to Osun state on his own. "I did not come on my own; I came as governor on the directive of some leaders. It is therefore normal for me to go back to them after my current assignment to know what is next for me but I am not leaving Osun, I will build a house here before my term expires," he explained.
When asked if he had any regrets, governor Aregbesola said he had none whatsoever but added that if he wanted to think philosophically, he had regret which is the fact that his first term in office coincided with that of an irresponsible government at the federal level. "My regret is philosophical and that is the fact that I had the misfortune of being a state governor with a totally irresponsible government at the federal level. Things would have been better if during my first term between 2011 and 2015, I enjoyed responsible government at the federal level, it would have been phenomenal but it coincided with the Peoples Democratic Party (PDP) government at the federal level,' he said.
The governor who stated that Osun is in a state of economic emergency and only a sagacious individual can manage Osun state. "That is the reason the person that will take over must be responsible and credible. Money borrowed as overdraft to pay worker's salaries is the major source of our debt profile. N25.8bn overdraft which was converted to Federal Government bond is the most excruciating of our debt and we will manage our problem; by November 2019, all bonds will be paid.
"We adjusted our spending; we didn't buy official cars for appointees officials, a Permanent Secretary's salary is more than that of the Deputy Governor, I cannot talk about my own because I have never collected salary and I will not collect till I leave office. It should be noted that Osun has a huge pension burden as it pays more pension than several states," he said.
Speaking on the programme, the Special Adviser on Information and Strategy to the governor, Semiu Okanlawon stated that the programme has served as a mechanism for measuring the people's feelings and opinions in order to help the government shape its policies and make it people oriented.
"I agree with you that Osun has been in the news for good reasons. Osun has been in the news for the kind of schools people had not seen before and the quality of roads among others. Osun places a lot of premium on creating values that are hard to come by. These are signs that critical reasoning takes place here. You can be sure that by November this year when this administration will end, the people of Osun will no other songs than songs of praises."
Aregbesola concluded that he is satisfied with his administration's performance as it built the foundation that will make things easier for his successor, adding that the foundation is the difficult stage.
He also thanked all groups especially women groups and the opposition. "I specially thank the opposition because they are the reason we are not sleeping."
It was a six-hour of enlightenment, fun and interaction between the governor and his people with the state cultural troupe and Aladamo Ijesa providing entertainment.