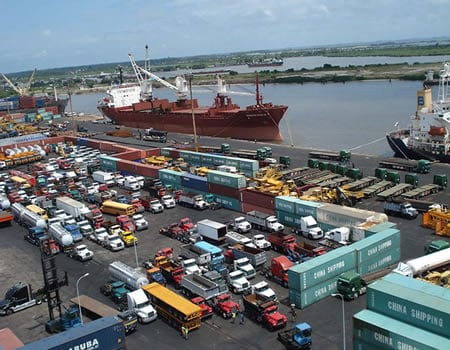 ANAMBRA State Shippers' Association, has appealed to the Federal Government to gazette and make the Onitsha River Port functional.
The President of the association, Mr Emma Akpaka, who spoke in an interview with the News Agency of Nigeria (NAN) on Saturday in Enugu, said if the port is put to use would boost the economy of the country.
Akpaka stressed that the port if put to maximum use, could sustain the country's economy, especially with its proximity to the Onitsha Main Market.
NAN recalls that Onitsha River Port was inaugurated by former President Goodluck Jonathan in 2012, after its reconstruction.
Akpaka said that "to abandon it for over six years after its completion and inauguration is the invitation to self-inflicted hardship''.
According to him, the people's expectations for takeoff of economic activities in the port have been `deferred' for too long.
ALSO READ: Onitsha Chamber of Commerce raises the alarm over exclusion of S/East from railway project
"Shippers in the South-East are begging President Muhammadu Buhari to gazette this port into the global shipping map so that customs and relevant agencies will immediately enforce economic activities.
"Apart from revenues and jobs creation, there would be the massive development of inland waterways of host communities as well.
"Recently, Kaduna Dry Port was commissioned by President Mohammadu Buhari.
"As we speak, the port in Kaduna is operational. Let the same feat be duplicated in Onitsha River Port instead of using different strokes for different folks.
"Again, let the benchmark in Nigerian ports be the same across the board, instead of promoting price differentials by government agencies who use it as a ploy to frustrate shipment of containers to eastern ports,'' he said.
"If Royal Niger Company (now UAC) used this port before and after Nigeria's independence for its imports and exports, why can't we do same in this millennium, when technology has greatly influenced the ease of doing business?
"Please, let us manage Onitsha River Port now as if Nigeria has no oil at all,'' he said.