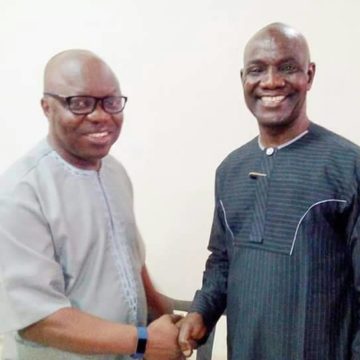 IMMEDIATE past governor of Delta State, Dr Emmanuel Uduaghan has restated that much pressures are coming from people of his constituency, Delta South Senatorial District, to gun for the senatorial seat come 2019.
He made this known on Thursday when he played host to the Executive Assistant to the Governor of Delta State on Communications, Dr Fred Latimore Oghenesivbe, at his Asaba residence.
"The good people of Delta South Senatorial District have been pressurising me to run for Senate in 2019; and that it will be unfair if I reject the proposal," he noted.
Dr Uduaghan, who congratulated Dr Oghenesivbe on the occasion of his first year of meritorious service to Delta State, went down memory lane to reflect on the Ibori Political Dynasty (IDP), describing it as one indivisible political family.
The former governor, who debunked the rumour that he was planning to jump ship from the Peoples Democratic Party (PDP), said that Chief Ibori enjoyed the loyalty and support of the entire structure built nearly two decades ago.
Speaking on the closed-door meeting with the former governor, Oghenesivbe said he had mended broken fences and opened a new page of political relationships with the former number one citizen of Delta State and his teeming supporters.
"We dealt with grey areas of the past and talked about present political developments. I sort and got his blessing, going forward.
"It's a meeting that took me nearly 12 months to fix. Partisan politics is like a two-edged sword which is why its necessary to play the game in an atmosphere of peace, harmony and collective synergy.
"His kind words and advice will guide me in the present dispensation and unto the future.
"He is such a pleasant personality and the flow between us was perfect and heartwarming," the Okowa media aide enthused.
It will be recalled that Oghenesivbe, while in the camp of the APC, had maligned the former governor severally on the social media over how he managed the state's resources while in power.