She grabs my testicles any time we fight, got me frustrated to the point of drinking Gamalin —Husband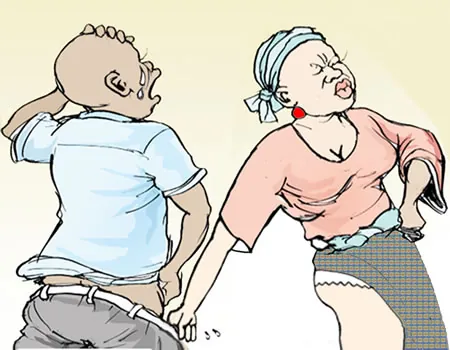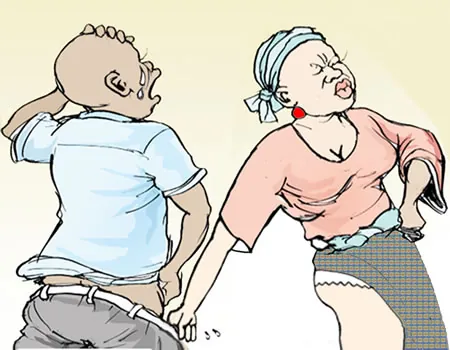 "My lord, my patience is running out while I'm at my wits end. I never knew I was signing off my peace and rest the day I took Bashirtat as wife. She has not only succeeded in turning my life upside down but has also turned my home into a mad house. I have become a laughing stock in our  neighbhourhood while  my family members never cease to mock me all because I'm married to a woman whose ways describe her as nothing but insane. I once got so frustrated that I thought of ending it all; I attempted suicide but was rescued and this I considered unfortunate.  I pray this honourable  court  to  put an end to our crisis-riddled relationship."
A middle aged man, Wasiu Babalola has dragged his wife, Bashirat Babalola to Oja Oba/Mapo Court C Customary Court, Mapo, Ibadan, Oyo State seeking that it aborts their relationship.
Wasiu alleged that Bashirat was troublesome, fought like a mad woman and never ceased to embarrass him.  Her behaviour, he added, had brought a stigma on his family especially on him which led to his decision of wanting to commit suicide.
He, as such, appealed to the court, if her prayer was answered, to restrain her from coming to harass or fight him at home or on his farm.
"My lord, my wife has almost killed me. I didn't know I was bringing in a mad woman into my life and home. I signed off my peace and rest when I got married to her eight years ago.
"Few days after she moved in to my house, she picked a quarrel with my first wife who displayed maturity in order to avoid a fight. But Bashirat  didn't cease to provoke her and they ended up fighting. She beat her rival to a pulp and left her bleeding.
"She has no regard for me while she insults me almost every time. She ridicules me before my children, neighbours  and those  in the neighbourhood.
"My lord, she has almost made me impotent because she targets at my scrotums any time we fight. She pulls  hard at them thus leaving me in severe pain. I scream any time she does this.
"When she's angry she becomes uncontrollable. She has torn all my clothes into shreds. Any time we fight she will strip herself naked, grab my clothes and tear them off me thus leaving me also naked.
"Bashirat, being a shameless woman, fought my brother also and in her usual way, stripped herself naked. Every member of my family, our neighbours and the neighbourhood have seen her nakedness because she never ceases to fight with them and she fights dirty, "he said.
"My lord, both young and old make jest of me in the neighbourhood while my home has become a mad house because it's always filled with commotion always.
"I felt so much frustrated that I decided to commit suicide by gulping down the chemical called Gamalin.  I would have been a dead man now but for the timely intervention of people who saw me rolling and vomiting on the floor.
"We fought again after this and she went away with my property. Our differences were resolved and she moved back home but without the property she went away with.
"I requested for their return but she ended up fighting me and pulling my scrotums again, "he stated.
"My husband is adulterous, "Bashirat told the court.
"I loved my husband but my affection for him gradually waned when he started becoming unfaithful to me.
"I once caught him romancing a woman in pudah but he denied ever having an affair with her, but he eventually got married to her.
"We fought over this and he beat me blue-black. I bled heavily because I was then carrying his baby, "she stated.
"My lord, he's into farming and I have always offered a helping hand on the farm. He once incurred debt on the farm business and was harassed by his debtors; I stood by him throughout this period but he paid me back my throwing my belongings out.
"It's true he drank Gamalin and wrote a suicidal note. He even injected himself with poison, but was rescued on both occasions. My lord, he tried to take his life not because of the crisis in our marriage as he stated but because of the debt he incurred in his business, "she concluded.
After listening to both parties, the court president, Chief Ademola Odunade stated that the couple was obviously incompatible and that there was no more love between then.
Ruling, he dissolved their marriage and granted custody of their two children to the defendant.
The plaintiff was instructed to pay N8, 000 for the upkeep of their children and be responsible for their health care and education at all times.