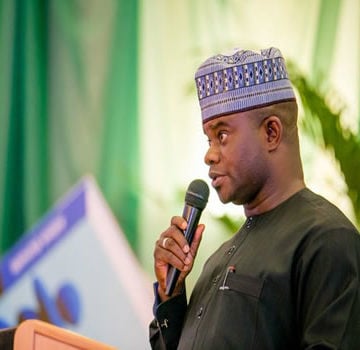 KOGI state governor, Alhaji Yahaya Bello, on Tuesday said dialogue and high level of understanding were needed to ensure harmonious co-existence among the various groups in the state.
Speaking during a meeting of stakeholders on security, held at Lokoja, the state capital, the governor noted that the crises rocking many parts of the country could easily be resolved through purposely dialogue.
According to him, through dialogue the government and its citizens could collectively achieve the desired goals, warning that the use of foul language should always be avoided as it can only cause more harm to the people than good.
The governor, who noted that Kogi state supposes to be an epitome of peace and co-habit in the country, pointed out that nobody in Nigeria has the monopoly of sending away or preventing anyone from doing a business in the country.
He, therefore, appealed to the people of the state irrespective of their tribes and religion to tolerate one another in order to live a peaceful life where business will continue to thrive.
The special adviser to the state governor on security, Navy Commander Jerry Omadara (rtd), described the security submit as another opportunity for the state to chat way forward in sustaining the existing peace in Kogi state.
Omadara urged the Fulanis residents in the state to check themselves and fish out the bad eggs among them, saying there was no alternative to peace.
The Chief of Staff to the governor, Mr Edward Onoja, during his presentation of the framework for security resolution, canvassed a paradigm shift in the ways and manner people handled the issues of security in the state.
Onoja stressed the need to always discuss and dialogue so as to safeguard human life, lamenting that the wanton loss of lives and property in some states as a result of herdsmen and farmers clashes is not healthy for the country.
He commended governor Bello who within 24 months in the saddle of the leadership of the state was able to bring the rising insecurity in the state to the barest minimum.
ALSO, READ: Kogi gov warns against violence in Nigeria, says 'we need peace to move forward'
The Chairman of Kogi state security trust fund, Mr Isiaka Oyibo, charged the state government to form a cooperative society for herdsmen and farmers that reflect Kogi character to foster unity among them.
Oyibo also urged the state governor to encourage youth through massive empowerment to discourage youth restiveness and idle mind.
---
---