Secrets of our success, by LASU's joint best graduating students
Ridwan Ola-Gbadamosi and Nneka Enumah wrote their names boldly in the history books last week as far as the Lagos State University (LASU), Ojo, is concerned, emerging joint best graduating students at the 23rd convocation ceremony of the institution.
Ola-Gbadamosi, from the Department of Mechanical Engineering; and Enumah, from the Department of Mathematics both scored a Cumulative Grade Points Average (CGPA) of 4.88 (out of 5.0).
They were among the 14,369 graduands from across undergraduate, postgraduate and diploma students from the institution who graduated at the event.
Though 57 students, including the duo, graduated with First Class honours (the highest ever in the university), Ola-Gbadamosi and Enumah stood out, as they were repeatedly invited to the podium to receive their various prizes.
In all, the two went home with more than N200,000 cash each, including plaques and certificate of excellence.
BREAKING: Theresa May resigns as British Prime Minister, to quit office June 7
But their feat was by no means a flash in the pan, as both had consistently been ahead of their peers from their primary school days.
The road to excellence was not paved with roses either. Ola-Gbadamosi, 22, from Odo Otin in Osun State, for example, had it very rough, especially from age 12 when he lost his mother.
He came out of the Federal Government College, Ijanikin, Lagos, with nine distinctions in his West African Senior School Certificate Examination (WASSCE) in 2013 – the best result in his set.
He sat for the Unified Tertiary Matriculation Examination only once and gained admission into LASU the same year he left the college, but it was a big challenge paying school fees.
"Honestly, to get money to pay for my first tuition fee of N284,750 as an Engineering student at LASU was a big task," he told Saturday Tribune shortly after the convocation ceremony.
With two other younger children also getting ready for tertiary education at the period, the financial burden was too heavy for Ridwan's father, who is a university worker and union leader also at LASU.
"Eventually, my father was able to raise and pay the full tuition, while l had to take charge of other associated expenses," he said.
He raised his own money by investing the cash prize he received at his secondary school speech and prize-giving day in the rearing of 150 broilers.
"I successfully grew the chickens from day-old chicks to maturity, and made some money from the venture. This was during the ASUU (Academic Staff Union of Universities) strike in 2013.
"I can vividly remember using bandage to wrap their broken legs and a sipping straw to administer drugs on one of the birds, not because I cared about their health but because I was desperate about making the desired profit. The return on the investment was used to cater for my personal and academic needs."
On matriculation day, while every other student wore smiles on their faces, it was bitter-sweet experience for Ola-Gbadamosi who was gripped with the apprehension of how to pay his way through school.
"While I was basking in the joy of being a university student, the thoughts of how my father was going to pay my humongous tuition fees for the remaining four years of my studies never left my mind for a second all through the ceremony.
"There and then, I made up my mind, out of sheer determination, to obtain a very good CGPA. I knew with this, I would be able to apply for undergraduate scholarships offered by several institutions," he told Saturday Tribune.
Ola-Gbadamosi fulfilled his dream. He won the Nigerian Liquefied Natural Gas scholarship grant, that of MTN Foundation as well as the Federal Government Scholarship, among others.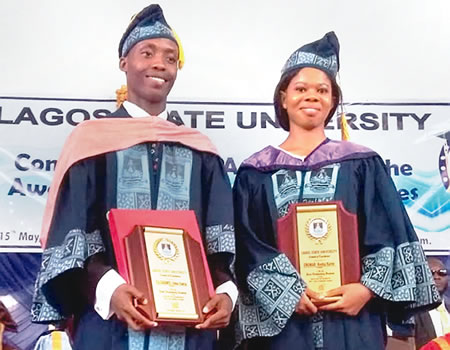 With these, he was able to conveniently pay his school fees and handle other sundry expenses without having to bother his father again for money. Today, his efforts have paid off.
Coincidentally, Nneka, his joint-best graduating student and also multiple awards winner too is from a modest family.
The second child of a family of four children, Enumah could not gain admission until three years after leaving the Lagos State Model College, in 2011; and had had it very tough financially all her life.
But somehow, she was able to pull through and eventually stood on the podium a joint best student at LASU.
One thing though is common to these two achievers: they said what helped them, first, was that they chose to study their respective courses because that was where their strengths were.
That was not all. They also both identified passion, determination, self-discipline, focus, hard work, diligence, sacrifice and above all, God's benevolence as other factors that helped them on their path to excellence.
Both, apart from actively engaging in religious activities on campus (and at times, sporting activities) did not allow social life to distract them from their goals. Both said they never had time for amorous relationships with the opposite sex.
"I kept men asking for such a relationship at a distance, since it is advisable to do things at their appropriate times; and it worked out," Ms Enumah said.
They both have a word or two for youths to engage only in things that would add value to their lives, and would make them become relevant to the society and not engage in frivolities that would truncate their future.
They also urged governments at both federal and state levels, as well as corporate organisations and wealthy individuals to invest in human capital development, especially by giving scholarships to indigent but brilliant students.
On their plans for the future, both Ola-Gbadamosi and Enumah want to become lecturers; but for now would first go for the one-year mandatory national youth service and then return to the academic environment for further their studies to doctoral degree level.
The vice chancellor of LASU, Professor Olanrewaju Fagbohun, who was elated about the outstanding performance of the duo, congratulated them and urged them not to look back as they continue to climb the ladder of success.
Visibly excited, Professor Fagbohun told Saturday Tribune that all the graduands were thoroughly baked for global and not only for local relevance, and that the university would continue to pursue excellence in all its tripartite functions of teaching, research and community engagements.