Chairman of Ojulowo Omoluabi Empire Holdings, Victor Eniola Mark, has appealed to secession agitators to prioritise dialogue with the Federal Government.
Mark, a serial media manager and Chairman of the Real Estate Developers Association of Nigeria (REDAN) in Osun State, noted that killings of "our brothers and sisters" will lead to no good end.
He stated this while playing host to two students' bodies under the umbrellas of the Voice of Northern Nigerian Students (VNNS) and the Southern Youths Assembly of Nigeria (SYAN) that conferred two separate awards of honour on him in Abeokuta last Thursday.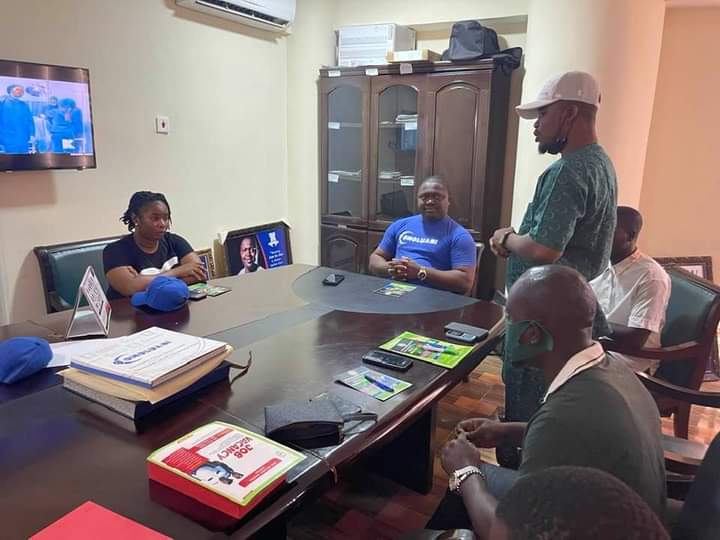 Speaking before the presentation of the award, Mark said: "For us, it is important to note that we are first human before we are Igbos, Yoruba or Hausas, the only way forward is peaceful dialogue. Even the world wars ended on the table of dialogue so why not explore that dialogue first before we fight. 
"It has always been my language that people should talk, talk about every issue that can move from disagreement to violence. Let us all encourage peaceful dialogue in place of fighting or even killing our brothers and sisters.
"If we begin to talk about tribes, a time will come that even the Yorubas will begin to break because the Ekitis will begin to discriminate from the Ijebus and the strong united Nigeria will begin to break into smaller and micro particles which is not good for our collective interests as a people."
The students' bodies in their separate statements also condemned the spate of killings that has greeted the clamour for secession in various sections of the country.
While noting that the Indigenous People of Biafra (IPOB) and Yoruba Nation agitators have meaningful causes, SYAN Speaker, Ifeoluwa Sanni, urged IPOB to desist from killing citizens to achieve its aims.
Sanni said: "I will condemn the approach of the IPOB because you can't be killing the people you claim to be protecting. You claim you are fighting for their fundamental human rights and yet you are violating the same rights. Considering the number of people who have been killed in the process of this agitation for Biafra nation, I wonder who will be left if the so-called agitation continues or yields fruits.
"I will advise IPOB agitators to put a stop to the killing of people and to the Yoruba nation agitators not to relent in their peaceful pursuit and also to consider the lives and properties of the people they're agitating for. The government shouldn't see crime in secession, but rather dialogue with the agitators."
President of the Northern students group, Abdul Azeez, however, noted that the agitations for secession were based on selfish interests, urging all to seek the unity of Nigeria in spite of the pockets on security lapses recorded nationwide.
He said: "In other to achieve peace in the midst of insecurity in Nigeria, we need to put our country first and at the back of our mind in whatever we do."
YOU SHOULD NOT MISS THESE HEADLINES FROM NIGERIAN TRIBUNE
We Have Not Had Water Supply In Months ― Abeokuta Residents
In spite of the huge investment in the water sector by the government and international organisations, water scarcity has grown to become a perennial nightmare for residents of Abeokuta, the Ogun State capital. This report x-rays the lives and experiences of residents in getting clean, potable and affordable water amidst the surge of COVID-19 cases in the state…
Selfies, video calls and Chinese documentaries: The things you'll meet onboard Lagos-Ibadan train
The Lagos-Ibadan railway was inaugurated recently for a full paid operation by the Nigerian Railway Corporation after about a year of free test-run. Our reporter joined the train to and fro Lagos from Ibadan and tells his experience in this report…