Reps move to criminalise ballot box snatching, destruction of electoral materials, others
•Set for debate on establishment of Election Criminal Tribunal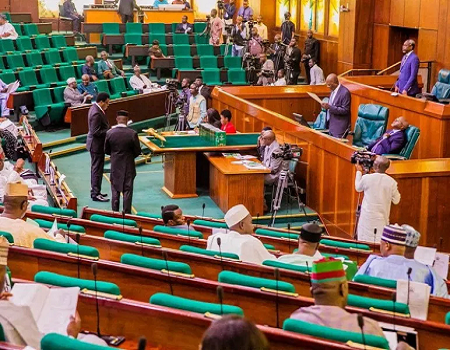 The House of Representatives, on resumption from the Easter recess, is expected to commence debate on the general principle of a bill that seeks to establish an Election Criminal Tribunal in the country.
The bill which was sponsored by Hon Abubakar Makki Yalleman, when established, will be saddled with the responsibility of handling Election Criminal cases and judiciously dispose-off same while punishing offenders properly.
According to the proponent of the legislation, the bill, seen by Tribune Online, further seeks to compliment the work of the civil election tribunal to comprehensively address the issues of electioneering in Nigeria.
Clause 5 of the bill provides that: "Subject to the provisions of this Act this Tribunal shall have jurisdiction over all criminal matters arising from the Elections in Nigeria," while Clause 6 confers on the Tribunal the power to summarily decide on a case."
As stipulated in Clause 2 of the bill, the Elections Criminal Tribunal shall consist of: A judge of either the Federal High Court or the High Court of a State; two Legal Practitioners not less than 10 years post-call; and such number of Members as the Chief Justice shall deem fit and any person appointed under this Act or concerned with the enforcement of the provisions of this Act shall perform his functions in line with the objective of this Tribunal.
Clause 3 of the bill provides that "The appointment of a person to be a member of this Tribunal shall be made by the Chief Justice of the Federation alongside with the appointment of the Election Petition Tribunals."
Clause 4 which centres on the 'Exclusive Jurisdiction', provides that: "the Elections Criminal Tribunal shall to the exclusion of any other Court or Tribunal have the jurisdiction to try Electoral offences which shall include: campaign finance Crimes such as accepting donations that violate the prescribed amount or accepting a donation from sources not permitted under the law or from unknown or unexplainable sources; Violation of the Civil Rights of voter(s) which shall include voter intimidation, coercion, threats and other tactics aimed at suppressing a person's ability to vote; illegal or inappropriate use of guns or other dangerous weapons including stones and sticks."
It further provides that "Voter fraud and voter registration fraud including the impersonation of either a living or dead person; Ballot box snatching and destruction or attempted destruction of electoral materials; attempting to or Preventing or hindering of Electoral Officers from performing their duties; falsification of Electoral Results; Unauthorized possession of Electoral Materials; and All the offences listed in Part VII, Section 117 -132 of the Electoral Act."
On the duration of the trial, Clause 7 of the bill provides that: "The Tribunal shall have 180 days to attend to all the criminal cases," while Clause 8 provides that "Any matter not concluded within this period shall be transferred to the next Election Tribunal and the accuse shall be in prison till the constitution of the next Election Criminal Tribunal.
On the 'Appeals' Clause 9 of the bill provides that: "All appeals arising from this Tribunal shall lie to the Court of Appeal, while Clause 10, empowers the Chief Justice of the federation may make rules regulating the practice and procedure of the Election Criminal Tribunal."
YOU SHOULD NOT MISS THESE HEADLINES FROM NIGERIAN TRIBUNE
Reps move to criminalise ballot box snatching, destruction of electoral materials, others
We Have Not Had Water Supply In Months ― Abeokuta Residents
In spite of the huge investment in the water sector by the government and international organisations, water scarcity has grown to become a perennial nightmare for residents of Abeokuta, the Ogun State capital. This report x-rays the lives and experiences of residents in getting clean, potable and affordable water amidst the surge of COVID-19 cases in the state.  Reps move to criminalise ballot box snatching, destruction of electoral materials, others