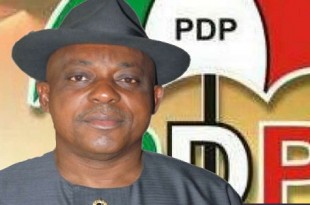 NATIONAL chairmanship aspirant in the Peoples Democratic Party (PDP), Prince Uche Secondus, has secured the endorsements of former Plateau state governor, Jonah Jang and other leaders of the North Central zone.
The former Deputy National Chairman (South) of the leading opposition party is in contention for the job along with seven other candidates in the December 9 – 10 national convention of the party.
Their endorsement followed a meeting they had in Abuja where they were said to have concluded that the Rivers State-born politician had the capacity to return the party to federal government.
Jang, who led the leaders of the North Central zone to a meeting with Secondus, noted that PDP at this point in time needs an experience party man like Secondus to wrest power for from the All Progressive Congress (APC) in 2019.
Reacting to the endorsement, Secondus said PDP needs a leader who will hit the ground running from day one to reposition the party for the task ahead.
Speaking through his media aide, Bisi Ezekiel, the aspirant said: "PDP is at a crossroad and needs a leadership that would hit the ground running. Our party at the moment is not in a comfort zone and therefore requires purposeful leadership as it cannot afford any waste of time."
He added: "With the election around the corner, there is no time to learn, the party needs an experienced person and I think I have it, having served the party at various levels meritoriously.
"Let me assure you that as your National Chairman, I would deliver votes and if I can't deliver votes from my constituency, I should resign."
He recalled that as National Organizing Secretary of the party, the party had the best internal and external elections.
Secondus also said that as acting National Chairman, he set up a special committee that looked into the causes of the failure of the party in 2015 general election, pointing out that the post-mortem report which has been adopted by the National Executive Committee (NEC) would be a huge guide for him to rebuild, reform and regain the party.
Secondus also reminded the party leaders how he saved the party from an impending constitutional crisis by resisting the prompting from the former National Chairman, Alhaji Áli Modu Sheriff, to preside over the Port Harcourt convention, providing grounds for the Supreme Court to dismiss Sheriff.
He spoke about his intentions for the party, adding: "If you give me your mandate, under my watch, I would decentralize power to states and get our members more involved in the running of the party.
"I would ensure that popular candidates fly our flag because when a popular person hold the ticket, the election is 50% won
"The 2019 election is for us to take if we do the right thing and I can assure you that I have the skill, I have what it takes and the experience if you give me the mandate.
"I would not be distracted; I would leverage the peace and support the party enjoys in my state and in my zone."