THE Association of Nigerian Authors (ANA), Oyo State chapter, has elected new officers to direct the affairs of the association. The election of the new officers took place after the 2020 state convention held at Room 32, Faculty of  Arts, University of Ibadan (UI), Ibadan, the state capital.
The electoral committee which was chaired by Mr Ayo Opakunbi, has Miss Phil Nwoko, as secretary.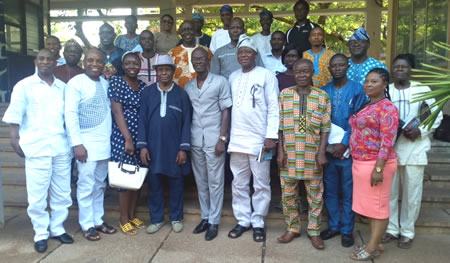 Other members are Honourable Muda Ganiyu and a retired school principal, Mr Ekundayo Asifat. However, at the end of the election,  Taslim Abiola Layonu emerged as the chairman; Prince Oyebade Oyedepo, vice-chairman; Adeogun Olasumbo Comfort, as the treasurer; Saka Wasiu Laide, assistant general secretary; Akinwale Funmilayo Theresa, financial secretary; Oladoyinbo Abiodun Ayoade emerged as the auditor; Fakunle Busayo Ayorinde emerged as the Public relations Officer, while Gabriel Okonkwo, emerged as the secretary of the association.
Meanwhile, a former state chairman of the association, Dr Solomon Iguanre, commended the electoral committee and congratulated the newly elected officials urging them to be honest in the discharge of their duties.
The new chairman restated his commitment to serve the association and promised to run an inclusive administration.
YOU SHOULD NOT MISS THESE HEADLINES FROM NIGERIAN TRIBUNE
FLICKERS: Nigerian Army: Timelines Of Lies And A Million Skulls In Ogun's Shrine
THE Yoruba anticipate the fate of Mrs. Aishat Mohammed. Aftermath the murders, horrendous plunder and arson on the city of Lagos about two weeks ago, Mohammed was one of the captives of the law. Or lawlessness. Gagged like sardines in a can among about 500 persons paraded and labeled culprits of the spillover from that notorious Black Tuesday, Mrs. Mohammed's tale was gripping, grisly but a Nigerian everyday encounter. From her narrative…
#EndSARS: After The 'Powerless Masses' Spoke
What has the country's political leadership learnt from the EndSARS protests that rocked the nation and drew global attention to Nigerians' sufferings and mis-governance of their country? KUNLE ODEREMI reports on the take-away from the EndSARS protest and the attendant fallouts, amid public suspense on government's…
#EndSARS: How Nigeria Lost Trillions Despite Warning
IT has emerged that the #EndSARS protest which snowballed into a major cycle of crises could have been avoided, had Nigerian authorities heeded the prediction of international researchers carried out months back. Both the federal and state governments are still counting the enormous losses in destruction to public and private investments during the protests, which have been projected to be in trillions of…
Restructure Nigeria Now Or Risk Break-Up — Southern Leaders Tell Buhari Again 
AS agitations for the restructuring of the country continue to take the front burner, some southern leaders on Saturday called on President Muhammadu Buhari to consider the 2014 National Conference report to save the country from an impending break-up, saying the country is currently bleeding on all…