Okorocha proposes establishment of 6 new state varsities
gets NUC recognition letter for Agric varsity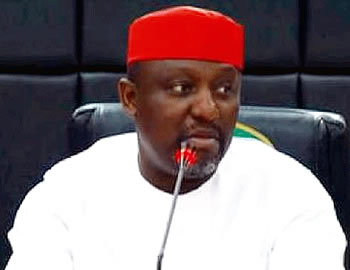 BARELY one month to the end of his administration, the Imo State Governor, Rochas Okorocha has proposed the establishment of six (6) new state universities.
The National Universities Commission, however, on Thursday in Abuja issued a letter of recognition for the establishment of one of the proposed universities, Imo State University of Agriculture and Environmental Sciences.
Executive Secretary of the NUC, Professor Abubakar Rasheed, presented the letter of recognition of the university to Governor Okorocha at a brief ceremony at Commission.
Rasheed who noted that the Commission was opposed to the proliferation of universities, said the outstanding and consistent contributions of Okorocha to the development of education in Imo State and Nigeria left the commission with no other option than to recognize the institution.
He said: "We are aware of your longstanding disposition to the development of education in the country, with the establishment of schools across the country before becoming the Governor."
ALSO READ: Elizade University VC advocates unified examination for final year varsity students
He added that the Governor had fulfilled all the condition required for the Commission to recognise the university, especially after securing the State Enactment Law and presentation of both Academic and Physical Master Plans of the university to the Commission.
NUC Boss said the Commission has given its opinion on the proposed establishment of other institutions.
The other proposed institutions as listed by the Governor are: University of Medical Sciences, University of Science and Technology, University of Creative Technology and two other faith-based universities to be run through public-private-partnership.
Okorocha, in his earlier remark, said the decision to establish more state universities was to cater for a large number of Imo indigenes who seek annually university education through the Joint Admissions and Matriculation Board (JAMB) but only about 10 per cent are offered admissions.
He said since the last seven years, Imo has consistently topped in terms of applicants for the Unified Tertiary Matriculation Examination (UTME).
Besides, he said the proposed universities were specialized institutions that would contribute to the development of critical manpower needed in the state and the nation at large.