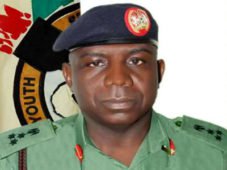 THE National Youth Service Corps, in Ondo state, has sympathised with the family of a late Corps member, Akpros Seun Samuel who died recently, following a brief sickness while serving in the state.
Speaking during a condolence visit to the family of the late Corps member in Ore, headquarters of Odigbo local government area of the state, the Director General of NYSC, Brigadier General Zakari Kazaure, describes the death of the young man as shocking, unfortunate and a great loss.
Kazaure, who was represented by the State Coordinator of the NYSC, Mrs. Grace Akpabio, described the late Samuel as one of the best hands saying he would be remembered for the footprints he left behind in his Primary Place of Assignment and the NYSC.
She disclosed that contrary to the rumor that Samuel lost his life while struggling with Lassa Fever, she said the Corps member was diagnosed and die of typhoid fever, describing his death as a great loss not only to the Akpros family but also the NYSC a family
The state Coordinator called on other Corps members serving in the state to always give priority to their health and should not hesitate to report any unusual health-related issues to the appropriate quarters for action.
She also warned Corps members against night traveling while she urged them to not to leave their place of Primary Assignment without any clearance from their coordinators.
" Although Seun was not my biological son, nevertheless, I wish to tell you that I and the entire corp members will surely miss him because we relate as one big family, "she said.
The state commissioner for youths and sports, Mr. Saka Yusuff Ogunleye, who represented the state governor, also described the death of Samuel as a great loss not only to the family but to state and the NYSC as a family.
He prayed that God will grant the family especially the mother of the late Corps member, the fortitude to bear the great loss.
ALSO READ:BREAKING: Corps member dies of heart failure
The commissioner confirmed that the young man death should not be attributed to Lassa Fever but said that the deceased only died of typhoid fever "which perhaps he did not notice before it led to his death."
Ogunleye, however, said that "the state ministry of health confirmed the cause of the death of the Corp member and it was confirmed he died of typhoid fever."
He said "we are here to sympathize with the family and other Corp members and also to educate them on the importance of giving priority to their health and I want to warn against self-medication, but always try and visit hospital to seek medical advice
Samuel before his death was one of the Corp members serving at Ire-Akari Grammar School Idoani in Ose Local Government with the number: IFE2017/214473 and graduated from Adeyemi College of Education, Ondo.