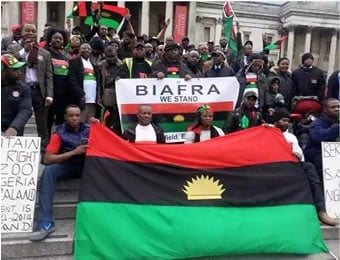 The Annang people of Akwa Ibom State have dissociated themselves from the current agitation for the creation of Biafra country, which includes their land as part of the territory.
In a statement by their socio-cultural organisation Annang Heritage Preservation, the people said they are still part of Nigeria as constituted.
In the statement titled 'Annang is not part of Biafra' and signed by eight of its prominent members including Adede Ezekiel Ette, Ph.D. President (USA) and Adede Nsenor Udofa, Vice President (Nigeria), the people lamented the undocumented number of their kith and kin who died during the last civil war.
"No one knows how many Annang died in the last civil war in Nigeria, but we can see the effects of that war on our land and in the lives of our people to this day.
"There is hardly a family in Annang land that did not lose a family member or a relation in the Biafra War.
"All you needed was to step outside of the door and dead bodies were everywhere in 1968 and 1969. Those who escaped the bullet died of starvation and those who escaped starvation were betrayed and handed over to be slaughtered.
"Some of us still recall men and women escaping from villages through bushes and forests only to be killed because they had the Annang accent. In 1968, a list of individuals from Annang was handed over to the Nigerian soldiers and with this list in hand, the soldiers moved from house to house taking away Annang leaders.
"Those abducted never returned home and only pieces of clothing abandoned on the streets and bush paths told stories of carnage and death.
"We lost when Biafra occupied, we lost when Nigeria reoccupied and that pendulum of occupation and reoccupation swung unendingly as the war progressed", the statement added.
The group said Annang are no longer prepared to fight another war and let the blood of its people be shed for an agenda we have no part in.
Reinstating the right of an aggrieved people to self-determination, Annang Preservation advised the agitators of Biafra to do so within the ambit of the law and accepted guidelines for public conduct so as not to endanger and put in harm's way those they seek to emancipate.
"For those who think that starting a new war is the path to secession, we need only point to Otto von Bismarck who once remarked, 'anyone who looked into the eyes of one dying in the battlefield will think hard before starting a war'.
"We in Annang have borne the wounds of war and we still have the scars to show. Make no mistake, we are not afraid of war and as our forebears used to say, it is true that those who seek war are often well advised to look for the Annang, but we fight only for justice and to defend ourselves when we have no options left
"We at Annang are not ready yet to subject ourselves and our children to the destructive effects of another war.
"We will not allow ourselves to be humiliated to come under the lordship of a 'fellow servant'. Annang as a part of Biafra does not sound like liberation to us.
"It is just transfer of lordship, and that, to a less remote lord. When the map of Biafra is drawn, Annangland must be left out of it. We are not Igbos.
"We will not be subjected to another servitude. When freedom comes, it must be for all.We are still a part of Nigeria as it is constituted today.
"In the event of a secession or mutual separation, we shall exercise our right to self – determination and take our destiny into our hands with all our might. This is our stand.
"We stand for a United Nigeria which should be organized under the rule of law. Rather than tear ourselves apart, the country should be made to live to its true creed that we are one nation."